We are very excited to introduce you to our incredibly tough new boot, the Defender STS V1750.
Based on feedback from our research workshop and test pilot comments we have developed a uniquely lightweight, comfortable and tough safety boot...
RESEARCH WORKSHOP
We were recently joined by wearers and buyers from the rail industry.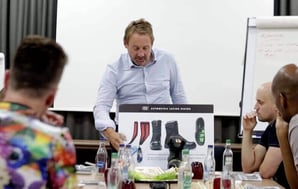 Along with members of the V12 team they took part in an externally facilitated in-depth workshop. It was designed to give us a greater understanding and insight into the conditions in which they use their boots and also to explore ideas on what would improve their 'footwear' experience. Using a combination of stimulus material we also discussed key features and together assessed potential new innovations. As with previous workshops we gained valuable insight and feedback that will enable us to push our designs further and to ensure that we're always providing our wearers with the safest, most comfortable footwear possible. For more information watch the video here.
what safety features does the new V1750 DEfender STS contain?
Certified to EN ISO 20345:2011 S3 AN WR SRC, Defender is constructed from black leather hide and featuring a tough scuff cap and heel support, this boot is well suited to extreme environments. Poron impact protection material keeps ankles safe. Lightweight, waterproof and metal-free, it is built on a new extreme comfort shape and has an improved shock-absorbing footbed for daylong comfort. The innovative new STS sole unit provides superior traction and stability across a wide range of surfaces and fire fighter ladder grips for safe working at height. Defender is packed with benefits - it's perfectly suited to construction and engineering, as well as many other industries:
Anti-static
Heat resistant outsole to 150°
Composite toecap
Composite midsole
Metal free
Impact resistant ankle protection
Waterproof
SRC slip rating
What other features does the defender contain?
Suprisingly, for such a tough boot the Defender is incredibly lightweight and features an ergonomic top band for comfort when driving.
We have worked hard to make this an incredibly comfortable safety boot. By developing a brand new extreme comfort shape to create the boot around, we have buried a shock-absorbing heel pod within the sole, reducing impact on your knees and back.
The boot benefits from the Energyse shock absorbing footbed. The Energyse footbed features a heel pump to create superior shock absorption and unique airflow channels to maximize air circulation and reduce heat build up. With rebound foam and anti-static stitching, the Energyse sets new standards in day-long comfort.
But the biggest feature has got to be the new STS sole - your only contact with the ground and your best control to prevent slipping over in the workplace.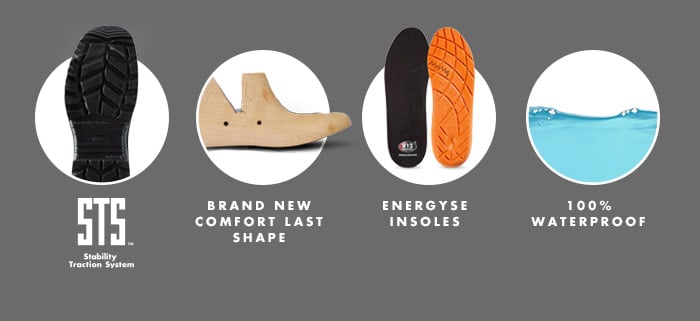 PEACE OF MIND
We design our boots to the highest standard to ensure they keep you safe, day after day. With a robust quality control process and endorsements from industry experts, we're so confident that our boots will stand the test of time that we offer a 200 day guarantee as standard.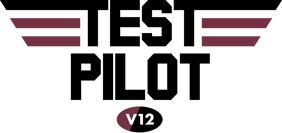 Defender has been on trial with a number of Test Pilots and has received outstanding reviews. The key benefits of the product that have been picked up are:-
All day comfort
Very lightweight
Love the ankle protection
No wet socks!
"Still awesome, been out in flood water and stayed dry, walked a fair few miles on ballast with no problems. The slip resistance is almost unreal. Places where I know I will slip and slide are no match for these boots. The air circulation feature also means less sweaty feet at the end of shift. Also none of the seams etc are showing any sign of failing." Mark Colvin | Amey (Rail Industry)
Find out more
To find out more download spec sheets or check out the Defender STS on our website.
Defender will be in-stock from 5th October but is available for pre-order now. Simply call us on 01249 651 900 or email us at: sales@v12footwear.com