V12 Footwear is pleased to have been awarded "Most outstanding Footwear for Working Environments" in the 2018 Corporate Excellence awards.
This achievement is the result of understanding the importance of foot comfort and safety at work and designing it into our shoes.
Corporate Excellence Awards 2018
The Corporate Excellence Awards 2018 are handpicked by CV Magazine and are based purely on the comprehensive analysis of both qualitative and quantitative research undertaken by the wider group. It provides them the chance to promote talent on a truly global platform.
This proven approach ensures that they award on merit, not popularity, and recognise the very best in business; from a single office firm to an international conglomerate, they award those that are succeeding in their endeavours, innovating, growing and improving.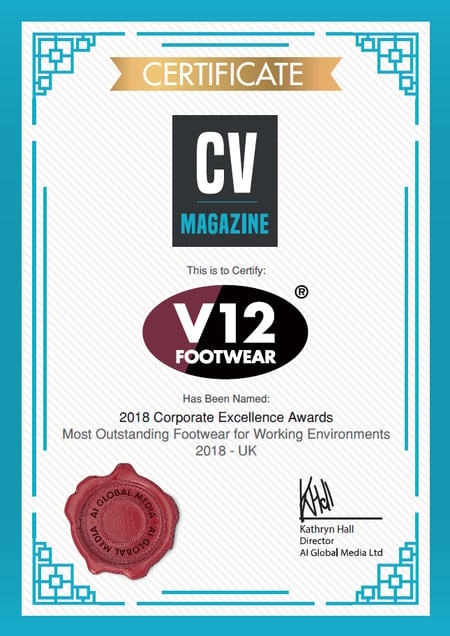 Every day thousands of employees needlessly suffer painful feet, knees, hips and backs by using inferior footwear that is not suited to the task. V12 have used their extensive research into the effects of our feet on our overall health and well-being then built this into our shoes. Our new IGS 4 Star Grip rated sole is reducing the most common work accident of slips. So for supreme comfort and a safer working day V12 is officially the "Most Outstanding Footwear". Ben Turner | Director & Co-founder