It's great to see this month's SATRA Bulletin featuring our company profile and covering a number of innovations and accreditations we have been working on throughout 2017, with particular focus on the Keymark scheme. We are very proud to be the first safety footwear manufacturer to have been awarded the Keymark certificate.
What is SATRA?
Knowledge, research and testing are SATRA's three pillars of strength. They have been supporting the products industries since 1919 and form part of the SATRA logo. SATRA provides technical services and related products for a diverse range of product sectors but especially footwear research and testing. When people buy footwear they have high expectations. They want it to be comfortable and safe, to perform well and to last. To help footwear brands, suppliers and retailers achieve this, SATRA have made it their business to be expert in the research and testing of footwear whole product, components and materials. They are the global leader in trusted test methods and offer the best technical support services for the footwear industry. Each month they produce a bulletin that features technical articles and information for footwear and leather industries:-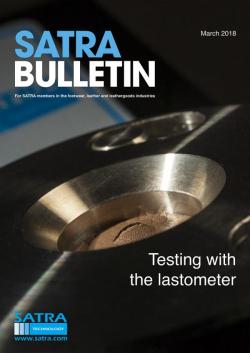 What is Keymark?
With increasing doubt being raised in the market place about non-conforming products, it is key that V12 Footwear are able to give confidence to wearers and specifiers. What better way than working with an independent testing laboratory (SATRA)?
"The first safety footwear manufacturer to have been awarded the Keymark certificate"
With the authority and un-bias of the European Keymark standard V12 Footwear are able to give full assurance to distributors and end users on performance and consistency. This is particularly important with the changes in the PPE directory coming into effect to put the responsibility on to distributors as well as manufacturers.