With the temperature dropping and rainfall increasing, the demands on safety footwear heightens. We are showcasing three of our toughest products: The all new Defender STS, the tough Rhino STS and the Titan wellington. All of these products are built to withstand whatever is thrown at them.
DEFENDER STS
EN ISO 20345:2011 S3 AN WR SRC
Constructed from waterproof black leather hide and featuring a tough scuff cap and heel support, this boot is well suited to extreme environments. Poron impact protection material keeps your ankles safe. Lightweight and metal-free, it is built on a new extreme comfort shape and has an improved shock absorbing footbed for day-long comfort. The innovative new STS sole unit provides superior traction and stability across a wide range of surfaces and fire fighter ladder grips for safety working at height.
Available in size 5 - 13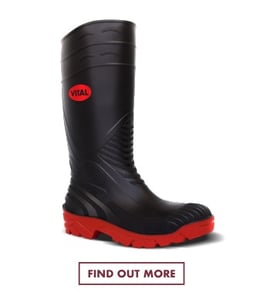 TITAN WELLY
EN ISO 20345:2011 S5 SRC
This comfortable safety toecap and midsole wellington meets the highest requirements for slip resistance, with an SRC rating. Created from a supple Compound of PVC and Nitrile Rubber, Titan has resistance to many contaminants and is also anti-static and hydrocarbon resistant. It features an air exchange channel to regulate temperature, and a padded footbed laid over a shock absorbing honeycomb heel section for day-long comfort. Titan is reinforced over the toe area and under the arch of the foot for durability.
Available in size 3 - 13

RHINO STS
The Rhino STS is a tough and sturdy boot; crafted from a water resistant leather with a strong scuff cap. Created to a new extreme comfort shape, with padded ankle support and a deep padded scoop collar, it is an incredibly comfortable boot. It comes with several unique features including a lightweight composite toecap, anti-nail plate, and non-snagging speed lacing system. The boot also benefits from the Dual Comfort shock absorbing insole and the new STS rugged sole – working hard so your feet don't have to.
Available in size 3 - 13