MEN AND WOMEN'S FEET - WHAT'S THE DIFFERENCE?
Until recently, women working in industries such as construction, civil engineering, manufacturing, rail, warehousing and so forth were frequently expected to wear smaller sized men's footwear as there was very little choice available on the market. This is not only uncomfortable for women, but also lowers levels of safety, leaving them more susceptible to twisting, rubbing and other problems. With that said, for safety footwear to provide the utmost benefits that it was designed for, it must fit the wearer well.
So, other than the size, what else is different?

When comparing men and women's feet we found women's feet to be narrower overall, with a much narrower heel in relation to the width of the ball of the foot. These factors, combined with a smaller, higher Achilles tendon, mean that a closer fitting and a higher collar on footwear is vital to keep the foot firmly in place and avoid blistering. The arch on women's feet is higher than it is for men; and women are more prone to pronating their feet (rolling feet inwards). Additional arch support is required to correct this and prevent ankle twisting. Other subtle differences are that women have a shallower big toe, a lower instep and a more curved inside line than men. Women and men even walk differently, with women taking more shorter frequent strides than men relative to height.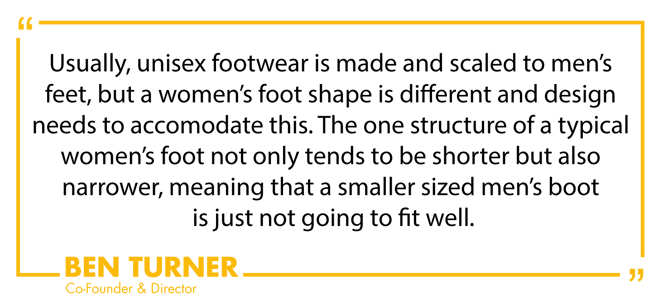 WHAT EFFECT DOES THIS HAVE ON THE FIT OF SAFETY BOOTS?
These differences can have a profound effect on the fit of woman's safety footwear. Women wearing 'unisex' or men's footwear may encounter the following problems:
Their footwear is too wide, requiring thick socks to keep them on
The footwear is far to wide at the heel - meaning her feet move around and blister
Incorrect shape around the ankle, causing discomfort
It is not supportive enough through the arch
It's too heavy and clumsy
THE SOLUTION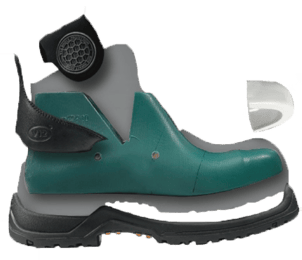 Taking into consideration the above, we've worked alongside the only remaining British lastmaker to design and create a footwear range shaped perfectly for the female foot shape! Our range provides a comfortable solution that will leave you free to focus fully on the job at hand.
Now, we know you may be thinking that there are tons of women's safety footwear ranges on the market. And yes, you would be right. But, typically what you would be purchasing will not be built on a properly fitted women's last. Take a look at the image below, on the left we have the V12 women's last and on the right we have a typical manufacturer's last. Upon the first glan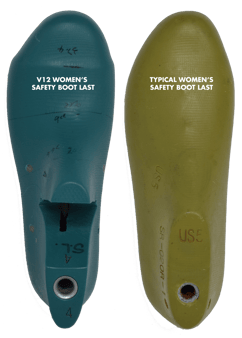 ce, you can clearly see a significant difference in the overall shape, take a closer look, can you see how the V12 last has been chiseled to accommodate the safety toecap? And, can you see that the shape of the heel on the V12 last is narrower? These small but significant details make all the difference, not only when it comes to comfort but more so, safety.
So, now that you've read and also seen the difference, which footwear will you choose to see you though the long hours on your feet?