We take quality very seriously here at V12 Footwear. This is why we have recently become a member of the BSIF Registered Safety Supplier Scheme.
What is the BSIF?
The British Safety Industry Federation (BSIF) is the lead association for the Personal Protective Equipment (PPE) Directive and is recognised as a Competent Authority by the Health & Safety Executive (HSE). It is the major independent voice of the British safety industry, helping to influence legislation and provide the industry with a source of authoritative information on a range of workplace safety issues.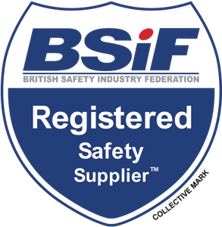 The BSIF is dedicated to eliminating non-compliant and unsafe products from the UK market, and providing a quality assurance scheme for the purchase of genuine PPE that will keep people safe and healthy at work.
To help combat this, the BSIF has created the Registered Safety Supplier Scheme.
Companies displaying the scheme's logo have signed a binding declaration that the safety equipment they offer meets the appropriate standards, fully complies with the PPE regulations and is appropriately CE marked.
How do V12 Footwear ensure the quality of their footwear?
V12 design all of our footwear in house from scratch. Our design process is highly collaborative; we work with people in our target industries to develop innovative, practical and relevant footwear for our customers and wearers. Throughout the design and development stage, we work with testing houses, industry experts and quality assurance professionals to continually improve our design – with safety, comfort and quality at the fore. We go through numerous prototypes before we are completely satisfied.
Interested in seeing some of our latest cutting-edge footwear products? Head to our innovations page and check out how we've combined technology with tradition to give our wearers cutting edge and super-comfortable protection.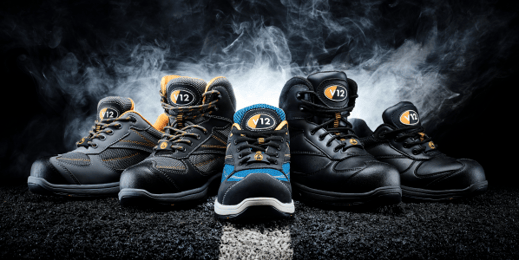 Testing is fundamental to ensure that we maintain the highest of standards. We test our prototypes to breaking point by crushing, stretching and pummelling every part, as well as testing their performance in the 'real-world' industry environments they will be used in such as scaffold board and Kennedy grating.
We also consult with a panel of impartial wearers to find out if anything else should be added, and once we get the green light, we go into production using state-of-the-art manufacturing processes to make the most comfortable and reliable footwear.
The full V12 range has been tested and certified by independent test laboratories to EN ISO 20345:2011, and our new products will be tested to the updated EN ISO 20345:2022 footwear standard, such as our new lightweight safety wellington. Every design exceeds the standard.
Watch the video below for just a few examples of how hard we push our footwear in testing so it gives our wearers outstanding protection, no exceptions.
Recently, tighter and more rigorous testing in the safety footwear industry has become more common, which is a positive step forward in removing poor performing footwear from the market. At V12, we are passionate about continuous quality assurance even after we release a product, and we test footwear from each and every batch in the factory for continued EN ISO 20345 compliance. We also have a programme in place to test our products again when they arrive in our local warehouse.
What does the registered safety supplier scheme mean for V12 products?
Unfortunately there are a significant number of non-compliant and poorly performing safety products on the UK market. As a registered Safety Supplier Scheme member, V12 Footwear formally declares and commits to selling only certified PPE that performs to the claims made and carries the CE mark. Additionally, our products are independently randomly audited by the BSIF to verify conformance.
Safety equipment that doesn't perform properly isn't just inconvenient - it costs lives. Being a BSIF registered safety supplier will provide our customers and distributors with peace of mind that they are buying and using high-performing safety footwear with no compromises and no exceptions.
To guarantee that you are purchasing genuine safety equipment ensure that you source from a Registered Safety Supplier. You can download V12 Footwear's BSIF membership certificate here.
"Anyone can sell safety, but you wouldn't buy safety from just anyone."