We are over the moon to have received a prestigious Green Apple Environment Award at the Environmental Best Practice 2022 presentation held at The Houses of Parliament on the 21st of November.
V12 received the 'Engineering and Manufacturing: Carbon Reduction' Silver Award in recognition for our carbon neutral safety boot range, Lynx.
This is a huge achievement for V12 Footwear, and we're immensely proud that the passion and dedication we have invested in becoming the first UK safety brand to develop a carbon neutral work boot has been recognised.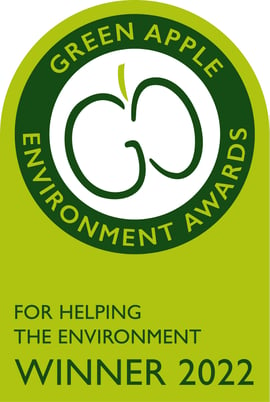 WHAT ARE THE GREEN APPLE AWARDS?
Run by the Green Organisation - an international, independent environment group launched in 1994, The Green Apple Awards was set up to reward and promote environmental best practice around the globe and has become one of the most prestigious environmental events in the world.
Its iconic Green Apple trophies are much sought-after and are becoming increasingly hard to acquire because, quite rightly, so many businesses are stepping up their sustainability and carbon-reducing practices.
So, we're thrilled that in this highly competitive arena, the Green Apple Awards have recognised V12's carbon-reducing achievements. In fact, we competed against more than 500 other nominations in this year's Green Apple Awards, which makes us all the prouder that we've emerged as a national sustainability winner.
WHERE DID IT ALL START? LYNX: A SUSTAINABLE SAFETY STORY
Sustainable manufacturing is essential for the planet's longevity, so we believe our wearers and the earth need carbon neutral products. And we saw the Lynx as an opportunity to develop a safety boot where carbon was reduced in every phase - from design, construction, shipping and packaging. Our journey was directed by 3 key sustainability steps: REDUCE, EXTEND, OFFSET. Hear about these steps from our Managing Director, George Turner in the video below.
OUR SUSTAINABILITY STEPS - A CLOSER LOOK
To
REDUCE:
Moving production of the Lynx from the Far East to Europe not only reduced our shipping mileage by 8,000 miles - it decreased the journey time by 31 days, which is why each voyage now saves an incredible 250 KGs of carbon.
Sustainable stats: Did you know?

The carbon footprint generated by an average safety boot is 25 Kgs
A Lynx boot generates 8 Kgs less than this figure
Based on sales this year, this is a difference of over 10,000 Kgs

But it wasn't just a reduction of mileage that we introduced to enhance sustainability in production of the Lynx. Furthermore:
Our Operations Team analysed energy data to reduce emissions.

Our Supply Chain Team reduced leather-shipping and factory leather waste.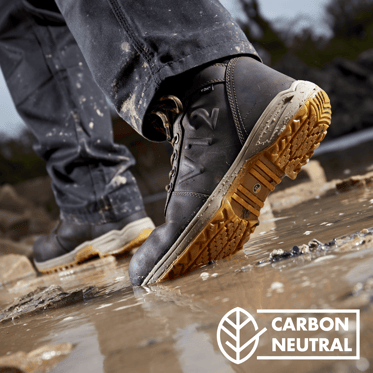 TO EXTEND:
Lynx is built to last. Its quality components and materials including water-resistant leather, a hard-wearing footbed, a shock-absorbing, reinforced heel and tough IGSTM sole means it's an extremely durable boot. This way it spends more time on wearers' feet and less time on landfill - reducing waste and saving energy.
TO OFFSET:
We compensated for the remaining carbon that couldn't be captured in production by working with Carbon Footprint Ltd, so we could invest in their carbon-reducing projects such as providing safe water, clean energy and land conservation for communities across the globe.
By making these offsetting investments, the amount of carbon dioxide and its equivalents that V12 have offset in the production of Lynx totals 27 tonnes. Offsetting this amount of GHG (greenhouse gases) was a key step in the Lynx range being awarded ZeroCarbon® certification from The Sustainable Future Group.
Want to find out more about Lynx's carbon neutral story? Head to the blog.
CARBON-REDUCING COMMITMENT
And it was this commitment for far-reaching, company-wide sustainable improvement that compelled the judges to recognise V12 in the Carbon reduction in Engineering and Manufacturing category - because to develop Lynx into a carbon neutral boot, we built sustainable manufacturing into every point of its production.
Chloe Oakley, V12's Operations Coordinator who collected the award for V12 commented:
"It was a huge honour for V12 Footwear to achieve a Green Apple Award for the carbon reduction of the Lynx Safety Boot. The whole V12 team have collaborated to produce not only this highly sustainable piece of footwear, but also the achievement of stepping into a greener future. And we will be striving further and working harder to ensure we care for our planet just as much as we care for our wearers' feet."
THE FUTURE: CAN WE MAKE LYNX EVEN MORE SUSTAINABLE?
Simple answer? YES! And we're going to. We're not stopping just because we've received a Green Apple Award – we are introducing more carbon-reducing developments for this range to make its environmental impact even cleaner and greener than it already is. This includes:
Improved recycled packaging

Less production processes

More recycled and non-leather components
Most exciting is our new factory manufacturing the Lynx styles - 1000sq meters of its roof will be covered with solar panels which will provide up to 20% of its energy.
And it's exciting developments like these that show when it comes to environmental best practice, we can always do more - and if there is passion and a consistent drive to improve the world in which we live, carbon neutrality and sustainable manufacturing is absolutely achievable. And the Lynx – and its Green Apple Award - is proof of this.
Interested in the Lynx? You should be: this boot is not just highly sustainable – it's seriously big on safety and comfort too. Click below and see for yourself!