Introducing the carbon neutral Lynx range – maximum protection for wearers, minimal impact on the planet.
V12 are committed to global sustainability and ensuring that our safety boots are great for the planet as well as our wearers. Today's consumers rightly expect the products they buy to leave a minimal carbon footprint. In fact, a recent survey with over a million participants conducted by the UN revealed that 80% of people in the UK consider climate change to be a global emergency.
And we've responded by making our most sustainable boot range ever - the carbon neutral Lynx.
HOW DID WE MAKE A CARBON NEUTRAL SAFETY BOOT?
We took 3 key steps to make the Lynx range carbon neutral.
Step 1:

reduce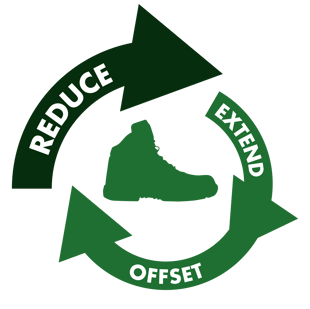 By moving production of the Lynx range from Asia to Europe, we've slashed our carbon footprint because of the massive reduction in shipping mileage.
A significant number of the world's clothing manufacturers are located in Asia, and while its huge production capacity and advanced manufacturing processes are a big benefit to business, factories located in the far east can pose a number of sustainability challenges. A lot of the energy used to power factories in Asia comes from burning coal (bad news for the atmosphere) and secondly, the huge journey from the far east creates an equally huge carbon footprint.
But because of the drastically reduced amount of shipping miles, each pair of Lynx boots shipped from our European factory is now making its own valuable carbon saving.
Find out more about our exciting production move in our recent blog.
SUSTAINABILITY IS A TEAM GAME
Our suppliers also play a key role in reducing the carbon output of this product. Many are now powering their factories with solar energy, as well as using air filtering and water purification systems in production. On top of this, our suppliers are constantly looking for more ways that recycled materials can go into Lynx boots.
Step 2:

Extend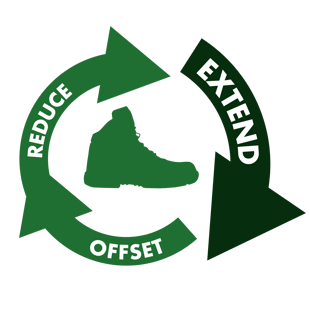 A key part of what makes the Lynx range carbon neutral is that it's built to last, because we only use high-quality components in our footwear. So while a lot of cheaper and inferior boots will need to be replaced several times a year - using up more of the planet's precious resources and ending up on landfill within a few months - the tough by design Lynx stays on your feet for much longer.
Remember: the less boots you own, the less you need to dispose.
Step 3:

Offset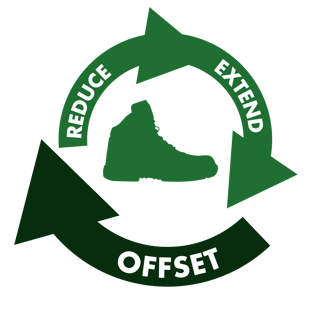 While the Lynx is our most earth-friendly range yet, we know we can do more. We're continuing to work on streamlining our manufacturing processes to achieve even better levels of sustainability for the Lynx range, but while we work on this, we've compensated for emissions we're not yet able to capture through carbon offsetting. We worked with Carbon Footprint Ltd and invested in their carbon-reducing projects which provide safe water, clean energy and land conservation for communities all over the world.
By investing in this process, the total amount of carbon dioxide equivalents we've offset in the production of the Lynx range comes to 27 tonnes. Offsetting this amount of GHG (greenhouse gases) was an essential step in V12 receiving a ZeroCarbon® certification for this product from The Sustainable Future Group.
Find out more by viewing the Lynx range here.
LYNX IS AN ENVIRONMENTAL AWARD-WINNER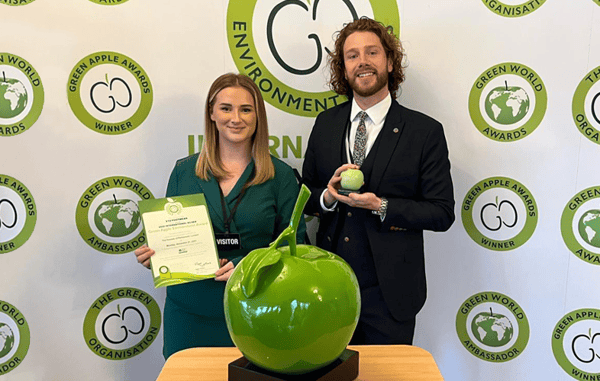 V12 Footwear were delighted to be awarded with a prestigious Green Apple Award at the Environmental Best Practice 2022 presentation at The Houses of Parliament on the 21st of November. We received a coveted Green Apple award in the 'Engineering and Manufacturing: Carbon Reduction' category, in recognition of Lynx and its carbon neutrality.
We competed against over 500 other nominations, but emerged as a winner due to the company-wide sustainability steps we've established to make the Lynx carbon neutral.
Collecting the award, Operations Coordinator Chloe Oakley said:
"It was a huge honour for V12 Footwear to achieve a Green Apple Award for the carbon reduction of the Lynx Safety Boot. The whole company have collaborated to produce this highly sustainable piece of safety footwear."
AND LET'S NOT FORGET THE SPEC...
Lynx's carbon impact might be minimal, but its comfort and safety features are off the scale.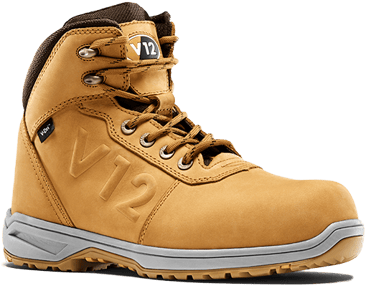 WATERPROOFING
The Lynx range provides outstanding waterproofing through the V-Dri, our highest performing waterproof membrane yet, which keeps water out but keeps feet cool.
LONG-LASTING COMFORT
While the majority of safety boots have insoles made with closed cell materials which can flatten over time, Lynx's insoles are produced with advanced open cell material which maintains shape for longer, so comfort lasts longer.
INCREDIBLE GRIP
Lynx boots come with our IGSTM (Intelligent Grip System), a highly innovative sole design which provides industry-leading slip prevention.
PROTECTION
The Lynx's composite anti-penetration midsole and long-lasting composite toe cap offers maximum protection and peace of mind.