When it comes to choosing safety boots, there are a number of things which should inform your decision. Fortunately for you, after we've walked you through our 6 simple steps, you'll know everything there is to know about buying the right pair of safety boots, so you can avoid the pitfalls of pain and discomfort and reap the benefits of comfortable, fully protected feet.
1. SURFACE AND SOLE
According to recent HSE statistics, 33% of the 441,000 non-fatal accidents at work in the UK last year were slips, trips and falls. That's 145,530 – and a sobering reminder of how important stability and grip is when making a safety boot purchase.
It's not always possible to control the surfaces you walk on – and staying stable and slip-free becomes particularly challenging if you work outdoors, face varied and adverse weather or work around liquids or contaminants. However, controlling the grip and stability your boot gives you is absolutely within your power, and can mean the difference between pain and productivity.
The grip you need your boot to provide should be based on the surfaces on which you work, and thinking about whether they're natural or man-made is a great place to start.
If you work predominantly on natural surfaces...
...such as mud/earth, ballast, grass and sand, you should opt for grip that has: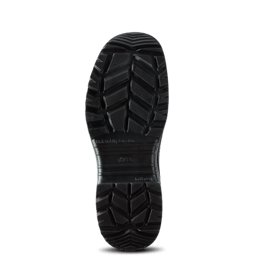 Bigger or 'chunkier' tread

Wider gaps between the tread

Typically an

SRA

slip rating
(Since 2011, footwear has been given an SRA rating if it has passed a grip test known as the 'friction co-efficient' on a soapy ceramic tile surface. Alternatively, footwear has been given an SRB rating if it's passed this friction co-efficient standard on an oily smooth steel surface, making it a more difficult test to pass.)
Look at the image of this sole. This boot's tread is appropriate for natural surfaces (which can be unstable or uneven) due to its large lugs and wide gaps. Because the channels are wider, they allow more room for mud to work itself out of the sole and away from the shoe.
If you work mostly on man-made surfaces...
...such as concrete, Kennedy Grating, scaffold or tarmac, you should opt for grip that has: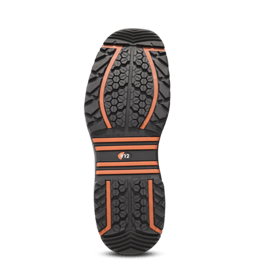 A flatter sole
Smaller tread channels

Typically an

SRC

grip rating (this is the highest slip resistance rating a boot can get; if it has an

SRC

rating, it is automatically SRA and SRB rated too)
In this image, this sole's tread is suitable for typically smoother and therefore more slippery man-made surfaces.
Its small grip pattern cuts through water and channels it away efficiently, meaning that the maximum amount of shoe is in contact with the ground.
Safety footwear standards have recently changed

.
For boots tested under the new EN ISO 20345: 2022 standards, the SRA, SRB and SRC codes will no longer be used. Going forward, there will be no symbol for slip resistance, because it is a mandatory requirement and will automatically have met this standard if it is a safety boot.
So if you buy a new pair of boots, it's possible that they will have been tested using the updated EN ISO 20345: 2022 standards, so the old slip-resistance codes might not be there, but they will have passed the mandatory grip test.
(There is an optional test that a safety boot can undergo - if you buy a new boot with the code SR on it, this means it has passed this additional slip resistance test, which features glycerine on a ceramic tile surface.)
Key message: think about the grip on your boots like tyres. Do you need tractor tyres or car tyres?

Other QUESTIONS to inform the safety spec for your boot include:
Are steps or ladders an integral part of my job?
Do I walk on any hot surfaces? (and so do I need rubber or PU soles?)
Find out more about preventing slips, trips and falls here.
2. SAFETY
Modern safety boots offer a huge range of safety features, and it's easy to fall into the trap of thinking you need them all. But to get clarity on what you need your boot to do for you, you should assess your workplace risks. Asking yourself the following questions will help you find a boot with the appropriate safety spec:
Risk of heavy item being dropped? (e.g. tools)

Risk of rolling item crushing the foot? (e.g. drum or wheel)

Risk of trapping or crushing? (e.g. forklift)

Risk of standing on sharp items? (e.g. nails)

Hot or cold environment? (HRO or CI)

ESD or anti-static required?
When you've thoroughly reviewed the hazards that your job poses, you simply need to match these with the safety classifications to make an informed and strategic choice.
Key message: It's just as inappropriate for your boot to suffer from over-specification as it is from under-specification; think about what your boot doesn't need to do as well as what it does - you could end up saving money and time.
3. ENVIRONMENT
Your environment should play a big part in your safety footwear choice, particularly if it's affected by the weather – notably, wet conditions. And now we're familiar with the slip ratings, it should be a doddle.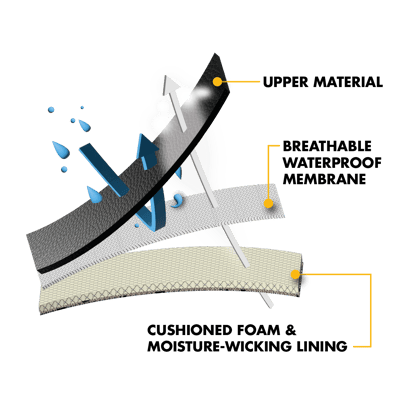 If your working conditions are mostly dry, a water-resistant boot should be adequate. Rather misleadingly, water-resistant doesn't mean waterproof. A water-resistant boot will offer a certain degree of protection, but when exposed to moisture over a prolonged period, it will let water in.
If you're working in and around high levels of water, then a waterproof boot is definitely the right choice. Rather confusingly, the code for a waterproof boot is WR (for water-resistant with a waterproof membrane), even though water-resistant means something technically different from waterproof. Similarly, the wetness of your conditions should influence the type of slip rating your sole has.
The EN ISO 20345: 2022 safety standards update also affects how water-resistance is coded going forward. For boots tested under the old EN ISO 20345: 2011 standards, the code WRU (water-resistant upper) will indicate that it's water-resistant. The new code for water-resistance is WPA (water penetration and absorption). The new safety boot standards haven't affected the codes for waterproof boots. Remember, the dryness of your conditions should influence your grip.
In the image above, we see a V12 waterproof boot in action. The upper material resists a degree of moisture, but the waterproof membrane acts as a barrier against water, ensuring the foot stays dry. The third layer of lining wicks moisture such as sweat up and away from the foot where it's released to evaporate.
Key message: You can't control the weather – but you can control your footwear.
Learn more about the difference between water-resistant and waterproof safety boots here.
4. STYLE
It's not just safety that should contribute to your safety boot choice – style is important as well for both aesthetic and practical reasons.
Safety shoes can be ideal if you have the type of role that sees you on site one minute, in the boardroom the next. Despite their elegant look, modern safety shoes can still have some seriously strong protective hardware underneath the leather.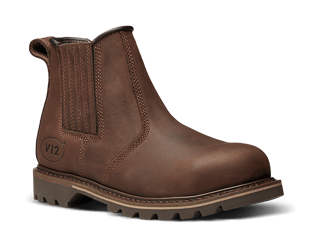 Dealer boots are a massive favourite with many working in the agriculture and construction industry. While they might look elegant and refined, with safety features such as a steel toe cap and a pierce-resistant midsole, they can offer top-quality protection as well as an iconic and stylish look.
As well as their elastic side panels, they're also a big hit due to their convenient 'on and off' laces-free benefit.
Pictured: V12's best-selling dealer boot V1231 Rawhide.
Hi-leg boots boots are a popular choice for many due to the protection they offer. Firstly, the higher leg offers additional impact protection, but most importantly it provides wearers with extra support which helps reduce injuries like sprains and ankle twists.
Wellington boots are warm, waterproof and durable by nature due to their rubber or PU construction, and as result are a much relied on item of footwear that can be found in most homes as well as industries. And safety wellingtons with toe cap and midsole protection can make an already reliable boot an excellent foot protector.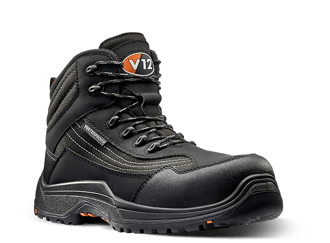 Hiker boots
- r
ather like hi-leg boots - are popular because they provide additional ankle protection. But they're also favoured because they tend to look a little 'sportier' than other boots such as hi-legs or wellingtons, which can look heavier and less streamlined
.
Pictured: V12's
V1501.01 Caiman IGS.
For more information on boot styles, read our blog 'Best boot types for Groundsworkers'
here
.
Key message: Style is important, but the safety spec should always come first.
5. SIZE
When it comes to maintaining good foot health, sizing is crucial, particularly for safety boots as some of the protective features can mean more weight on the foot.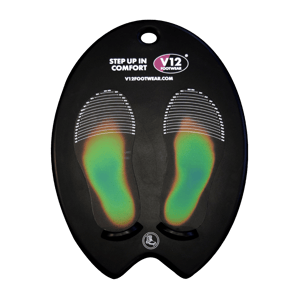 And your current boot size might not be as clear cut as you think. In fact, when we've approached companies for fittings, it's emerged that often up to 90% of the workforce have been wearing the wrong sized boot.
It's common for people to have a fixed idea of their boot size, and even if it isn't correct, some find it hard to move away from this magic number, causing them to opt for boots that are too big for them. Furthermore, because a lot of safety boot brands tend to be narrower, wearers can often end up buying a bigger size than necessary, causing discomfort and compromising their safety.
Pictured: A V12 Dynamic Arch impression thermoboard. We use this advanced heat impression board not just to get an exact size, but also to establish the foot arch type, because we understand the importance of comfort through exact fit.
Getting the right size is crucial not just for your comfort though - wearing poorly fitting shoes over time can lead to:
Blisters

Corns and callouses

Toenail loss or damage

Plantar Fasciitis

Lesions

Poorly fitting shoes can worsen diabetic neuropathy
The negative effects of wearing the wrong fitting safety boots has been a particular issue for women. As many companies still don't provide specifically designed safety boots for females, their only alternative has been to wear smaller men's boots. But because wome

n have an anatomically different foot shape to men, this can lead to: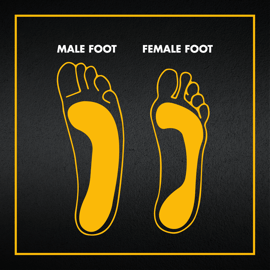 wearing thick or multiple pairs of socks to keep boots on, resulting in hot and uncomfortable feet.

incorrect or inconsistent protection around the ankle

pain due to insufficient foot arch support.

a change of gait, leading to a range of long-term musculoskeletal issues.
Pictured: the differences between male and female feet. Note in particular the narrower female heal in relation to the ball width and their higher arches and Achilles tendon. Women also tend to have a shallower big toe and lower instep.
Did you know?
Women and men even walk differently: women take shorter and more frequent strides and are also more prone to pronating their feet (rolling feet inwards).
V12 worked with renowned laboratories to gather data of the female foot shape so we could develop our bespoke safety boot range for women.
If you're interested in conducting a footwear sizing audit for the staff in your organisation, then get in touch with our team by emailing sales@v12footwear.com.
Key message: Don't get too bogged down by size – be guided by comfort when trying on boots.
6. PRICE
The term 'you get what you pay for' is never truer when you're buying safety boots.
You may be initially attracted by the idea of spending £30 on a pair of safety boots instead of £60 or £100, but it's a fairly safe bet that boots which are cheap will not be comfortable and won't last long. If you've had to replace your £30 boots three times in a year, you're going to regret not investing in a more expensive pair that have a longer lifespan.
In a survey by the University of Bath with over 550 people in safety-critical industries, it was revealed that 25% of people's safety boots only lasted between 3-6 months, and 48% of the participants said their safety footwear lasted less than a year. This is hardly surprising when you consider that the same survey highlighted that 48% of the respondents pay under £50 for their safety boots.
These statistics align strongly with something we regularly notice, which is that price often reflects the performance of a safety boot. And while this includes lifespan and durability, when you invest a little more in a boot, it performs in both a safety and comfort sense as well. A more expensive boot will more reliably and consistently meet the safety standards which protect feet from the hazards of safety-critical industries, and equally importantly, it will have better comfort features, so the distraction of discomfort and the effect it has on concentration won't endanger the wearer.
And let's face it, when you're trying to save the pennies, there are times when opting for a cheaper and less effective product might be necessary. But when we're talking about safety and protecting your feet - the platform for your body and the gateway to your mobility - cutting corners is definitely not the way to go. In the end, spending that little bit more will make a massive difference.
Want to find out more about cost in use? Read our blog here.
We're so confident in the durability of V12 footwear, we have a 200-day warranty on all our boots.
Key message: when it comes to your safety, the extra investment is always worth it.