Grounds Week is a national awareness event that celebrates the world of grounds management and highlights the essential role it plays in professional sport. This year's Grounds Week has a particular focus on inspiring young people to get involved in this incredibly rewarding and often overlooked sector.
So, if you're one of the country's trusty groundsworkers or you're thinking about joining the industry, this blog contains all the information you need to make the right footwear choice. Ready? Let's hit the ground running.
WELLINGTON BOOTS
When people think about working outdoors, the iconic wellington boot often springs to mind. Because of their rubber or PVC construction, they are waterproof and durable by nature, and offer the added benefits of warmth and protection in colder months due to their hi-leg.
Many in turf management also love the welly because it's quick to clean and easier to get on and off than a lot of lace-up boots.
Safety wellingtons
Many in grounds maintenance find having toe caps within their wellingtons offer important additional foot protection. Lawnmowers and strimmers can throw up stones and debris in the direction of the feet, whilst sharp and heavy tools such as shovels and spades often strike the ground near the feet, so a toe cap in a wellington – or whichever boot style they wear - is a preferred safety feature for many.
Tip: some find that a steel or composite toecap in a wellington makes an already heavy boot even weightier, so it's worth exploring different types of safety boots; some can be significantly lighter but still offer excellent foot protection, if weight is of a concern. Keep reading to find out more.
HI-LEG BOOTS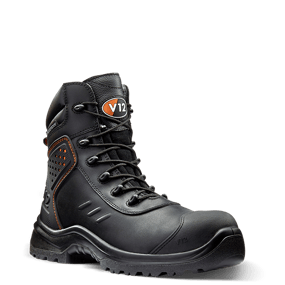 Hi-leg boots are a popular choice for many working in grounds care due to the ankle support they provide. And by support, we're not just talking protection from impact: a well-constructed hi-leg boot can protect the wearer from serious ankle sprains or twists from walking on uneven or unstable ground. Remember, grounds work is a tough job. It's cold, wet, muddy work on harsh terrain with a lot of heavy lifting. That's why the footwear needs to be tough, supportive and reliable.
Tip: some hi-leg boots feature a cut-away collar, meaning the back of the boot doesn't come up as high at the front. Some groundsworkers find this allows water or cut grass flicking up from mowing to find its way into the back of the boot. So if you're walking on wet grass often or cutting a lot of it, it might be best to opt for a boot without a lower or cut away-collar.
A great example of a supportive and stylish hi-leg boot is V12's Defender.
HIKER BOOTS
Hiker boots are a popular choice with those in the grounds sector, as they offer, like the hi-leg, important ankle protection. However, some prefer hikers because they often look a little sportier than wellingtons or hi-legs - which can be functional and heavy in appearance. Hiker boots can also be lighter than other safety boots, and some see this as a benefit given the long distances groundworkers walk. According to turfbusiness, football groundskeepers can walk up to 14 miles a day. So having shoes that don't feel too heavy is important. Let's go into a bit more detail.
Lightweight vs heavyweight
Finding the right weight for your footwear depends on the type of grounds maintenance you do. Many opt for a toe cap and midsole to protect them from debris and the heavy equipment they use, whereas those working in spaces that have to be kept looking pristine such as bowling greens or professional sports pitches often choose lighter footwear to minimize damaging the turf.
Tip: Some like the fact that hiker boots have a 'fabric' appearance, but often, debris and dirt is more likely to cling to the shoe, work its way into the seams and be harder to clean. So if you're going to be working in a muddy environment, it might be best to go for a smoother material such as leather.
WATERPROOF BOOTS
A groundsworker will carry out a huge variety of tasks through the course of their day, but there's one thing that all grounds folk have in common. They hate wet feet.
And why not? They're annoying at the best of times, but if people are working around heavy machinery and sharp tools, being distracted by wet feet becomes altogether more serious. And few things soak feet more quickly and thoroughly than long wet grass. To add to this, soil is about 25% water, meaning if you're working in grounds care, moisture is everywhere. So regardless of the type of boot you choose, an absolute must when working on the turf is a boot with a fully waterproof membrane. After all, as L.L.Bean puts it: 'warm dry feet haven't gone out of style.'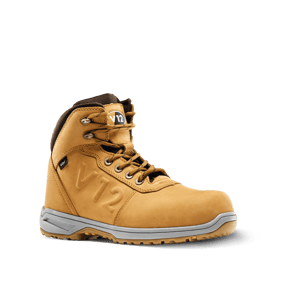 However, there's a snag with a lot of waterproof footwear: lack of breathability. To make a boot waterproof, the membrane acts like a plastic bag which prevents the water coming in. But this often causes the feet to get hot and sweaty, as there is nowhere for air or perspiration to go.
V-Dri, V12's high-performing waterproof membrane combats this uncomfortable issue. The V-Dri membrane has microscopic holes small enough to stop water coming in, but large enough to allow perspiration out.
Take a look at the V-Dri technology in action in the new waterproof Lynx range.
Tip: many get waterproof and water-resistant mixed up. Read our blog here to clear up the confusion.
OTHER IMPORTANT SAFETY AND COMFORT FEATURES
NON-CLOGGING TREAD
Often, it's not just the ground that's uneven when working outside. If enough mud and debris get clogged in the tread, the boot can easily become its own uneven surface, vastly increasing the chances of a slip. Clogged tread will also make a boot significantly heavier, making walking less comfortable and also increasing the chances of a fall.
When working on natural surfaces such as grass, mud or sand, we recommend having tread that features large lugs (the chunky parts in the grip of your sole) and that there are wide gaps between them. These wider channels provide more room for mud to work itself out of the grip and away from the shoe.
Inspired by tractor tyre technology, V12's STS provides superb stability and traction on loose surfaces due to its water dispersing channels and angled lugs. It's a must-have for the groundsworker battling demanding terrain. Find out more here.
CUSHIONING
Groundsworkers are constantly on their feet, so wearing comfortable shoes isn't a benefit – it's an absolute necessity. According to RateMds, groundsworkers walk on average 15,00 steps per day – that's 7.5 miles. But so many safety shoes out there don't give their wearers the right amount of comfort. In a recent safety footwear survey from Bath University, almost 10% of the participants complained that heel pain was an issue when working in safety boots.
If you're after a safety shoe with comfort at the forefront, a boot like Caiman is the perfect fit. It's a fully waterproof, lightweight safety hiker with underfoot cushioning and reinforced shock-absorbing heel, making it an incredibly comfortable product. Find out more here.
So whether you're new to the industry or you're a groundsworker looking to update your footwear, the key thing is to understand the demands and challenges of your environment. Then you can pick a boot that will do its job properly, so you can concentrate on doing yours.
To get involved in this year's Grounds Week, use the hashtag #groundsweek.