We were thrilled to win Best Innovation in Footwear for our V1750 Defender STS boot at the 2021 Professional Clothing Industry Association Worldwide (PCIAW) Awards.
Here, we take a closer look at why this trailblazing safety boot came out on top.
INNOVATION IN ITS DNA: THE BIRTH OF THE DEFENDER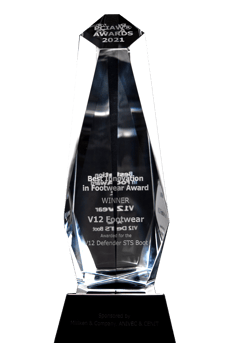 Developed specifically for people working in the rail industry, the V1750 Defender STS is the result of collaboration and clarity. V12 invited a range of people from across all areas of the rail industry to a research workshop to find out what they really needed from their safety footwear.
We wanted to educate ourselves as much as possible about the challenges and hazards that working on the rails presented these individuals, and how we could develop a safety boot that was up to the task of meeting these demands.
Gathering this wealth of experience and feedback from industry experts resulted in the Defender, an incredibly tough but lightweight hi-leg safety boot packed with protection and specifically constructed to serve the needs of those working to keep our country's people and freight moving.
Find out more about our research workshop here.
THEY SPOKE, WE LISTENED
The research workshop revealed that there were two key priorities for people working on the rails: waterproofing and ankle protection. And that's why these two features are at the forefront of this safety boot, and why the PCIAW recognised it as a truly revolutionary product.
"Had a very wet night shift and no sign of wet socks!"
Test Pilot Feedback on the V1750 Defender STS
WATERPROOF
The Defender meets the demands of the wet outdoor environment that rail workers face daily.
Its fully waterproof construction means that whether the wearer is relaying ballast in the pouring rain or repairing track in a flooded area, this safety footwear will keep their feet completely dry.
Furthermore, Defender's breathable lining means that wearers' feet remain cool and comfortable - which is crucial for people like rail workers who can spend more than 10 hours a day in their boots.
Interested in waterproofing in safety footwear? Read our blog here to find out more.
ANKLE PROTECTION
Absorbing the impact
Another concern for the workshop participants was having a safety boot with sufficient ankle protection. People in the rail industry face many hazards that can cause serious harm on impact such as heavy machinery and concrete or steel sleepers. To safeguard the wearer's ankles, the Defender features Poron XRD® side-impact cushioning, which offers advanced protection through its high-impact shock absorption.
"The slip resistance was unreal. Places where I know I will slip are no match for these boots."
MARK COLVIN on the V1750 Defender STS
Staying firm-footed
Slips and trips from walking on unstable or slippery surfaces is a common hazard. In fact, civil engineering group VGC state that slips and falls are one of the top three main risks of working on the railway. That's why this safety boot features V12's innovative STS, a sole unit which provides superb traction and superior stability across a wide range of surfaces. Its large lugs and channels provide excellent grip on loose surfaces and prevent clogging, while a redesigned heel strike and angled splines ensure the wearer stays firm-footed.
Learn more about the revolutionary STSTM sole unit here.
MORE SAFETY FEATURES
We told you the V1750 Defender STS was packed with protection...
Anti-static - reduces the chances of electrostatic discharges

Lightweight composite toecap & midsole

SRC Slip Rating - guards against slips, trips and falls

Deep ladder grips - provides safety when working at height

An ergonomic top band for comfort when driving
"The comfort was second to none. It felt like standing on a pillow... love the way the ankle support actually fits round your Achilles for extra comfort."
Test Pilot feedback on the V1750 Defender STS
EXTREME COMFORT AS WELL AS PROTECTION
The PCIAW Innovation Award is given to a product that not only boasts impressive technology, but offers something unique that isn't available elsewhere on the market. And as well as its revolutionary sole unit and protective qualities, the Defender's weight – or rather lack of weight – was another reason it took home the silverware. For such a robust and sturdy boot, the V1750 safety boot is incredibly lightweight, largely due to its PU sole unit.

This means that while wearers are given maximum protection, they aren't weighed down by heavy boots, vastly reducing foot fatigue - which can cause aches, pain and cramp. And someone who's not distracted by discomfort or pain is someone who's free to focus on doing their job safely and effectively.
To add to this, Defender wearers will also benefit from the VS102.01 Energyse Insole, an insole which sets new standards in day long comfort. It features:
A shock-absorbing heel pod, reducing impact on knees and back

Airflow channels which reduce heat build-up and maximise air circulation.

Rebound PU foam for outstanding comfort
INNOVATION IS ABOUT PEOPLE, NOT PRODUCTS
There is innovative technology in every area of the V1750 Defender STS, but for us, the real innovation is in the way this safety boot was planned and developed. Instead of designing a product we thought our wearers wanted, we worked with the relevant wearers and specialists to develop a product we knew they could depend on. By engaging the people who really matter – the individuals who face these harsh, challenging environments each day – and understanding their needs, we had a laser-sharp focus on what we needed to do to make our boot the best performing product for them. And that is true innovation.