I WANT DRY FEET
And why wouldn't you? Dry feet are hugely important for those who work outside - particularly in the autumn and winter months - to avoid discomfort and enjoy good foot health.
But wanting dry feet is a little more complicated than it sounds. Selecting the right footwear to keep your feet dry all depends on the type of wet conditions you work in, and what you need your boot and its components to do.
So, in this blog, we're taking a deep dive into all things waterproof. We'll talk you through you how boots become waterproof, highlight some different waterproof membrane brands on the market such as GORE-TEX and Sympatex, as well as show you some brands you might not be so familiar with. Most importantly though, we'll focus on what waterproof footwear options are available to suit you and your requirements. Let's get into it.
HOW DOES A BOOT BECOME WATERPROOF?
When it comes to a boot keeping your feet dry, there's really only one essential element - and that's a waterproof membrane.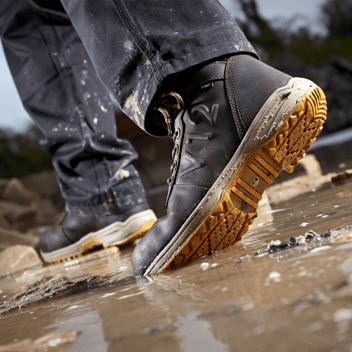 To achieve waterproofness, this thin layer of material (or 'bootie' as it's sometimes referred to) is placed between the upper material and the boot's inner lining.
While the upper of the boot might repel a certain amount of water, because it will have seams and eyelets, it won't be waterproof on its own – it is the membrane that acts as the essential barrier between your foot and the water.
While the main goal is to stop the water from getting into the boot, a good membrane should also be breathable, so air and sweat can find their way out, keeping the foot dry yet ensuring it doesn't become hot and sweaty.
It's sounds simple, doesn't it? Like popping a plastic bag into your boot. But for a membrane to be waterproof, breathable, comfortable - and even sustainable, it's a little more complicated...
HANG ON - WHAT'S A WATERPROOF LINING?
A waterproof lining is a combination of the membrane and fabric. While the membrane is the thin material offering the actual 'waterproofness,' the lining is the layers of material such as foam as well as the top fabric combined with the membrane. Imagine a very waterproof sandwich – this is the lining.
Ever wondered what the difference is between waterproof and water-resistant? Learn all about it here.
SO, WHAT'S OUT THERE? POPULAR WATERPROOF LINING BRANDS
GORE-TEX
GORE-TEX is considered by many to be the best-in-class waterproof protection solution. It's been established since 1976 and its high-performance product technologies are found in jackets, footwear and gloves so you'll probably recognise the name!
HOW DOES GORE-TEX'S WATERPROOF MEMBRANE WORK?
GORE-TEX's website states the following:
'Each square inch of the GORE‑TEX membrane has nine billion pores. Each of these tiny holes is 20,000 times smaller than a water droplet. This is what makes the membrane in everything in the original GORE-TEX products range waterproof: rain and snow simply cannot get in.
Each one of those billions of pores is also 700 times bigger than a water vapor molecule, which is just a nice way of talking about your sweat! It means that your sweat can escape. That's what we mean by breathable.'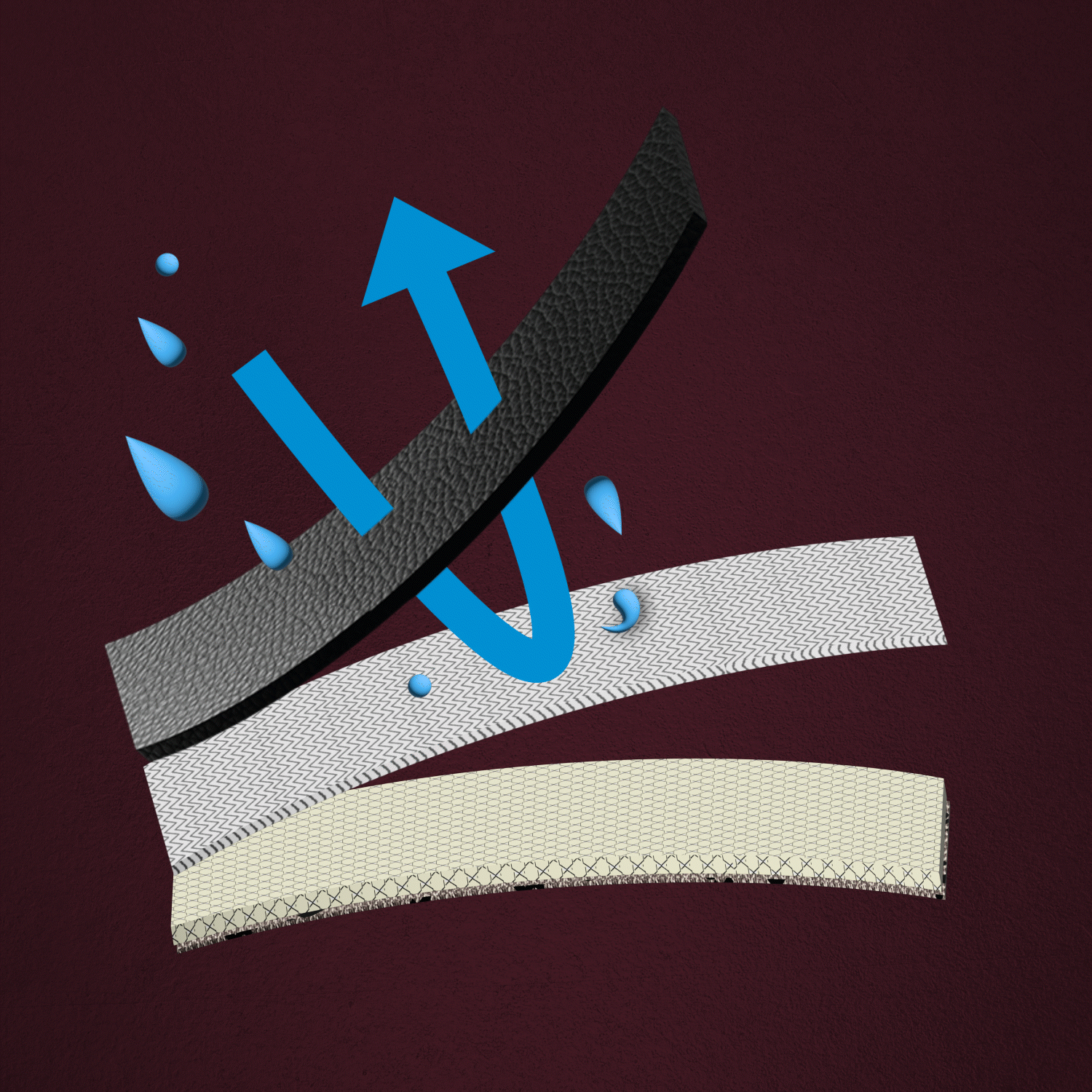 In other words, rain can't get in, but sweat can get out.
Look at the waterproof membrane illustration. See how the water that manages to get through the upper layer is blocked by the impermeable middle layer of the membrane.
However, because of the moisture-wicking lining at the bottom and the microscopic pores in the membrane in the middle, sweat is allowed to evaporate through the layers and out again. The result? Dry, but not sweaty feet.
GORE-TEX have several different packages or performance options, which means there are multiple versions of the GORE-TEX waterproof membrane. This means that different applications can be used in varying garments for varying uses.
For more information on how the Gore-Tex waterproofing membrane works, read their blog here.
SYMPATEX
Sympatex is, like GORE-TEX, a very well established and popular waterproof membrane brand.
On its website, Sympatex describes itself as 'the sustainable approach to a highly functional yet fully recyclable membrane.' On Sympatex's environmentally friendly properties, it says:
'While it performs like a true fabric technology, there is something that sets it apart from the other options available, it is eco-friendly and 100% recyclable. The reason for this being that it is made of a hydrophilic polyether-ester polymer, which is a natural composition that is biodegradable.
HOW DOES SYMPATEX'S SUSTAINABLE WATERPROOF MEMBRANE WORK?
Sympatex describes its waterproof membrane as working 'via a physicochemical principle.' It goes on to explain:
'Hydrophilic, (water-loving) molecular chains in our membrane absorb the water vapor and discharge it to the outside. The higher the temperature and humidity difference, the greater the effect. Thus, our membrane works dynamically and adapts perfectly to the conditions. At the same time, it does not allow water or wind to penetrate from the outside and protects the body from any weather.'
In other words, the water-attracting part of the Sympatex membrane absorbs sweat and pushes it out by evaporation, but because the structure swells with the moisture, it provides space for water vapour transport and fast evaporation. Find out more here.
WATERPROOFING AND SUSTAINABILITY
Many feel the waterproof elements of footwear should be the subject of further sustainable innovation and development, because several membranes on the market get their waterproof properties by being made of PTFE. This is a high-density synthetic substance that's not only very difficult to recycle, but it also requires a significant amount of energy and chemicals to produce. Some academic researchers have also raised some concerns regarding the adverse health effects related to PTFE.
As a result, brands such as Polartec are finding new ways to make the production of waterproof membranes more environmentally friendly. Polartec's new bio-based waterproof fabric has been developed with plant-based processes without the use of PTFE. Find out more about it on their website.
OTHER WATERPROOF LINING BRANDS
V-Dri

TM
Developed to deliver a combination of breathability, high levels of waterproofing and moisture management with inside boot climate control, V12 have used the optimum selection of materials to deliver their highest performing waterproof membrane to date.
HOW DOES V12'S V-DRITM WATERPROOF MEMBRANE WORK?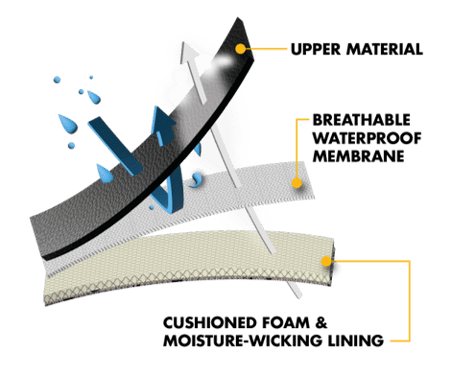 The V-DriTM membrane features a series of microscopic holes so small, they prevent water from getting into the boot, but are simultaneously large enough to allow perspiration to escape. V12's membrane production technique creates the optimum size of these microscopic holes to release the maximum amount of moisture vapour.
As a result, feet remain cool and dry because they are protected from water and perspiration – two big foot health dangers. In this sense, the V-DriTM membrane is much like the GORE-TEX system.
Look at the illustration - note how V-DriTM, like other effective waterproof membranes, provides water protection but an effective exit for sweat as well.
V-DRITM - ADVANCED WATERPROOFING
The V-DriTM provides innovative moisture management and climate control capabilities through its ultra-wicking fabric and advanced membrane material. This means moisture vapour is allowed out of the boot more efficiently when the foot gets warm. So, if wearer use is frequent or temperatures are high, heat and sweat is removed faster.
Furthermore, the quality of the lamination of the membrane to other layers ensures the V-DriTM membrane doesn't stretch during wear, so its water resistance is never compromised.
WHAT ELSE HELPS TO KEEP FEET DRY?
While the membrane is your boot's chief component to keep your feet dry, there are other factors that could aid your boot's waterproofing effectiveness.
THE RIGHT UPPERS
If you are going to be working outside in the rain for hours at a time, an upper made of full grain or top grain leather would be the wisest choice, as these two leathers are naturally water-resistant and durable, as they are taken from the toughest sections of the animal's hide. This means they will shoulder some of the initial water-resisting, and if conditions aren't too torrential, the waterproof membrane won't have to work as hard.
Alternatively, boots constructed of Nubuck or corrected grain won't do such a good job at resisting the rain, but then again - if you're outdoors less frequently, you can rely on your waterproof membrane if you are caught in heavy rain, rather than just the upper material.
THE RIGHT CARE FOR YOUR BOOTS
It might sound simple but looking after your safety boots will prolong every aspect of their life, from their waterproofing, their comfort and appearance as well as their safety features. Want some tips on caring for your footwear? Head to our blog here.
Interested in finding the right waterproof boot for you? Our passion for footwear and expertise in safety is here to help you find the right solution without worrying about whether you've over or under-specced for your needs, so talk to us today.