So you think you know everything about safety boots? You might wear them every day, and you might even be a work boot expert – but were you aware of these 10 lesser known safety footwear facts?
1. THE FIRST SAFETY SHOE WAS MADE OVER 400 YEARS AGO
Developed in the 17th century, the first safety shoes were called Sabots (a combination of the French word for shoe 'savate' and the French word for boot 'botte') Essentially a hollowed out block of wood, 'Sabats' would have had very little flexibility and comfort, and were used primarily by French farmers to protect their feet from being crushed by animals.
We are reliably informed that Sabats were not EN ISO 20345 compliant...
2. SOME WOODEN CLOGS HAVE OFFICiAL SAFETY ACCREDITATION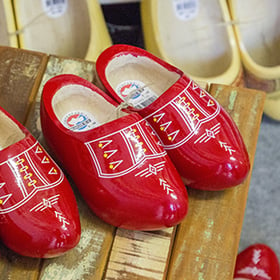 Sold throughout the Netherlands in their millions each year, whole-foot clogs are generally bought as tourist souvenirs, although some still wear them for foot protection in agricultural and even factory jobs.
In fact, some traditional all-wooden footwear from the Netherlands known as 'Klompen' (Dutch for 'clogs') even have official safety shoe accreditation with a CE mark, and can protect the wearer from a whole range of hazards including penetration from sharp objects and even concentrated acids.
Footwear fact: A clog maker is called a 'bodger.'
3. STEEL TOECAPS WERE INVENTED DUE TO THE EMERGENCE OF COMPENSATION
In the early 1900s, way before the Health and Safety at Work Act was established, companies found it cheaper to replace injured workers rather than put in place proper safety measures. However, as the 20th century progressed, companies started becoming financially liable for their employees' safety when compensation laws were established. As a result, they started focusing on safety equipment, and in 1930, the steel-toed boot was born, officially introduced onto the market by Red Wing Shoe Company.
4. YOU DON'T PAY VAT ON SAFETY boots
Safety boots are zero-rated for VAT, which means you don't pay any VAT when you make a personal purchase (when you buy a pair of safety boots for yourself). However, this changes if it isn't a personal purchase - safety boots are not VAT zero-rated for companies who buy them for employees.
What about safety shoes?
On the other hand, safety shoes aren't zero-rated for VAT, meaning VAT must always be paid on a safety shoe, whether it's the company buying them for their employees or if you're making a personal purchase.
Find out more about the impacts of tax in our simple and helpful guide on VAT and safety footwear here.
5. A SAFETY BOOT BECOMES A SAFETY SHOE WHEN...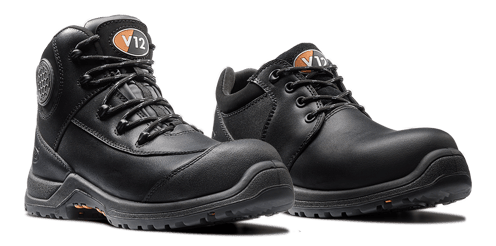 The difference between a shoe and a boot comes down to one crucial part of the wearers' lower limbs.
A shoe will (as you might expect) cover the foot, but doesn't go above the ankle. A shoe officially becomes a boot when the upper of the shoe comes up over the wearer's ankle. This definition lends itself well to what you've just learnt in point 4.
Read Stitchdown's excellent 'Shoe & Boot Term Dictionary' to find out more about boot and shoe classifications.
Pictured: The Intrepid boot and the Challenger shoe from V12's female-fit safety range.
6. NOT ALL TOECAP BOOTS ARE MADE OF STEEL
In fact, it's composite toecaps that are becoming the safety industry standard. Composite toecaps can be made from a range of materials including fibreglass, polycarbonate and thermoplastic.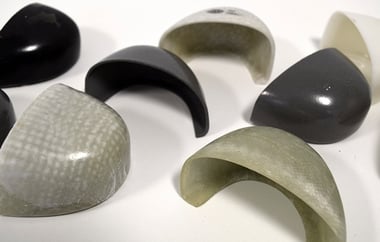 Why are composite toecaps often preferred to steel?
A few reasons – firstly, composite toecaps can flex under impact and spread the load outward to the side and front walls. Composite toecaps can also regain a lot of their original shape after impact, which makes it easier to remove footwear in the event of an accident.
Want to find out more about composite toecaps and how they differ from steel? Head to our blog here and get all the essential info.
7. WELLINGTON BOOTS ARE NAMED AFTER THE DUKE OF WELLINGTON
The trusty Wellington boot gets its name from when the Duke of Wellington asked his shoemaker to make him a more modern, tight-fitting version of the then popular Hessian boot, which was a knee-high leather boot with a front tassel worn by British Army officers.
After the hugely significant role it played in protecting soldiers' feet in WW2, the wellington boot was developed to feature a toecap - and the safety wellie was born.
Footwear fact: When asked what he considered the most important aspect of a soldier's equipment, the Duke of Wellington replied: "A pair of good shoes." We couldn't agree more your grace....
8. THE DEALER BOOT WAS A ROYAL FAVOURITE
Dealer boots are now a firmly established and much-loved staple of the agri industry, providing a combination of style and strength to wearers across the country and beyond. But did you know they were originally called Paddock boots because they were designed for riding and that they had royal connections?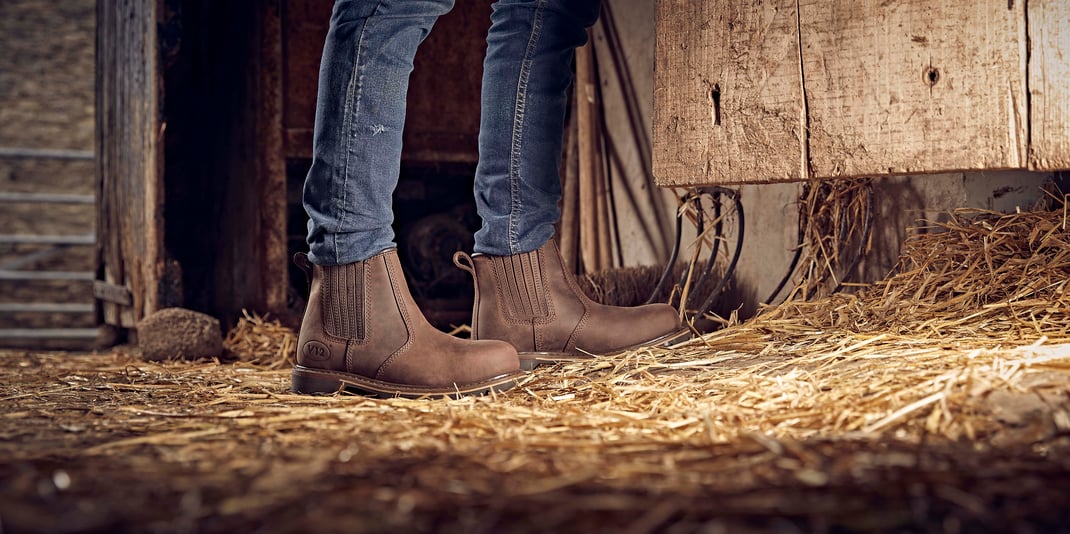 It was Queen Victoria's bootmaker, J Sparkes-Hall, who developed the elastic gusset shoe in 1851 which led to the development of the now iconic Dealer boot. Apparently, Queen Victoria liked them so much, she wore them every day.
But Queen Vic wasn't the only one who loved a good dealer boot. V12's Rawhide is one of our best selling styles – check it out here.
And if you're looking for the non-safety version, look no further than Rancher.
9. SLIPS INJURIES ARE MORE COMMON THAN FOOT INJURIES
According to HSE stats, less than 1% of occupational accidents involve injuries to the toes, while more than 30% of non-fatal occupational accidents are slip-related. This highlights that while a toecap is important to protect the wearer, having the right sole grip and knowing the dangers of the surfaces on which we work is arguably even more crucial.
Under the new EN ISO 20345:2022 safety standards for footwear, slip resistance has now become a basic requirement. Going forward, there will be no symbol for slip resistance, because it is now considered a mandatory safety boot feature. And given the statistic above, this seems like entirely the right decision.
Make sure you don't get left behind as the new standards come into effect – head to our blog on the EN ISO 20345 safety updates to find out how they could affect you or your team.
That's why we worked with numerous experts in safety testing, tyre technology, material compounds and ladder safety to develop the IGSTM (Intelligent Grip System), an industry-leading sole unit for the very best grip. Take a closer look at the video below for more information.
At V12 Footwear, ensuring our wearers have the best protection from slip hazards is essential. That's why we work with numerous experts in safety testing, tyre technology, material compounds and ladder safety to develop our sole units. Take our IGSTM (Intelligent Grip System) for example - it's an industry-leading sole unit providing the very best grip. You can take a closer look at the video below for more information, or if you're interested in finding out more about our other sole units for your working environment, this blog has you covered.
10. SAFETY BOOT WEARERS OFTEN WALK OVER 7 MILES A DAY
In a survey of over 500 safety footwear users conducted by V12 with University of Bath, 94% of wearers said they wore their safety footwear for 8 hours+ per day. That's a long time to be in safety footwear, particularly if you're constantly walking with boots made heavier by safety components.
And it's not just a question of time – it's about distance. For example, the average waste collector walks 13,000 steps per day (over 6 miles), a farmer will walk over 14,000 steps per day on average (nearly 7 miles) while an average groundsworker regularly walks up to 15,000 steps per day. And warehouse pickers for retailers like Amazon can take up to 22,000 steps per shift – that's over 10 miles. All the more reason to ensure that while your footwear might be safe, it needs to be comfortable too.
At V12, we design all our products with comfort well and truly at the fore. Head to this blog to find out more about how we set ourselves apart with our unique comfort last.
BUT THERE'S MORE...
So there you have it – 10 weird, wonderful, eye-opening and hopefully useful safety footwear facts. We hope you enjoyed learning something new (or old) about safety boots and shoes, or it's been helpful to keep you in the know on products, manufacturing and standards.
The V12 Learning Centre is a knowledge hub crammed full of articles and videos on industry insights, product innovation and much more, so click below and head there now!