Women's PPE has come a long way in the last few years. Companies like Transport for London and BAM Nuttall have led well publicised campaigns about the importance of finally providing appropriate PPE for their female employees, so women as well as men are properly protected against the hazards of working in safety-critical industries. And it's not just about physical safety – offering appropriate and effective PPE is crucial in creating a workforce that feels valued and respected, which is just as important as feeling physically protected.
THE PROBLEM
One aspect of female PPE that still gets regularly overlooked however is footwear. Why? Because there is a significant lack of awareness about a key fact: women's feet aren't just typically smaller than men's - they're anatomically different.
Historically, the only option for women in industries such as construction and rail to protect their feet was to buy men's safety boots in a smaller size. However, this solution is full of problems. In fact, it's not a solution at all.
To educate on this issue, V12 Footwear invited Emma Cowley, a Lecturer in Podiatry at Plymouth University, and Mike Wilson, Senior Footwear Technologist at SATRA to explain the anatomical differences between men's and women's feet and the dangers of wearing improper fitting footwear.
Mike told us:
"The average woman's foot is actually three sizes smaller than a man's. But comparing the same size foot from each gender – women's feet are approximately 3mm narrower than men's with a much narrower heel."
He went on to explain that even the smallest difference can have a significant effect on the perception and the quality of the shoe fit, and that a woman's foot in a man's shoe will lead to additional movement and cause blisters, rubbing and discomfort to wearers.
The NCBI (National Centre Biotechnology Information) echoes this idea: 'Female feet and legs are not simply scaled-down versions of male feet but rather differ in a number of shape characteristics.'
Little wonder then that in a recent safety footwear survey conducted by the University of Bath, when asked about areas of discomfort when wearing safety boots, there were 36% more complaints about overall foot pain from females.
A MUCH DEEPER PROBLEM
Wearing ill-fitting shoes goes far deeper than just discomfort or irritation. A poor fit – particularly in shoes or boots being worn all day and that are made heavier due to safety features such as steel midsoles and toecaps – can create a range of serious and long-lasting foot problems including:
Blisters

Corns and callouses

Toenail loss or damage

Plantar Fasciitis

Lesions

Poorly fitting shoes can also worsen diabetic neuropathy
More significantly though, when someone is in overly tight-fitting shoes or boots for an extended period of time, it can cause over pronation, which occurs when a person places their weight on the inside of their foot, causing the foot to roll inward. Overtime though, this pressure can turn the knees inward, ('knocked kneed') create poor hip posture and even impact the spine. This 'domino effect' is known as the lower kinetic chain – which is the interlinking network of joints from the toe and the ankle, through to the leg and right up to the pelvis and spine.
While these joints and bone structures are all able to carry out individual or specialised functions, they are all still linked, and if one element is misaligned or moves in an unnatural way, there can be a significant impact on the others. So avoiding foot pronation through poor fitting shoes is vital because the feet are the foundation of the kinetic chain.
OTHER IMPACTS OF POORLY FITTING FOOTWEAR
Employers don't always consider the effect that poorly fitting shoes can have on their business. Notably - TIME OFF. Painful, sore or aching feet aren't just an irritation – they can have a significant impact on a person's ability to carry out their job effectively, and subsequent days off due to foot discomfort spells lost productivity and revenue. Employers who understand this won't only have a healthier workforce – they'll have more productive staff, which is only ever good for business.
For more information on the differences between a man and woman's foot shape and why women need different footwear to men, read here.
It's clear from both a health and business standpoint, that it's not just important that women wear correctly fitting PPE footwear – it's essential. Thankfully, using 3D data of the female foot gathered in world-renowned laboratories, V12 created a range of women's footwear to ensure that females working in industries where safety is paramount have the same opportunity to be safe, comfortable and to unlock their potential.
HERE'S OUR STORY
On 12 July 2017, V12 Footwear, in association with the Women's Engineering Society, hosted a Women's Knowledge Sharing Event to discuss Women's PPE. The event was attended by representatives from Transport for London, Skanska, Rolls Royce, Western Power Distribution and Petroineos among others.
The first speaker at the event was Eleshia Turnbull. As the Resource Manager for London Underground, and member of the Women in Transport Working Group, she is responsible for sourcing effective PPE for her workforce. As she explained:
"We were stuck in a vicious cycle where we were desperately trying to attract women into the industry, but we couldn't provide them with the right PPE. So they leave because they don't feel comfortable being out on site. And this wasn't just a fit issue. This was a safety issue too."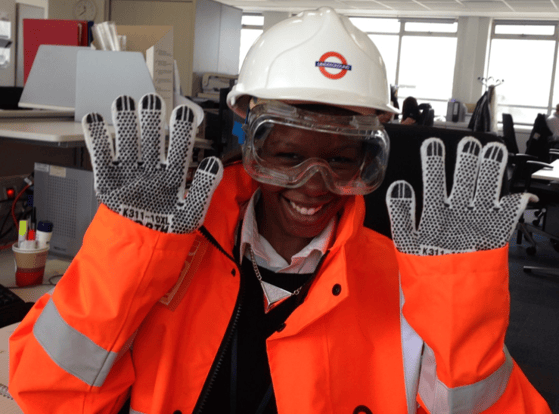 This was the Unisex Size Small PPE that Eleshia's apprentice was provided with.
After three years, Eleshia has finally managed to implement properly fitting PPE clothing, but the 'women's specific boots' they had been provided turned out, from feedback, to simply be smaller sized men's boots. Her staff are still frequently experiencing pain, fatigue and blisters, and are having to wear several pairs of socks to keep their shoes on.
Eleshia continued:
"If you go into a shop, you don't just go in and say 'I want a pair of shoes' – you specify if you want men's or women's shoes. Why should it be any different when it comes to safety footwear?"
A RANGE FOR WOMEN - DESIGNED BY WOMEN
This is where V12 Footwear offers a unique solution – its women's safety footwear range, a pioneering initiative V12 worked on alongside Transport for London. Designed for and perfectly fitted to the female foot shape by using a specifically designed female last, the V12 women's range alleviates the problems that many women are still experiencing with their safety work wear, without trying to patronize them with a 'pink it and shrink it solution.'
Charlie Turner, Head of Sales and Marketing at V12 Footwear, believes it's about purpose and solution:
"Our women's range reflects V12 Footwear's purpose: giving people the best opportunity to be as safe as possible without exception or exclusion. Developing a product that means we are living by our purpose and keeping people safe and comfortable at work - regardless of things such as gender or foot shape - is an extremely rewarding feeling.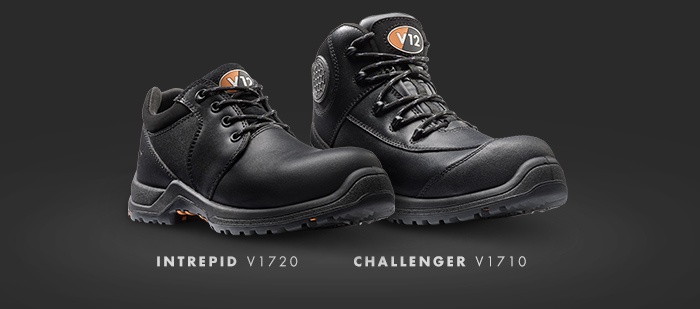 The Intrepid and Challenger - part of the V12 Footwear women's safety range. Explore the whole range here.
This range is the result of what happens when you link the specialists who have the science and resources at their disposal with the people who have the experience and therefore the need. Being the conduit between these two parties and bringing about the solution to make everyone's lives better – and safer – is why we do what we do. The V12 women's range is a perfect example of this."