Women's PPE has come a long way in the last few years. Companies like Transport for London and BAM Nuttall have led well publicised campaigns about finally providing appropriate PPE for their female employees – a move that isn't about vanity, it addresses comfort, employee value, practicality and safety.
But one item that hasn't previously been addressed is women's footwear. Why? Because there is a lack of awareness out there that women actually need different footwear to men.
WOMEN'S PPE KNOWLEDGE SHARING EVENT
On 12 July, V12 Footwear, in association with the Women's Engineering Society, hosted a Knowledge Sharing Event to discuss Women's PPE. The event was attended by representatives from Transport for London, Skanska, Rolls Royce and Petronius among others.
The first speaker at the event was Eleshia Turnbull. As the Resource Manager for London Underground, and member of the Women in Transport Working Group, she is responsible for sourcing effective PPE for her workforce. As she explained:
"We were stuck in a vicious cycle where we were desperately trying to attract women into the industry, but we couldn't provide them with the right PPE. So they leave because they don't feel comfortable being out on site. And this wasn't just a fit issue. This was a safety issue too."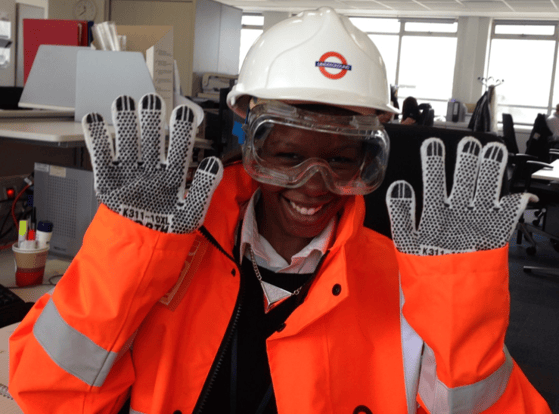 This was the Unisex Size Small PPE that Eleshia's apprentice was provided with.
After three years, Eleshia has finally managed to implement properly fitting PPE clothing, but the 'women's specific boots' they had been provided turned out from feedback to simply be smaller sized men's boots. Her staff are still frequently experiencing pain, fatigue and blisters, and are having to wear several pairs of socks to keep their shoes on.
Eleshia continued:
"If you go into a shop, you don't just go in and say 'I want a pair of shoes' – you specify if you want men's or women's shoes. Why should it be any different when it comes to safety footwear?"
THE DIFFERENCE BETWEEN MEN'S AND WOMEN'S FEET
To educate on this issue, V12 Footwear invited Emma Cowley, a Lecturer in Podiatry at Plymouth University, and Mike Wilson, Senior Footwear Technologist at SATRA to explain the anatomical differences between men's and women's feet and the dangers of wearing improper fitting footwear.
Mike commented:
"The average woman's foot is actually three sizes smaller than a man's. But comparing the same size foot from each gender – women's feet are approximately 3mm narrower than men's with a much narrower heel."
He went onto explain that even the smallest difference can make a very marked effect on the perception and the quality of the shoe fit. This will lead to additional movement and friction of men's shoes against a woman's foot which can cause blisters, rubbing and discomfort to wearers.
A NEW RANGE - DESIGNED BY WOMEN FOR WOMEN
The event coincided with the release of V12 Footwear's new Women's safety footwear range – an initiative V12 has been working alongside Transport for London to develop for two years. Designed for and perfectly fitted to the female footshape, V12 hopes to alleviate the problems that women are still experiencing with their work wear, without trying to patronize them with a 'pink it and shrink it solution.'
Ben Turner, Director at V12 Footwear, commented:
"We're proud to have developed this new range alongside TfL, SATRA and the only remaining commercial British last-maker. Comments from women in the industry just sum it up: It's about time! After all – it isn't just a man's world out on site."