At V12 Footwear, we want to be absolutely certain that our footwear performs to the highest possible standards, so we can offer our wearers the very best protection. And a particularly important aspect of footwear protection is preventing and reducing slips.
HSE statistics show that last year in the UK, slips, trips and falls accounted for 33% of all non-fatal accidents in the workplace – the highest annual slip-related accident number in 5 years of HSE data.
This shows that many safety-critical sites and workplaces across the country are becoming increasingly dangerous environments. These statistics also serve as a sobering reminder – particularly if you're responsible for Health and Safety or PPE in your workplace - of just how common these incidents are.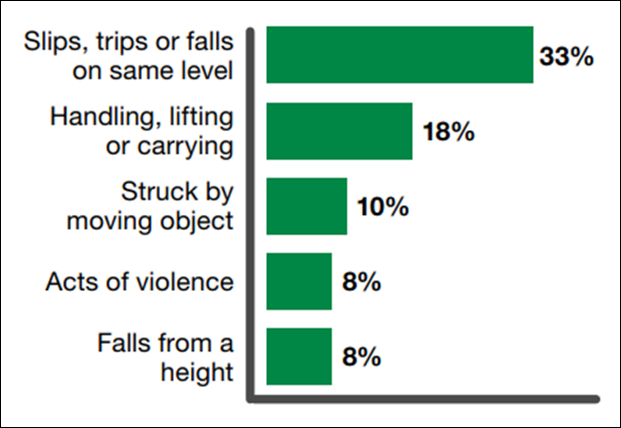 Source: https://www.hse.gov.uk/statistics/causinj/index.htm
We believe the best way to support workforces to minimise slip-related accidents at work is to ensure that our footwear serving in these environments not only meets but exceeds the standards of slip testing, so wearers can get protection and safety they can trust in.
In this article, we'll outline how slip testing is carried out for safety standards, and then explain how in order to give our wearers extra safety and assurance, V12 take things even further...
STANDARD SLIP TESTING
Safety footwear is awarded a slip rating when it achieves a certain level of grip on specific surfaces treated with a contaminant to simulate a slippery floor. This standard of grip is called the 'friction coefficient'.
Under EN ISO 20345:2011, footwear has been rated using three slip codes: SRA, SRB and SRC. Footwear is given a rating of...
SRA

if it meets the friction coefficient standard on a soapy ceramic tile surface.

SRB

if it meets the friction coefficient standard on an oily steel surface. (This is a more slippery surface, so the test is more difficult to pass)

SRC

if it passes both SRA and SRB tests. If a boot is rated SRC, it is SRA and SRB-rated automatically. SRC is the highest slip resistance rating a shoe or boot can carry.

Safety standards are changing – and it's affected slip testing and codes.
The slip resistance markings of SRA, SRB and SRC no longer exist in the updated EN ISO 20345:2022 standards - slip testing is now considered mandatory and therefore will not carry a mark, unless a manufacturer specifies a separate slip test.
Visit here to see how these updates could affect you and your company.
SLIP RESISTANCE IN THE REAL WORLD
Slip resistance testing for safety footwear is done under very controlled conditions in sterile environments, and while these tests are highly rigorous, the reality is that many people who need to wear safety footwear will rarely work in these types of conditions. For people working in industries such as oil and gas or construction, it's unlikely that the surfaces they walk on will be similar to the ones in a testing house or lab. Generally, surfaces will be uneven, unstable and feature other man-made and natural factors that a testing environment won't account for.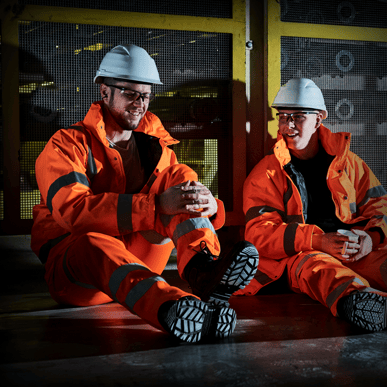 This is why we've taken extra steps to give added assurance to our wearers by putting a range of our boots through additional industry-appropriate slip testing on the real-life surfaces that they are likely to encounter day to day. And this is why our products meet the needs of so many companies in the safety sector.
If you're in Health and Safety at your workplace, you'll want to do everything you can to keep your workforce safe by providing them with protection based on their environment, hazards and role.

If you're a

safety distributor

, you'll want give your customers peace of mind as well as provide your team with powerful knowledge about the capability of your products.

Or maybe you're responsible for sourcing your own footwear. If so, you'll want to know your boots have the right slip resistance to keep you firm footed - and out of the HSE slip statistics.
The good news is that all of this peace of mind and protection is at your feet with V12 boots - and it's all made possible using our industry-leading IGSTM sole unit.
3 years in development and inspired by tyre technology, the IGSTM (Intelligent Grip System) is a sole unit that delivers exceptional grip. The sole pattern is a network of small hexagons which provide multiple edges to cut through liquid, ensuring superb water dispersal and traction. Finally, an innovative heel strike pad further reduces slips. Discover more about the IGSTM grip here.
So that's the sole - but how do we ensure extra safety after these slip tests?
KENNEDY GRATING SLIP TESTING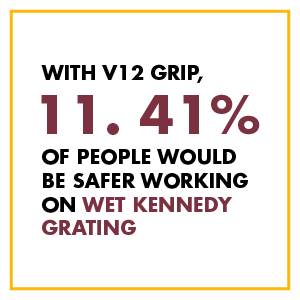 Kennedy Grating - or open and closed metal flooring – is a popular floor surface solution in environments including oil rigs, chemical treatment facilities and energy plants. It's easy to install, allows good ventilation and is relatively sustainable due to the minimal materials.
But it's steel – and when it gets wet, it can create a big slip hazard. That's why many styles in our Oil and Gas industry range undergo the Kennedy Grating test, giving wearers the best slip
prevention when working on this type of flooring.
Not content with simply telling our wearers how effective V12's sole grip is, to settle any doubt, we got proof of its top-level grip capabilities by comparing its performance in a slip test to a competitor common to the industry. And as you can see clearly from the graph below, there's only one clear winner. The IGSTM grip reflected a far superior friction coefficient compared to its competitor.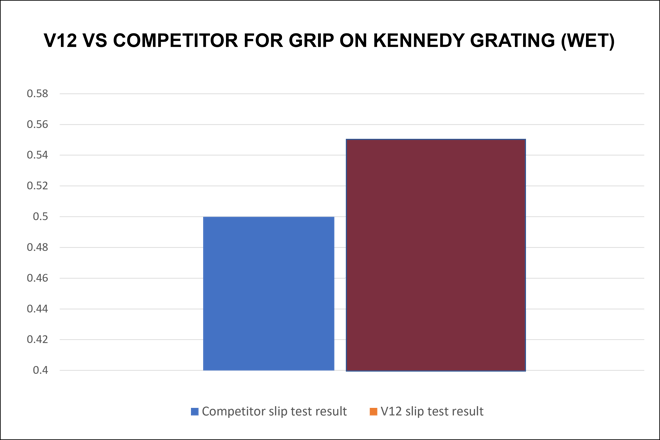 Look out for this icon on V12 products, indicating it's passed the Kennedy Grating slip test.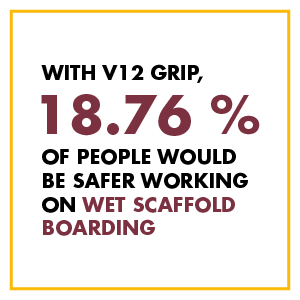 SCAFFOLD BOARD SLIP TESTING
Scaffold boards are essential for construction. However, when wet, they pose a serious slip hazard - and because they're wood, hot temperatures can cause them to distort, further compromising stability.
That's why we felt it important that wearers have access to safety boots which have passed the scaffold slip test for that extra safety assurance when treading the boards.
Look at the graphic below at the IGS
TM
's performance on wet scaffold board against a competitor. Again, its grip performed significantly better.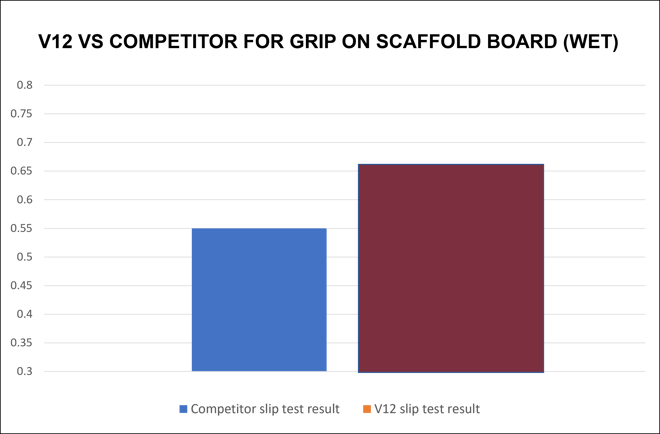 V12 safety boots that have passed the scaffold board slip test will always carry this symbol.

DRILL MUD TEST (OIL AND GAS)
Drilling mud is used in the Oil and Gas industry to carry debris to the surface and to lubricate the drill bit. It's a thick and viscous substance, and because one of its main purposes is to lubricate, it's extremely slippery.
To truly put the slip resistance of the IGSTM sole to the test, we carried out a slip test on both Eurotile (ceramic tile) and steel plate covered in this notoriously slippery drill mud.
When looking at the results below, note the minimum pass rate standard for the test (conducted on the heel and flat of the boot) as well as the performance of the competitor.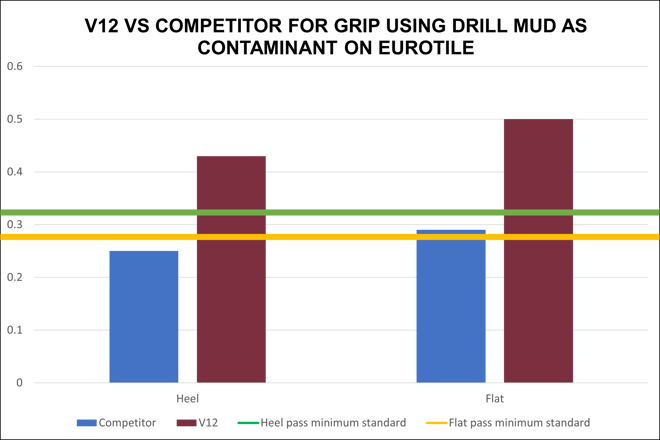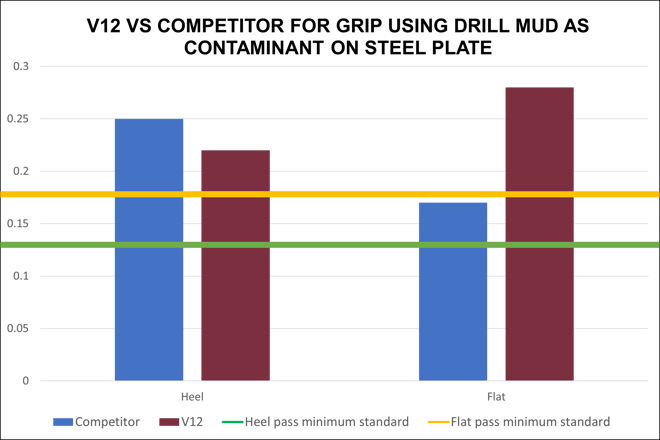 As you can see, there was no contest.
HOW WE CAN HELP
So, with V12 safety boots passing tests on ceramic tile, steel, Kennedy Grating and scaffold board using a range of notoriously slippery contaminants, there's no doubt that we lead the way when it comes to preventing slips and producing footwear with top-level grip. The only question left to ask yourself is which boot from our extensive range is the right safety product to protect your or your workforce?
Explore our industry ranges below to find out more about how we can help you and your staff stay safe.