We all know how crucial safety footwear is to protect wearers from the hazards of high-risk industries. But often, when we think of safety footwear features, we tend to think predominantly about toecaps, midsoles and tread. And while these safety attributes are vital in protecting the wearer from crushing, piercing and slipping hazards, we often forget about a feature that could make all the difference to our safety: ladder grips.
In this blog, we'll discuss the significant role that ladder grips in work boots play in reducing the all too common, extremely dangerous and even fatal falls from height which occur in safety-critical industries throughout the UK each year. We also shine a spotlight on V12's IGSTM and STSTM sole units. We illustrate how the ladder grips on these two innovative anti-slip soles have been giving those working at height fire-fighter levels of grip far before it was a compulsory element of the LG ladder standards in the updated safety boot requirements.
(For a comprehensive guide to the new standards and how these updates could affect you, read our blog here and get access to our whitepaper for a clear and jargon-busting explanation of all the safety footwear standard updates)
The facts

HSE statistics on work-related fatal injuries show that last year, falls from height was by far the most common cause of death, making up a quarter of the total fatalities. And while falls from height can occur from several locations, these HSE statistics also reveal that ladders account for 40% of those falls from height in the UK each year. But these alarming statistics from the HSE don't stop there.
Ladder-related accidents in the UK are:
the largest single cause of accidents at home and at the workplace

the reason why 48,000 people are admitted to A&E every ye

ar



A universal danger
It's easy to assume that ladder-related accidents occur exclusively on construction sites or work environments featuring tall or multi-storied structures, but the need for ladder safety is everywhere. A HSE analysis of falls from height in the food and drink industry over a 3-year period revealed that falls occurred in a variety of locations including gantries, scaffolding, stairs, platforms and machinery. But the combined percentage total of all these accident locations (39%) was still lower than the accident frequency that occurred from just one area - ladders. 40% of the total accidents from height were as a result of falling from this one piece of equipment.
These facts serve as a sobering reminder that it's essential that those engaged in ladder work should have all the correct safety support at their disposal to stay stable and safe, and out of these grim statistics.
"

You could suffer a head injury or a broken neck from falling from a height as little as two feet."

Dylan Skelhorn, Motivational Safety Speaker and Inventor of 'Ladder Locker.'
Down to earth
The HSE also remind us that work at height means work 'in any place where, if there were no precautions in place, a person could fall a distance liable to cause personal injury.' In other words, this doesn't just mean falling from the top of a 6 foot ladder. It can also mean falling from a step ladder – which are more commonly used than many might think – as well as smaller pieces of runged equipment such as stepping stools.
Expert Insight
We talked to Dylan Skelhorn, Motivational Safety Speaker and Inventor of ladder stabiliser device 'Ladder Locker' to get his insights as well as debunk some common myths around ladder safety. With regard to the effects of falling from height, he pointed out:
"People think that falling off a really tall ladder is worse than falling from a shorter step ladder, but it's not always the case that the higher falls cause more injury or death. If you fall off a shorter ladder, you don't have time to put your hands out to break your fall. So you could suffer a head injury or a broken neck from falling from a height as little as two feet, while others can fall from much greater heights with less serious injuries, because the height means they have the time to protect their head."
And the need for stability isn't just exclusive to conventional ladders. The steps on tractors and combine harvesters leading up to the cabin, a truck's retractable steps and even the rungs on a telegraph pole are all areas for a potential slip and fall.
Dylan also pointed out that there are many examples of when workers' safety can be compromised by climbing up flat-rung fixed ladders attached to equipment such as fuel tanks.
"Ladder rungs are specifically designed at an angle so they become level and provide stability when the ladder is put at the correct angle against a surface, but a lot of these types of fixed ladders have rungs which are round barred, with no angled flat surface or grip."
The key point here is that ladder grips aren't just to prevent people falling from tall, conventional ladders. Any fall - regardless of its height - from any type of equipment with inclined or vertical rungs can be dangerous and even fatal.
The IGS

TM

and STS

TM

– a ladder grip safety solution
"FOOTWEAR IS JUST AS IMPORTANT AS THE LADDER IN PREVENTING SLIP ACCIDENTS."

Dylan Skelhorn, Motivational Safety Speaker and Inventor of 'Ladder Locker.'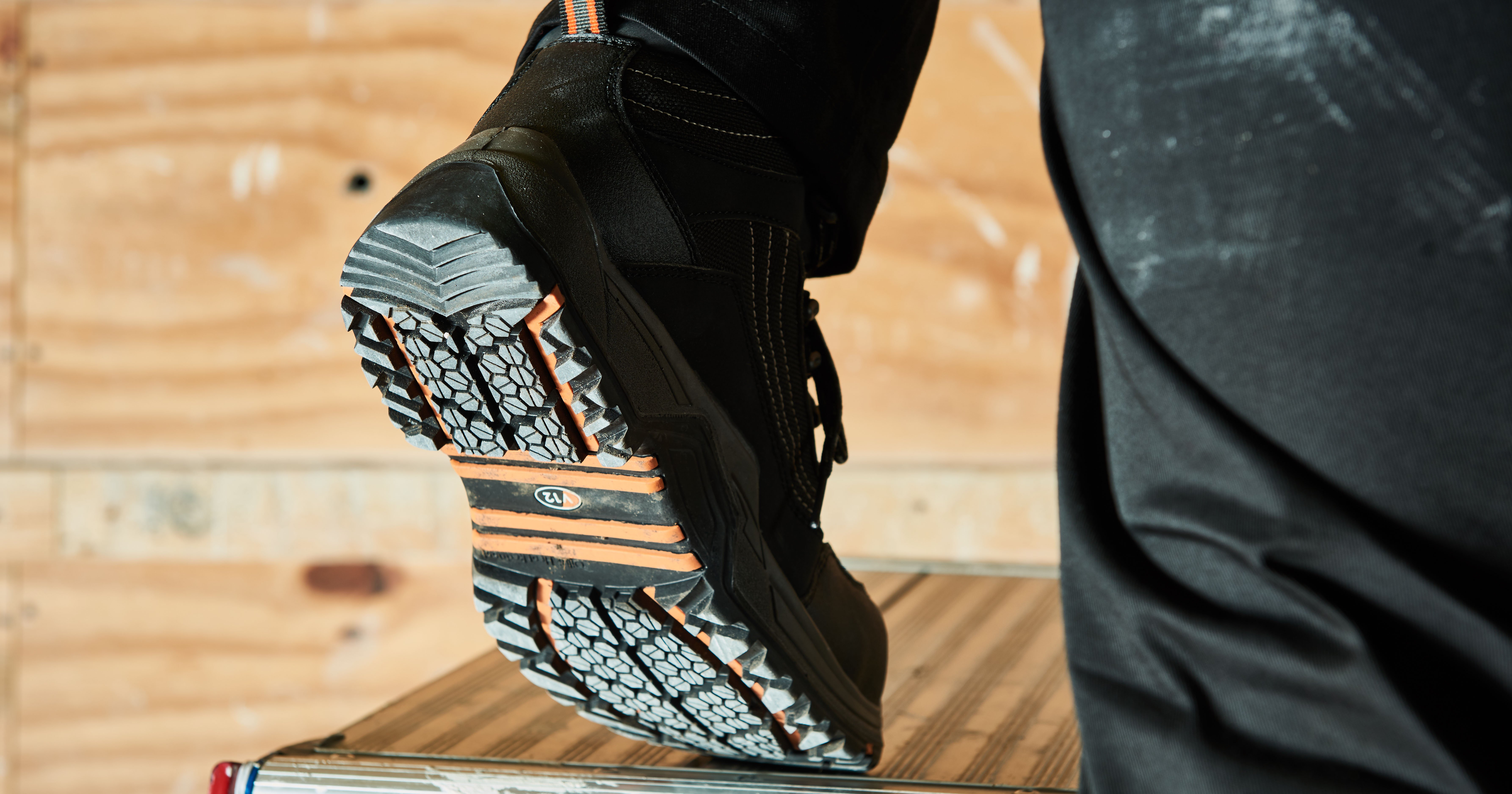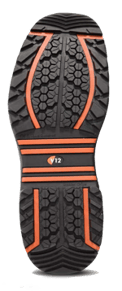 In ladder-fall prevention - quite rightly - a lot of emphasis is placed on having the right type of ladder and appropriate stability devices, as well as the importance of user competence and assessing the conditions in which the work is done. But we also need to consider the importance that
footwear
has in preventing ladder falls. And while many guides out there talk about avoiding dangling laces and clogged cleats, it's the ladder grips in a boots' tread that can really make a difference when climbing the rungs.
V12 developed the IGSTM (Intelligent Grip System) and STSTM (Stability Traction System) sole units in order to provide outstanding grip on a range of surfaces. While the IGSTM is more suited to man-made surfaces, and the STSTM is best to serve those requiring grip on natural surfaces, both units have one thing in common – they have four strong and deep ladder grips to keep the wearer firm-footed and stable when climbing or descending ladders.
Want to find out more about the IGSTM and STSTM? Become a grip expert by reading our blog 'What's the best sole for my safety boots?' here.
The ladder grips in both IGSTM and STSTM sole units have surpassed fire-fighter safety standards since they were introduced, meaning we've provided our wearers with above and beyond ladder safety since 2016. See the revolutionary IGSTM and its ladder grips in action in the video below.
Safety visionaries
Ladder grips have become part of the requirements for safety footwear slip-resistance due to the new EN ISO 20345:2022 safety footwear standards. So, what does that mean for V12? Well, for our many IGSTM and STSTM styles, no action is required! Our innovative and visionary approach to slip safety at height means that we don't need to rush this ladder grip development into our footwear to make them compliant with the new safety standards. Our fire-fighter level ladder grips are firmly built into the tread already, ready to continue allowing users to step up safely.
Safety influencers?
We often wonder whether it's a coincidence that safety standards have changed so that the ladder grip test for safety boots is now set at the fire-fighter standard - new for so many footwear manufacturers to achieve compliance, but for V12, an already established part of our slip-resistance offering. Did our visionary approach of including ladder grips at fire-fighter levels in our sole units as far back as 2016 spark the change in standard across the board?
Ladder safety check
✅
So, we're clear on the vital role that ladder grips play in reducing falls and increasing stability. Here's a final safety footwear checklist before you ascend from ground level...
Check that your work boots don't have:
Loose or flapping soles

Untied or dangling laces

Contaminated or slippery soles

Tread clogged with mud or debris
Dylan also gave us his own checklist of often-overlooked ladder safety considerations:
When descending the ladder, face the rungs, and don't climb down front-ways

Clean your shoes - but clean your ladder rungs as well

Don't place your ladder on uneven ground

Always place your ladder at the correct angle by using the 4:1 ratio (for every 4 feet up, the ladder should be placed 1 foot out from the wall or surface it's resting on)
For further information on staying safe while working on a ladder, visit HSE's 'Safe use of ladders and step ladders guide' here.
Want the safest and most reliable ladder grips on your tread? Check out the V12 range below and explore our IGSTM and STSTM styles.