Wiltshire Air Ambulance is a charity that is very close to the hearts of V12 staff for personal reasons, but also because it is a fantastic resource for the county's residents and visitors.
This is why we are extremely proud to become an official member of the WAA 100 club, and with that we pledge to raise £10,000 this year to help fund their new airbase in Semington. This is in addition to our promise to keep WAA staff booted for a lifetime.
A fantastic local charity
From meeting the people who work for Wiltshire Air Ambulance, it is clear they all believe they have the best job in the world – despite the harrowing situations they have to navigate every single day.
We have the greatest respect for every single member of staff from the pilots and paramedics to those managing the operations, fundraising and marketing from the ground.
Nobody knows if or when the Wiltshire Air Ambulance might affect their lives, but it is a great comfort to know that they are there, and can get to life or death emergencies more quickly than traditional emergency services are able to. That's why we all need to fundraise to keep them flying.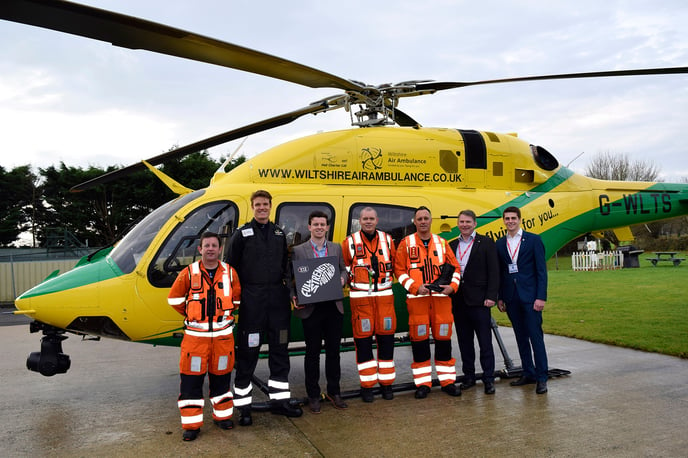 WHy are we supporting the new airbase appeal?
Wiltshire Air Ambulance rely almost 100% on charitable donations, so it is very important to remove the uncertainty that renting a hangar and separate office presents. Their brand new airbase in Semington will be owned outright by the WAA, and will bring together the aircrew, helicopter and charity team onto one site for the first time, in a spacious, modern environment.
From its central Wiltshire position, the new airbase is only 11 minutes away by helicopter from all parts of the county; and will keep the charity flying and saving the lives of Wiltshire residents well into the future.
OUR FIRST COMPANY CHALLENGE - the great V12 Footwear Hike
As our first company challenge, 15 members of V12 staff (of all ages and fitness levels) will walk the 13 miles from V12's headquarters in Chippenham to the new airbase site in Semington on the 28th April. This will see us walking through Chippenham, Notton, Lacock and Melksham via cycle and footpaths.
To make the challenge more V12, we will all be wearing V12 safety boots - really putting their comfort to the test!
Both V12 Footwear and Wiltshire Air Ambulance would really appreciate your support in this challenge, however small, which you can pledge on our just giving page.
We will plan further challenges and campaigns over the year to ensure we meet our £10,000 target.