ELECTRICAL HAZARD (EH) RATED SAFETY BOOTS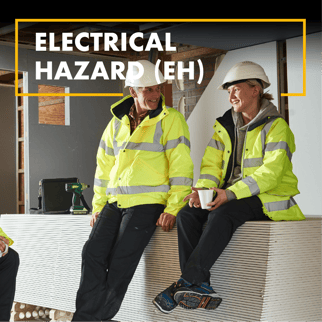 Electrical hazard (EH) rated safety boots are ISOLATING safety boots meaning they provide a secondary source of protection for you from electric shocks or electrocution.
The idea behind these EH rated safety boots is pretty simple, the entire surface of the boot is made from non-conductive materials and as a result no electrical charge will pass through the body, because you are fully isolated from the ground. EH rated safety boots have an Electrical Hazard (EH) rating on them, meaning they have been tested by the American Society for Testing and Materials (ASTM) for their protection against an electrical shock.
MAIN CAUSES OF ELECTRICAL INJURY OR ELECTROCUTION
Electric contact can occur in many ways and situations:
Defective or damaged tools, badly maintained equipment
Inadequate wiring, improper grounding
Unsafe work practice or environment
Unexpected exposition to electric parts
Contact with overhead power lines, high voltage

circuits

Overloaded circuits, improper

insulation
IMPORTANT NOTE: In some cases, EH rated safety boots can be affected by certain factors which decreases their potential to keep the wearer safe. The excessive wear of the soles or exposure of these EH boots to wet conditions or both can reduce the effectiveness. EH rated safety boots are usually worn when working in dry areas where the potential for electrocution is at a high risk, do not wear these in wet, hazardous or explosive areas!
EH SAFETY BOOTS ARE DESIGNED TO PROVIDE A SECONDARY SOURCE OF PROTECTION AGAINST SHOCKS FOR THE WEARER. THEY ARE TESTED TO 18,000V AND MUST PROVIDE ELECTRICAL INSULATION FOR ONE MINUTE.
ANTI-STATIC & ESD FOOTWEAR
Anti-static and ESD bring a lot of confusion, and not just when it comes to safety shoes. While one includes the other, it's incorrect to say the same in reverse. Although both terms refer to contact resistance, there are fundamental differences between the two.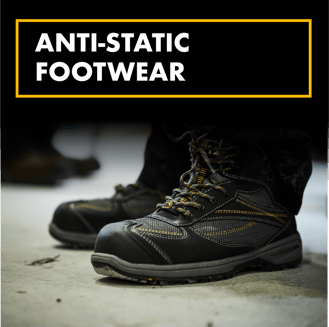 Anti-Static
Anti-static safety boots have a low electrical resistance between 0.1 and 1000 MΩ, measured according
to EN ISO 20344: 2011 5.10. Anti-static footwear prevents a build-up of static electrical charges in the human body by sending these charges to the ground, designed to protect sensitive electrical equipment from damaged caused by static shock, charge or spark.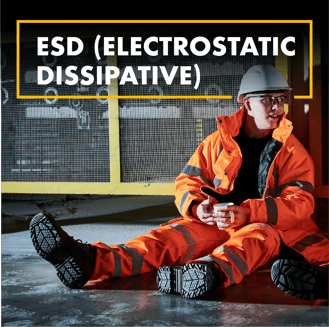 ElectroStatic Dissipation (ESD)
ESD (ElectroStatic Dissipative) safety boots have an electrical resistance between 0.1 and 100 MΩ, measured according to BS EN IEC 61340-4-3:2018. ESD footwear has an extremely low electrical resistance in order to prevent a strong, uncontrolled electrostatic charge. ESD and anti-static safety shoes are used in different type of industries including aerospace and telecommunication to protect sensitive equipment or components from electrostatic discharges.
"I will never wear anything else. An 18 hour day in these is a pleasure, even light enough to making driving easy. Slip into them like my favourite pair of slippers while affording all the safety required of this type of footwear. Big plus is not having to take them off at the airport."
Phillip Walker | on the anti-static Pitstop trainer
Are you looking for safety boots with one or all of the above safety standards? Check out our award winning safety trainer and hiker range by clicking the button below!