V12 are committed to ensuring we have a positive impact on the lives of those working directly or indirectly for the company by guaranteeing fair, safe and humane working conditions. We guarantee this by insisting all V12 suppliers meet our Ethical Trading Standards - without exception. V12 will only work with an organisation if they have proven they can meet these requirements and adhere to these standards, because we expect all suppliers to uphold the rights of the individuals working for them.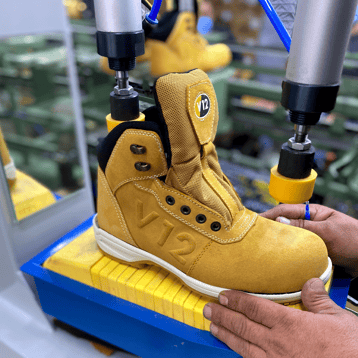 Additionally, we ensure that every supplier working with V12 meet the internationally recognised good labour practice code of the International Labour Organisation (ILO).
If V12 find any evidence of conduct that breaches our ethical trading expectations or if we find that international or UK trading laws and regulations have not been followed, this will result in immediate exclusion from supplying V12 Footwear in the future.
In this blog, we're going to take you through what these particular standards involve, and how we expect all of our suppliers to meet them - with no exceptions - to ensure safe and legal working conditions for everyone involved in the V12 supply chain.
V12 ETHICAL TRADING POLICY
This policy requires all of our suppliers to adhere to the following stipulations regarding working conditions:
THERE MUST NOT BE ANY:
Child labour used by any supplier

Slavery or involuntary labour used in a supplier's operation

Human trafficking linked to a supplier's recruitment

Health and safety hazards that could immediately endanger life

Form of bribery used in relation to V12 Footwear business
ETHICAL TRADING INITIATIVE STANDARDS
All V12 suppliers must show that they operate in line with the standards of the Ethical Trading Initiative (ETI), an internationally recognised base code of good labour practice founded on the conventions of the International Labour Organisation (ILO).
Being in line with this code means that all of our suppliers ensure:
National legal living wages are paid
Working hours comply with legal or benchmark industry standards
Working conditions are safe and hygienic, and health and safety training is given upon recruitment
Employment is chosen and not enforced
Employees are treated humanely and without discrimination
Employees have the right to freedom of association and collective bargaining such as joining or forming a trade union
Click here for the full ETI base code standards document.
ETHICAL EXCELLENCE: V12 VALUES

Our pursuit of the highest ethical trading standards permeates throughout every aspect of V12 Footwear, from our factories abroad to our UK head office.
Our company values are:
Step up
Own it
Think team
Mutual respect
These values are followed energetically and passionately by every member of our team to ensure that regardless of whether an employee is part of marketing, product development, operations or logistics, the work we do and the way in which we do it meet the very highest standards of quality, so our wearers can enjoy the very highest standards of safety.
PRINCIPLES IN PRODUCTION
So, with a full focus on excellence in our Corporate and Social Responsibility at every stage of the production process, V12 wearers and its employees can trust that our footwear doesn't just come with safety benefits: it comes with a whole range of benefits for people and workforces across the globe.
Want to find out more about our CSR? Read our recent blog on V12's continual improvement ISO standards.