Over the past 12 months we've been working behind the scenes to develop our most advanced pair of insoles to date. It's involved guidance and advice from industry leaders in motion analysis, numerous independent comfort tests, and vital input from highly respected podiatrists and leading universities. We are very excited to announce that our brand new Dynamic ArchTM insoles have landed!
Designed with comfort, safety and durability in mind, our Dynamic ArchTM insoles can go a long way towards reducing foot fatigue and injury, and what's more, they have been designed to work with every style of V12 safety boot.
KEY FEATURES - AND WHY YOU'LL BENEFIT FROM THEM



Our Dynamic ArchTM Insoles are made from eco-friendly recycled foam that incorporates a shock absorbing memory foam heel that provides optimum comfort and helps to reduce the risk of knee, hip, back and musculoskeletal problems associated with poor footwear and foot care.
Zero Stitching
One challenge we are very proud to have overcome is making an insole that complies with anti-static testing, but doesn't feature any uncomfortable stitching under the ball of the foot. By incorporating an open cell cushioning foam, we've ensured the insole is fully breathable, absorbent and reduces sweat. It also retains its shape and doesn't become flat over time like many closed cell insoles. The absence of this anti-static stitching is also a big benefit for those living with diabetes, as potential rubbing of numb feet can lead to tissue damage and dangerous infection.
Want to find out more about safety footwear for those with diabetes? Read our blog here.
Watch the video below to learn more about the difference between open and closed cell cushioning!
ACTIVE CARBON

Our insoles also have active carbon built in to neutralise unpleasant odours, keeping your feet and boots fresh all day long.
EXACT SUPPORT, EXACT FIT
Equally as important to the technology we've designed, is ensuring the wearer has exactly the right fit. Our Dynamic ArchTM insoles come in three arch sizes – low, medium and high, allowing personalisation of fit!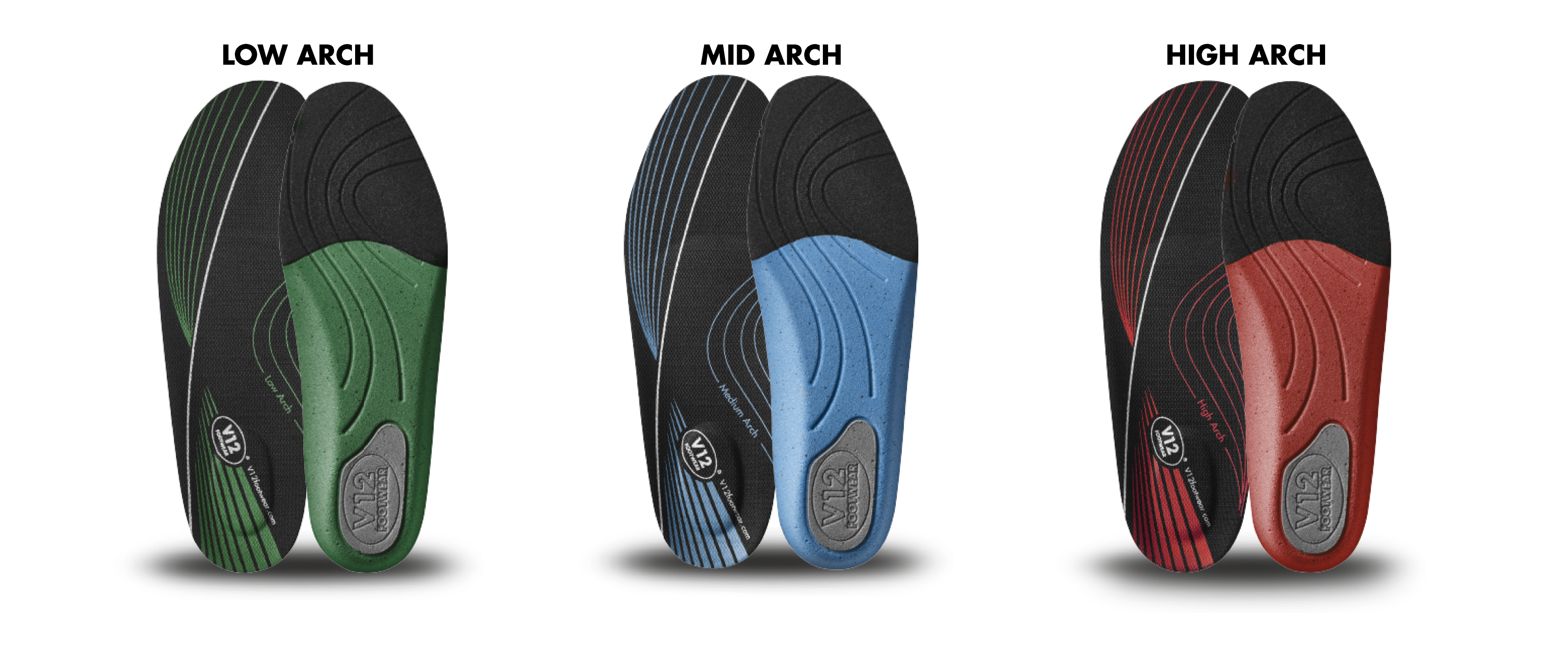 What problems could

our

Dynamic ArchTM insoles help with?
Ready to find the perfect fit? Get your arch height just right!
For your individual needs...
You can measure your own foot arch height with a super simple home test. See below:
For your teams needs...