The most common accident in the workplace is slips trips and falls, with an average of 156,000 such reported injuries occuring in 2016. Everyone knows that their safety footwear has to provide good slip resistance for this very reason, but what many people don't realise is that the best sole for one environment may be upstaged in another.
That's why we have developed the Stability Traction System (STS) sole. Not to rival the IGS, but to provide superior traction on loose, natural surfaces; while the IGS leads on flatter, manmade surfaces.
Safety Footwear Inspired by tractor tyres
The V12 STS is a revolution in sole design. Inspired by tractor tyre technology and made from highly durable PU, the STS provides high stability and traction on loose surfaces, and has ladder grips with firefighter standards of safety. A re-designed heel strike pad and non-clogging channels deliver exceptional water dispersal.
RUGGED LUG PATTERN
FOR GRIP ON ALL SURFACES
SRC compliant, the STS is modelled on tractor tyre technology. The large lug pattern provides excellent braking and forward traction on loose surfaces, whilst the large channels are angled to prevent clogging and to ensure a self cleaning sole. SRC rated, it also provides great grip on smoother surfaces.
LADDER GRIPS
GRIP WHEN WORKING AT HEIGHT
Ladders are common place in many industries. Falls from height account for more than a quarter of all fatal injuries in the work place. This is why the IGS has a deep ladder grip, that complies with Firefighter boot standards, which is over and above safety boot requirements.This provides you with optimum grip and safety.
7 degree heel strike: Slip prevention and braking
Slips are most likely to happen when the heel is placed down to make a new step. That's why we have designed the heel strike at 7ª, the angle at which most slips occur. Angled splines provide increased contact with the ground, effortlessly cutting through water or dirt at every step. This ensures grip and braking performance, keeping wearers firm footed.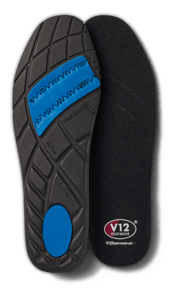 Extreme comforT
Not only is STS a highly slip-resistant sole, we have also worked hard to make the range incredibly comfortable. We have developed a brand new extremely comfortable custom-made last to create the footwear around; and buried a shock-absorbing heel pod within the sole, reducing impact on wearers' knees and back.
We have also included our new Dual Comfort insole within each boot. This high quality EVA insole features unique airflow channels to maximise air circulation and reduce heat. With twin anti-shock foam pods at the heel and ball of the foot, this insole will provide daylong comfort where you need it most.
Try it for yourself!
The STS is available NOW on the brand new and improved V6600.01 Otter and the V6411.01 Oxen.
It will shortly also be rolled out on the V6863.01 Rhino and the all new V6420.01 Bobcat.