Further to winning the 'Green Apple Award' award for 'Environmental Best Practice 2017', we have now become a Green World Ambassador, allowing us to represent our company and country in the Green World Awards 2018. In partnership with Green Earth Appeal and the UN Billion Trees project, 100 trees have been planted in our name!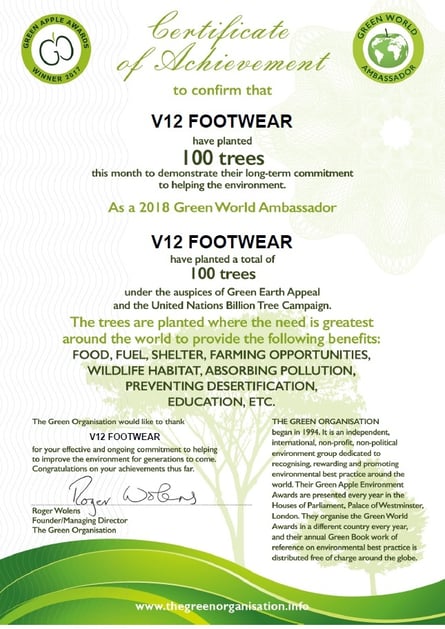 How did we win the award?
Determined to find a greener solution for overshoes, V12 developed MukGuard, an innovative reusable and washable overshoe. It's been created as a safer and more sustainable alternative to plastic overshoes for professionals, who regularly enter customers' properties through the course of their work. Perfect for DIYers and gardeners as well, it fits perfectly over dirty boots and shoes to protect floors, prevent trip hazards and drive down waste.
Since its introduction to market in September 2016, MukGuard has prevented approximately 30 million plastic overshoes going into landfill. As its popularity grows, this figure will grow exponentially which is a fantastic achievement.