V12 Footwear has won twice at the Aquisition International Awards!
We were thrilled to be named 'Best Safety Footwear Provider 2017' at the AI Offshore Excellence Awards for the second year. We are also very excited to be given the title 'Most Outstanding Oil and Gas Safety Footwear Provider' at the AI Global Excellence Awards.
To be a double award-winning safety footwear provider truly is a truly rewarding feeling.
Proud to provide Award winning footwear to the oil and gas industry
A large number of our customers in the oil and gas sector have production facilities in the North Sea. The environment is harsh, demanding and unpredictable, and staff have to work long hours in cold and wet conditions. The right footwear is essential to keep team members safe and comfortable through the long months they spend at sea.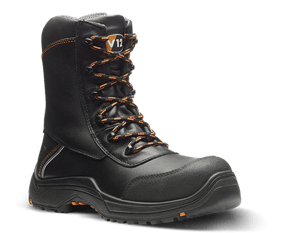 Working alongside several global oil and gas companies, we developed and launched the Defiant boot (pictured) in 2014. Lightweight, water resistant and zip-on, the boot provides daylong comfort and is super-quick to get on and off. After an extensive development process and trial period, the Defiant is now a benchmark product for many Oil and Gas companies across the world.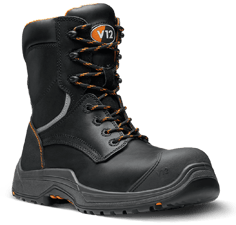 Adapting to the oil price turmoil last year, we developed and launched the Avenger (pictured). This was a highly-researched initiative designed to give customers a great quality, high-spec boot at a price to help them achieve their cost-saving targets.
This year, we revolutionised the Avenger by remodelling it to a new extreme comfort shape and adding our most advanced sole to date: the Intelligent Grip System.
We are also looking to bring another lower-cost oil and gas industry product to the market within the next year.
Thrilled to win two AI awards
"We are very proud to be named Best Safety Footwear Provider and Most Outstanding Oil and Gas Safety Footwear Provider 2017. These titles truly reward our commitment to the industry and recognise the collaborative nature of our work in this and in all of the other sectors we serve. With ambitious growth targets and further exciting launches on the horizon, we hope that this is just the start of our successes this year."
Ben Turner - Sales and Marketing Director - V12 Footwear