How are you bench-marking with the industry?...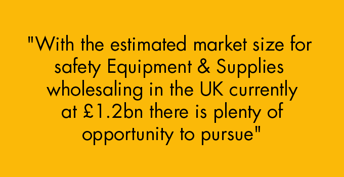 Did you know the average sales growth for PPE Wholesalers & Distributors is currently running at a very impressive 7.8%*, and has jumped from 728th place last year to 271st in the industry?! With the estimated market size for Safety Equipment & Supplies wholesaling in the UK currently at £1.2bn there is plenty of opportunity to pursue.
The IBISWorld identified 250 Key Success Factors for a business. The most important identified for the Safety Equipment & Supplies Wholesaling Industry were:-



As an average, sales growth in safety footwear is currently trending slightly ahead of the PPE Wholesalers & Distributors growth at a rate of 9%*, pushing safety footwear up in the industry rankings from 802nd place last year to 183rd place in 2019!
With this in mind, V12 are stepping up to the challenge of far outgrowing the average and want you to step up with us!
Over the next few weeks we will be contacting you to learn more about your business and how we can work closer together to help your drive safety footwear sales with award winning and industry leading products. *purchased Plimsoll reports
Don't Want To Wait?