We design our safety footwear to ensure our wearers working in the harsh, demanding and unpredictable environments of the energy sector stay safe and slip-free. In this blog, we'll show you how with a combination of innovation and passion for safety, we're becoming the trusted safety footwear experts in the Oil and Gas industry.
FOOTWEAR FOR THOSE WHO DEMAND MORE
It's always been the V12 way to collaborate with both industry experts and safety boot wearers on the front line. This way, we can produce highly effective and safe footwear which is up to the challenge of meeting even the harshest conditions in the Oil and Gas Sector. Let's see how V12 boots meet these challenges.
SPOTLIGHT ON...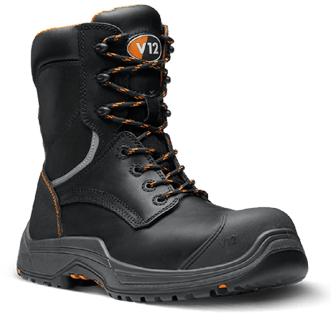 This hi-leg, zip side safety boot was developed by working with an internationally renowned Oil and Gas company. The strong, water-resistant and highly durable Avenger has become a hugely popular boot for teams working on off as well as onshore environments, due to its:
Revised comfort shape

Lightweight composite midsole and toecap

Non-snagging lacing system

IGSTM slip-reducing sole unit

Deep padded scoop collar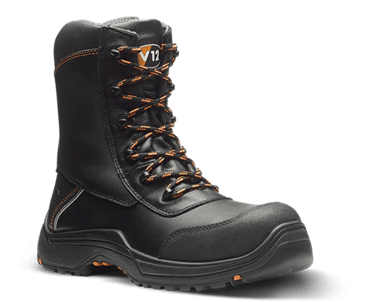 To take this product a step further for those who demanded even more from their footwear, V12 spent two years developing the flexible and lightweight hi-leg boot, Defiant. Again, designed with input from renowned Oil and Gas companies, the Defiant takes Energy Sector footwear to an even higher level of safety and comfort.
A re-modelled extreme comfort shape

Speed lacing system for quicker removal

Improved leather and water-resistance

Downward facing seams to repel water

Lightweight composite midsole and toecap
BUILT-IN BENEFITS
V12 developed the Avenger and Defiant through rigorous testing and trialling in order to encapsulate the industry-specific features that workers in the Energy Sector were calling out for to stay comfortable and safe.
It's this kind of dedication to the industry that has led to V12 receiving 'Best Oil & Gas Industry Footwear Provider' from the AI awards, which not only illustrates our commitment to keeping people safe in this challenging industry but is also a testament to the collaborative way it works to keep those in Oil and Gas safe, stable and slip-free.
REAL-LIFE SURFACES FOR REAL-LIFE SAFETY
For V12, producing reliable footwear that keeps wearers safe isn't just about footwear that passes the safety standards in a testing house – it's about knowing that they consistently pass them in authentic, real-life safety scenarios. And this is never more relevant than when it comes to slip testing.
Slip testing is conducted in sterile and controlled conditions in testing houses that more resemble laboratories than building sites. So, for us to provide our wearers with additional grip assurance, we put a range of boots produced for the Energy Sector through extra slip testing on actual environment surfaces. The surfaces tested include Kennedy Grating and scaffold board, so those working on these common and notoriously slippery surfaces can rest assured that their tread is up to the job and capable of keeping them safe - no matter how demanding the terrain.
We even test our footwear for slip-resistance on industry-real contaminants such as drill mud. Drill mud is an essential yet infamously slippery solution that those working in drilling use for several purposes in the Oil and Gas industry, and for our wearers and partners to have the option of specifically tested boots gives them safety and peace of mind in equal measure.
INTELLIGENT GRIP SYSTEM (IGS

TM

) - THE SLIP SOLUTION FOR OIL AND GAS
V12's IGSTM is an innovative anti-slip sole unit developed to reduce slips and falls still responsible for many major injuries in safety-critical industries across the country.
"less than 1% of occupational accidents involve injuries to the toes, whereas more than 30% of non-fatal occupational accidents are slip-related." (HSE)
We hear and read a lot about the importance of protecting the feet from falling objects and impact from above, but HSE data reminds us of the importance of protecting ourselves from danger beneath the feet too. Their data shows that less than 1% of occupational accidents involve injuries to the toes, whereas more than 30% of non-fatal occupational accidents are slip-related.
HOW DOES THE IGS

TM

HELP THOSE WORKING IN OIL AND GAS?
HEX PATTERN
IGSTM's hex grip pattern - an intricate tread network - channels liquid away and ensures wearers are always in contact with the ground, which is perfect for combating the risks created by slippery man-made surfaces so common in the Energy Sector.
LADDER GRIPS
The danger of ladder work and the serious and life-changing injuries which falls from height cause are regularly overlooked - and that's why V12's IGSTM features four deep and strong ladder grips which meet fire-fighter safety standards to help reduce these all-too-common accidents.
THINGS ARE CHANGING...
The safety standards for protective footwear (EN ISO 20345:2011) have been updated. Under these previous standards, safety footwear was awarded a slip rating of either SRA, SRB or SRC (SRA rated on a ceramic surface, SRB rated on steel, SRC rated if both SRA and SRB standards are met). However, boots tested under the new EN ISO 20345:2022 standard will no longer feature the SRA, SRB and SRC ratings, because slip resistance has become a compulsory requirement for safety footwear, so will have met this standard automatically.
If you want to reduce slip accidents and increase safety footwear compliance in your workplace, we can help. Our expert team can conduct a Foot Health and Safety Assessment in your workplace or even remotely to give you and your staff peace of mind through top-level protection. Get in contact via the button below.