Making a difference in the community is extremely important to V12. We take every possible opportunity to help and support those in need and reward worthy causes with our energy, support and time, because we're not just about boots - we're about people too. Here are some of the examples of the charity work we do and the people it helps.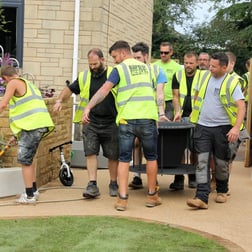 Band of builders (BoB) is a registered charity very close to our hearts at V12. They are an organisation that offer help and support to tradespeople and their families who are facing adversity due to illness and injury.
They have transformed many lives with their incredible work. Just some of the projects they have been responsible for include:
making houses wheelchair-accessible

improving living spaces and play areas for families

making safety adaptations to living areas

undertaking garden renovation and house extensions.



We believe in this charity, so we've invested in this charity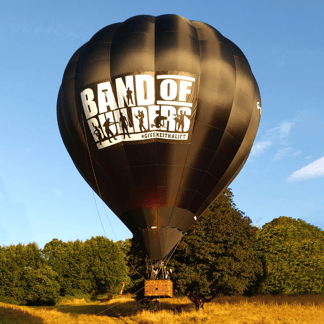 We constructed a safety boot exclusively and collaboratively with Band of Builders. For every pair of the BoB boot sold, we donate £5 to the charity to support their life-changing work to help those in their hour of need. We're proud that through sales of the BoB boot, we've been able to donate thousands of pounds for Band of Builders.

To show just how committed we are to promoting the amazing work this charity carries out, we bought co-branded hot air balloon which lets us shout about the Band of Builders brand and the work they do - quite literally - from the roof tops!

Snapfeet is an app that lets you try on footwear virtually; its Augmented Reality technology allows wearers to discover the correct size in a few seconds without even having the footwear with them. In collaboration with Snapfeet, those interested in becoming BoB boot wearers can use this innovative foot scanning app for free.
All this work feeds into what we call 'The Triangle of Giving:'
Our passionate promotion grows our distributors' sales of the BoB boot

This gives BoB boot wearers top-level protection from the hazards of their job

And finally our donation to the Band of Builders for each pair sold means the BoB boot continues to support this amazing charity so it can carry on helping those most in need.
Tony Steel, Operations Director at Band of Builders sums up this mutual benefit:
"Our motto at BoB has always been 'Together Stronger' and V12 really get that – coming together to help us achieve even more and help more people."
Find out more about Band of Builders and the life-changing work they do here.
We have supported this vital service and their life-saving work for a number of years through several fundraising initiatives. This includes a charity walk 'The great V12 Footwear hike' which was conducted by V12 employees (all of whom were wearing V12 boots of course) which raised well over £10,000 for the Wiltshire Air Ambulance.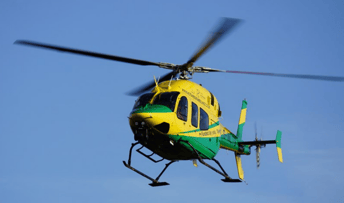 To further show our appreciation and support for this fantastic group, we've pledged to supply all members of the Wiltshire Air Ambulance team - on and off the ground - with free V12 safety boots for life. We're proud to keep the members of this service booted and protected for as long as they need - our way of acknowledging the crucial work they do, and to help them enhance their safety as they carry out dangerous and demanding work to help others.
To find out more about the Wiltshire Air Ambulance's life-saving service, click here.
Pictured: Wiltshire Air Ambulance's Bell 429 helicopter in mid-flight. Source: https://www.wiltshireairambulance.co.uk/
We make an annual donation to the Rapid Relief Team (RRT), an organisation that offers assistance and support to charities and services helping those in crisis and emergencies across the globe. As well as assisting teams on the front line in emergency and disaster relief, the Rapid Relief Team also focus on key areas of support such as
Homelessness

Health

Youth

Disability
Learn more about the amazing work that the RRT do here.
Pictured: Taken at a site where RRT were supporting emergency workers. Source: Rapid Relief Team
STEPPING UP IN EVERY WAY WE CAN
We're proud of the positive impact we make in our immediate and wider community. While we want our wearers to step up in comfort, as a business, stepping up to giving and charity - whether our contributions help those in crisis or support people risking their own safety to help those in need - is a vital part of our corporate social responsibility.
As we said at the start of this piece, while we care deeply about footwear and safety, we're just as passionate about caring for the people working directly and indirectly for V12 - that's why in our recent blog, we've shared what we do to keep those in our supply chain safe and protected. Find out more about this by clicking below.