Here's a stat for you. The average person is 50% more likely to tell someone about a bad experience than a good one. Think about it - when something makes your blood boil, you're far more likely to shout it from the rooftops aren't you?
And when it comes to posting reviews about businesses and tradesmen, it works exactly the same way.
Broken ornaments, dented furniture, dropped equipment and scratched doorframes are just a few of the things that can happen all too easily when construction or renovation work is carried out in the home. But whatever job leads you to someone's house, the more you can limit this damage - and the grizzly conversations which follow - the better.
In this article, we're going to focus on the two Fs: footwear and floors. We'll explore the potential consequences of damaging or marking a customer's floor, but most importantly, we'll show you the best ways to avoid it.
Whether you're an engineer, a landscape gardener, builder or electrician, if you're working at a private residence and walking through their property, protecting the floor is absolutely key. In many respects, it's arguably more important than the work you carry out: an expertly built extension or top-quality renovation will be the last thing on your customer's mind if you've left muddy footprints or scratch marks behind. Their marked or muddy floor - rather than your skills and expertise - will be grabbing the headlines on Trust Pilot and Yelp.
And it's not just about avoiding bad reviews because they don't look or sound good. The following statistics from a survey conducted by Dimensional Research and sponsored by ZenDesk reveal a pretty clear message about the link between perceived poor service and lost business:
'42% of B2C customers purchased more after a good experience, while 52% stopped making purchases after a bad experience.'
IT'S EASILY DONE
Has anyone ever said to you 'you've brought the good weather with you' when you've visited them on a sunny day? Well, bringing in mud and dirt from the outside into someone's house is basically the opposite to this. And you want to avoid it at all costs.
As well as carpets getting easily tarnished from dirty boots, soft vinyl flooring is easily pierced and torn. If you're moving furniture or hauling heavy hardware through hallways and rooms, it's all too easy with a drop or a drag to make a sizable rip. The phrase 'that's torn it' will never be more appropriate.
Additionally, wooden floors are easily scratched or marked when tools and equipment are passing through the property, and can also get scraped and scarred from sharp debris clogged up in the tread of your boots.
HOW IT CAN GO WRONG
INSURANCE
If you do accidently damage a floor or furnishing when in someone's home, this damage might not be covered by your customer's buildings or contents insurance. The result of this may well be an angry customer who will have to fork out for repairs – or come directly to you for reimbursement. Ever heard the phrase 'hell hath no fury like the owner of a cream carpet that's been soiled?' No, neither have I - but you get the point.
LET'S NEGOTIATE
Another potential problem with marking a customer's floor is that they might see this as an opportunity to reduce their bill. If they're left with any breakages, they could be tempted to try and negotiate your price down – and you might be tempted to agree to this in order to avoid a larger bill or drawn-out conflict. The problem here though isn't just the loss of your income – by doing this, you devalue your service, skills and product.
CONFLICT AND STRESS
Sometimes if there's a disagreement between the extent of the damage or who was responsible for it, the dispute can even end up in the small claims court. The result? Bad publicity, worry, lots of lost time and lots of lost business. And what do all of these things have in common? They all create STRESS.
Tip: a lot of people who do building and renovation work in properties take 'before and after' pictures for their business' social media and website, but having these images can also really come in handy if there is a dispute over who caused the damage and the extent of it.
PROATIVE, NOT REACTIVE
We're all agreed then - we want clean, unmarked floors and smiling, happy customers. Here are a few floor protection methods along with some important things to hold in mind so you can avoid - rather than have to solve - any messy problems.
THE RIGHT GEAR
DISPOSABLE OVERSHOES
Up until recently, these plastic covers have been the traditional way to cover work boots. Although they're cheap, it's worth remembering that they give you little to no grip, which can easily lead to slips, trips and falls. What's more, many engineers have reported using up to 6 pairs of disposable shoe coverings a day as they're easily stretched and ripped - and this just doesn't seem environmentally responsible.
REUSABLE OVERSHOES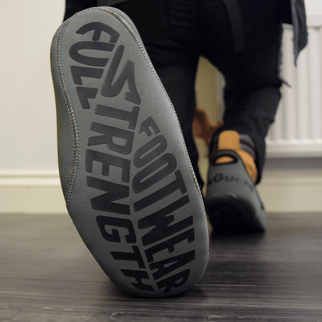 MukGuard, V12's Green Apple Award winning overshoe is an innovative reusable boot cover created for professionals regularly entering customers' properties. It fits snugly, looks professional and offers excellent slip and abrasion resistance.
CARPET PROTECTORS AND PROTECTIVE FILM
Carpet or multi-surface protection film can be a really effective way to protect floors from spillages, dust, dirt and paint. This type of floor covering tends to be better for working in a specific room or area over a long period of time.
PROTACTIVE BOARDS AND MATS
Boards and foam floor mats are great for protecting surfaces from scratches, knocks and dents, but they also offer impact protection to ensure that heavy items such as your toolkit or other hardware doesn't mark the floor when set down. Again, these are both appropriate options if you're static rather than moving around a home.
AND FINALLY...
A salesman once told me a brilliant technique he used to ensure his sales team were always honest with the customer regarding whether they needed the product they were selling. He got them to imagine the customer in front of them was their child or parent. When it comes to moving through a customer's private residence, try to do the same thing. I don't know about you, but if I visualised I was working for my grandma in her house, I'd be tiptoeing through the kitchen and hallway in full hazmat gear, dustpan in one hand, brush in the other.

Remember the stat at the start of this article? 'Your customer...will be 50% more likely to broadcast a negative experience.' Keep this in mind whenever you're moving through their property.

A pretty reliable way of reducing the risk of damaging a floor is to limit the amount of times you walk on it. Ensuring that you've got all the right tools and equipment for tomorrow's job means you'll have everything you need at hand, so you could end up making far less trips to the builders merchant or out to the van for those parts you might have forgotten. Good planning and preparation wins every time!

In short, the best way to protect people's flooring is to care about people's flooring. And with the right attitude and the right gear, it's easily achieved.