Like tyres, the soles of our shoes are our only contact with the ground. They need to provide excellent grip and traction to prevent us from slipping over. That's why we have been inspired by tyre technology to create our most innovative and slip resistant sole to date: the Intelligent Grip System.
IGS features a unique hexagon pattern for superior traction and water dispersal, ladder grips that meet firefighter standards for safe working at height, and an angled heel strike to ensure you start and end your day upright and injury-free.
This innovative sole is being introduced on four styles of V12 safety boots in the engineering, construction and oil and gas sectors: The Bison (in Black and Brown); the Puma and the Avenger.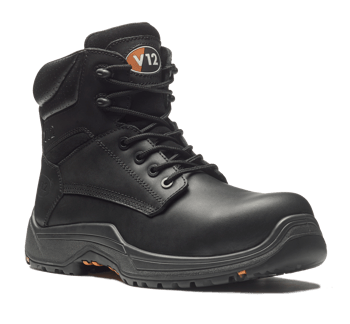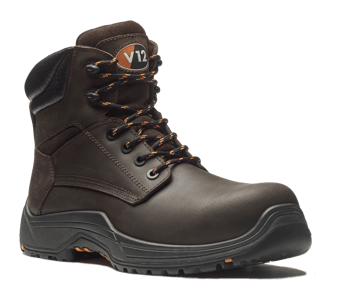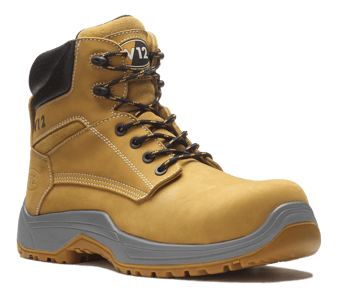 What inspired us?
The main driving force behind the IGS was a passion to reduce slips and falls from height – the biggest cause of death and major injury in the industries we create footwear for.
V12 first analysed the causes of slips, trips and falls in the workplace. We wanted to really understand why they were still happening despite footwear technology and health and safety standards only improving. We then worked with experts in safety testing, tyre technology, material compounds, ladder safety and even foreign object detection to address the issues.
Another huge requirement was that the IGS had to perform brilliantly in real life environments, not just in international slip tests on soapy ceramic (SRA) and oiled steel (SRB). So as well as making sure IGS achieved SRC rating for slip resistance, we tested its performance on a whole host of other surfaces too.
Throughout its three year development, IGS went through hundreds of design iterations, three different rubber compounds, eight prototypes, two testing labs, 19 test pilots and countless experts within and outside the industry. We've calculated that our in-house designer consumed roughly 2,500 cups of coffee in this time, but thankfully not too many sick days!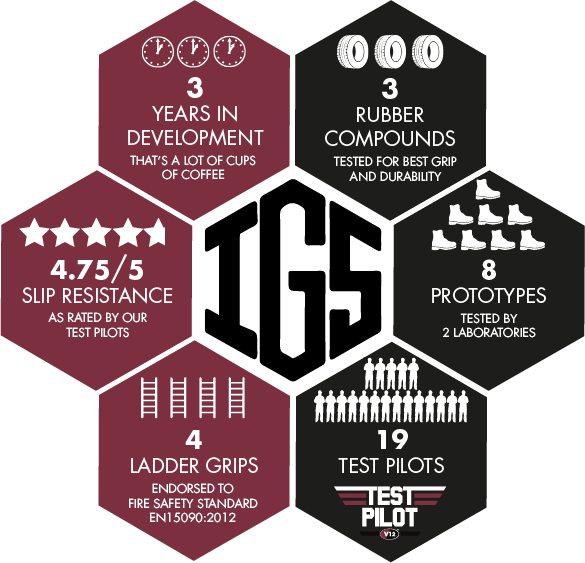 So what are the new features?
Ladder grips endorsed to firefighter standard EN15090:2012
Our wearers spend a lot of their time up and down ladders. With the biggest killer in their environments being falls from height, ladder work is an often-overlooked danger.
Looking outside of the industry for inspiration, we discovered a new standard which sets a benchmark for the safet footwear industry: EN15090:2012 Ladder Grips endorsed to firefighter levels of safety.
Working closely with ladder manufacturers and SATRA technology, we applied this innovative standard, and we are proud to say that our new IGS range are the first safety footwear to offer this level of safety for working at height.
Above and beyond safety boot requirements, the IGS boots have four strong, deep ladder grips and a well-defined heel to keep you sturdy and firm footed while climbing or descending ladders, and ultimately help prevent falls from height.
"Safety footwear is the only piece of PPE with any influence over slips, trips and falls. It is a major factor in reducing these very common workplace accidents." Ben Turner, V12 Footwear.

Hex grip pattern inspired by tyre technology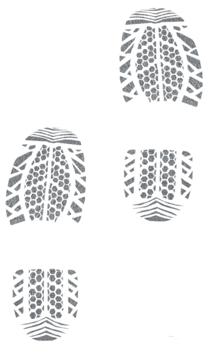 Our wearers work in all weathers on a variety of terrains from mud and concrete to kennedy grating. They need footwear that excels across all of these environments.
Working alongside a tyre manufacturer, we analysed tyre technology to discover which patterns offer the best grip and water dispersal across multiple surfaces. We then created our own unique rubber compound to provide optimum levels of both durability and traction.
The sole pattern is based on small hexagons which provide multiple sharp edges to cut through liquid; and larger, self-cleaning lugs to provide stability on chunkier terrains. Clear chevron grooves provide flex points and a central channel enables liquid to drain away, giving the wearer excellent contact and traction.
"Footwear is often the lowest consideration in the hierarchy for slips, but actually its the one that is easiest to make changes with, and quite often the most inexpensive. It can be a very good control for stopping people slipping over in the workplace." Rob Shaw, The Health and Safety Laboratory.
7 degree heel strike
Slips are most likely to happen when the heel is placed down to make a new step. We are sure that everyone can relate to that 'slipping on a banana skin' feeling, when the surface of the ground seems to disappear from beneath your feet! This essentially happens because the contact area at the back of the heel on most footwear is miniscule, providing very little grip with the ground.
To protect you from aquaplaning, we have designed the heel strike of the new IGS sole at 7ª, the angle at which most slips occur. Five angled splines provide increased contact with the ground, effortlessly cutting through water and dirt on every step, keeping our wearers firm footed.
Extreme comforT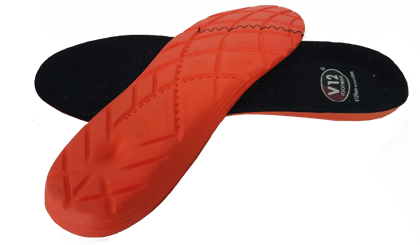 Not only is IGS a highly slip-resistant sole, we have also worked hard to build it into our most comfortable safety footwear to date. We have developed a brand new custom-made last to create the the footwear around; and buried a shock-absorbing heel pod within the sole, reducing impact on wearers' knees and back.
We have also included our new Energyse insole within each boot. This high quality PU insole has a unique heel pump to channel air around the foot, reducing heat buildup and moisture. With rebound foam, the insole provides full foot cushioning and shock resistance.
"These boots were extremely comfortable from word go. After an hour of wearing them, they felt like a broken in pair!"
Test Pilot
Try it for yourself!
Early trials have rated the IGS 95/100 for excellent grip, with test pilots commenting that they performed brilliantly with ice, oil and diesel underfoot. With results like this, we're confident that V12's safest sole will improve occupational health and safety in the years to come.
"I had to walk the kids to school in the snow and ice. The boots had very good grip, I didn't slip once!"
Test Pilot
Find out more about IGS and how to become a distributor here: