There is shifting attitude to plastic in the UK. Since its introduction, the 5p bag charge has reduced the number of plastic bags washed up on UK beaches by a huge 40%. But we still have a long way to go. (If you're interested in finding out more, read our blog on how to reduce single-use plastic in the workplace here.
Sky Ocean Rescue recently reported that more than eight million tonnes of plastic thrown away each year is washed out to sea. Sky is now championing a campaign to reduce the amount of 'single-use plastic' we use, including cotton buds, straws, plastic bottles and cutlery. But one single-use plastic problem that many industries haven't properly addressed yet is a gross over-reliance on plastic overshoes.
10 PAIRS OF OVERSHOES PER ENGINEER EVERY DAY...
V12 Footwear has carried out extensive research on overshoes usage, working with one of the largest utility companies in the country with 5000 UK-based engineers. And these engineers are getting through as many as 10 pairs of plastic overshoes every single day, simply from going in and out of customers' homes. Over the course of a year, this equates to the weight of your packed suitcase on your last holiday, crammed full of wasted single-use plastic. Just from one engineer.
To put it simply, a company of this size could be sending 70 tonnes of used plastic overshoes to UK landfill every year, And that's if it gets that far.
Still not convinced? Watch the video below to see what a big impact these little boot covers are having on our planet.
A GREENER SOLUTION
V12 was determined to find a solution, and this is why we developed MukGuard – the bag for life of the overshoe world. MukGuard is a reusable overshoe that is proven to be greener, safer and more effective than plastic overshoes. Designed for professionals who regularly enter into customers' homes through the course of their work, it's the first sustainable overshoe of its kind on the market.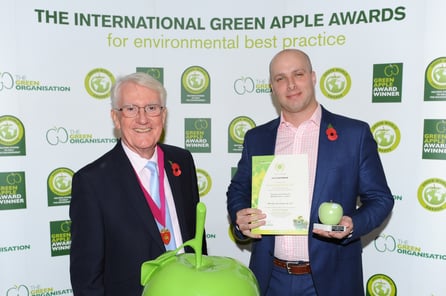 AWARD-WINNING SUSTAINABILITY
We were absolutely thrilled to be presented with a 'Green Apple Award' at the 'Environmental Best Practice 2017' presentation on November the 6th, held at The Houses of Parliament.
This is a massive achievement for V12 Footwear, and we are incredibly proud that the work we have invested in developing the MukGuard to drive down plastic waste in the both the construction and utilities sectors has been formally acknowledged by this prestigious international environmental award. Find out more here.
Ben Turner, Director at V12 Footwear commented:
"We created the MukGuard in response to a huge gap in the market for a reusable overshoe. Perhaps we have old-fashioned values, but we believe in reducing what is thrown away wherever possible and instead creating hard-wearing products that can be washed and reused time and time again."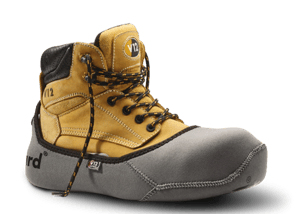 As well as being green, MukGuard is a lot safer to use too.
It fits snugly to the shoe to prevent trips, and has proven in lab tests that it offers 75% more grip than plastic overshoes - driving down the most common accidents in the workplace. You can download the full results of these slip tests here.
So next time you go to put on a pair of blue plastic overshoes, just remember that even the smallest change can make a difference.