When you think of the perfect construction safety boot, what springs to your mind? It's got to be the Puma!
The iconic and best-selling honey-coloured derby boot from V12, outstanding in safety, style and slip resistance. This beautifully crafted VR602.01 Puma IGS is at the top of its game!
what safety features does the VR602.01 Puma IGS contain?
With a composite toecap and midsection, the Puma IGS provides protection from falling objects and underfoot penetration up to 200 Joules, while remaining lightweight, reducing wearer fatigue. With an SRC slip rating, the safety boot offers the highest levels of slip resistance. It also meets the high spec S3 safety standard, packing in the following features:
Anti-static
Heat and chemical resistant outsole to 300ª.
Water-resistant
Composite toecap
Composite midsole
SRC slip rating
What other features does this sand safety boot contain?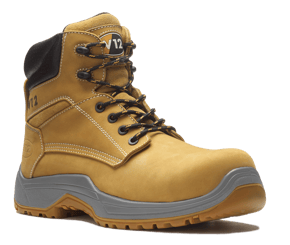 The Puma IGS is crafted from luxurious soft honey nubuck, with an ultra-modern light grey midsole. A perforated scooped collar makes the boot breathable and comfortable for driving, and a non-snagging speed lacing system makes it quick to put on in the morning.
The Puma IGS is completely metal-free – meaning it's great for high-security environments or those with a risk of sparking. The water-resistant safety boot also features a bound bellows tongue, reducing water and dirt ingress, and a strong pull tag to make it easy to get on and off.
We have worked hard to make this an incredibly comfortable safety boot. We have developed an extreme comfort shape to create the footwear around; and buried a shock-absorbing heel pod within the sole, reducing the impact on your knees and back.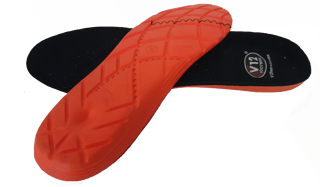 We have also included our Energyse insole within each boot. This high-quality PU insole has a unique heel pump to channel air around the foot, reducing heat buildup. With rebound foam, the insole provides full-foot cushioning and shock resistance.
All of our test pilots rated their comfort as 5/5.

But the biggest feature has got to be the IGS sole - your only contact with the ground and your best control to prevent slipping over in the workplace.


The IGS sole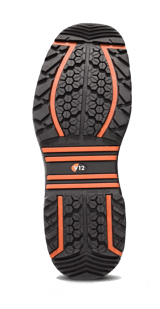 Falling from height is the biggest hazard in our wearers' industries. Above and beyond safety boot requirements, the VR602.01 Puma IGS has four strong, deep ladder grips and a well-defined heel to keep you sturdy and firm footed while climbing or descending ladders, and ultimately help prevent falls from height. These ladder grips are the first in the industry to meet the firefighter standard EN15090:2012.
Inspired by tyres, the sole pattern is based on small hexagons which provide multiple sharp edges to cut through liquid; and larger, self-cleaning lugs to provide stability on chunkier terrains. This makes the Puma IGS the perfect safety boot for construction, where you encounter several different surfaces every day.
What's more, to protect you from aquaplaning, we have designed the heel strike of this metal-free tan safety boot at 7ª, the angle at which most slips occur. Five angled splines provide increased contact with the ground, effortlessly cutting through water and dirt on every step, keeping you firm footed when you need it most.
Find out more
Download this free comparison chart to find out more about all of the extra features crammed into our new IGS boots.