The Background
A Rail Industry workshop commissioned by V12 Footwear flagged up Ankle Protection as a number one concern of both Wearers and Specifiers in the Rail Industry. Here are some of the comments that were recorded:
"Apart from the obvious safety requirements around toes, heels, mid-sole protection and front of the foot, the other critical area is providing stability to the ankle. This is because a large number of injuries are caused by twisted ankles which are in turn caused by uneven surfaces such as the track ballast" Trackside worker
"Our existing boots don't offer much protection" Trackside Worker
"Employees spend a lot of their time up and down gantries and ladders…moving at different angles where there's a lot of pressure on the ankles" Rail Industry Specifier
"Apart from the Lot of requirement for ankle protection….employees do a lot of twisting, bending kneeling, walking on slippery platforms/ballast etc." Health & Safety Specifier
The Challenge
Further research demonstrated that thousands of ankle and related knee injuries occur in the wider workplace every year. Statistics published by HSE in 2016 show the total cases of Work Related Lower Limb Disorders (WRLLDs) for Great Britain in 2014/15 was 2,229,000 days lost at a rate of 21.7 days lost per case.* The cost in compensation is correspondingly huge. Many of these instances relate to ankle and related knee injury.
*HSE Government Statistics 2016
A miracle of human engineering
The ankle consists of three bones and many ligaments and tendons working together to support the whole body. The knee is an even more complex structure with fluid filled sacs, bone, cartilage, and four types of ligament. An ankle or related knee injury can cause long-lasting or even permanent damage and is often very painful, surprisingly common and should not be ignored.
Problems can occur when working on rough ground or in areas where heavy objects are both stored and lifted. Some of the problems encountered are:
Meniscal tears of the knee or ankle
Metacarpal Fractures of the ankle or foot
ACL (anterior cruciate ligament ) or PCL (posterior cruciate ligament) injuries
Bursitis
Dislocation
Stress fractures
Tendonitis
Hyperextended knee
Historically WRLLDs are not as well documented in the occupational health literature as back and upper limb disorders. Reports of WRLLD symptoms tend not to be independent of reports of symptoms in other areas of the body (Gamperium and Stigum, 1999; da Silva et al., 2006).
Anecdotal evidence suggests some workers try to "tough it out" when they are injured but an ankle or knee injury that may seem minor at the time can develop into something more serious.
"Ankle twisting is bad enough but often leads to severe knee problems which can take ages to heal" Health and Safety Specifier
Rail Industry Risks
In the Rail Industry walking and working on track ballast, repetitive movements, extended periods of standing, heavy lifting, general risk of slips and trips and whole body vibration are just some of the risks that can result in knee and ankle injury.
Some footwear in use by Rail staff and contractors do not always seem to be the most appropriate for the tasks being carried out and does not provide a great deal of ankle support or stability.

"Because of the danger or working near live lines, all Boots have to be metal free." Trackside worker | LUL
What should I look for in Safety Footwear?
A well fitted, comfortable boot with correct safety features is essential for Rail work. It is well accepted that a higher lace boot provides better support to the ankle and lower limb.
Lace the boot firmly for the best support and wear the overall trouser over the lacing to reduce snagging. An ankle support system will contribute significantly to the anti-torsion qualities and furthermore, a waterproof breathable membrane is a great addition in our damp climate. Remember, a dry foot is a comfy foot.
Metal-free boots offer three significant benefits:
Less weight means reduced fatigue
Warmer feet in winter - as they

don't conduct cold like steel

Reduced risk of electrical hazard as they are non-sparking
Plenty of underfoot cushioning is required to prevent the "feel through" encountered on ballast. Of course, all boots should conform to EN20345:2011 S3 as minimum.
"As with most safety boots, they wear out…a pair lasts on average 7-12 months, and are reluctantly changed for a new pair due to the comfort/wearing in factor."
Trackside worker
"The biggest enemy of the Boot and the wearer seems to be rain. Most boots are subject to a lot of rain and being waterproof is a number one priority. This is accentuated by waterproof clothing/trousers which have the effect of directing rainwater straight onto the boots."
Trackside worker
The Solution: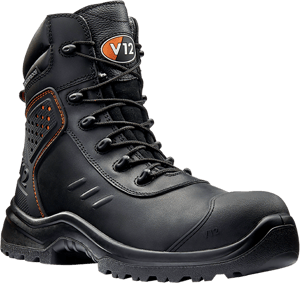 The all new waterproof V12 Defender boot ticks all these boxes and more.
It has been designed for the job with the input of the Rail Industry - the people who know the job best. It's been trialled in the field by V12 Test Pilots and refined to meet all the demands of this challenging, all-weather industry.
A particularly neat feature we've introduced is a Poron impact absorbing pod which goes over the delicate ankle bone to reduce injury.
Take a look at how Poron performs in the video below:
This has been certificated to the AN safety standard of ankle protection – a first for V12 Footwear. Designed into the sole is a defined "heel buttress" and "ladder grips" to the Firefighter boot standard, an added safety feature for working on gantries, ladders and steps.
Here's some final feedback from A Defender STS
test pilot:
"Still awesome, been out in flood water and stayed dry, walked a fair few miles on ballast with no problems. The slip resistance is almost unreal. Places where I know I will slip and slide are no match for these boots. The air circulation feature also means less sweaty feet at the end of shift. Also none of the seams etc. are showing any sign of failing."
Trackside worker | Amey (Rail Industry)