V12 Footwear are a family-run safety boot brand with a long heritage in shoe making, but we believe the key to giving our wearers the best comfort and protection is through innovation.
As the company turns 25, let's look back at 12 of its most pioneering safety boot innovations, and how embracing technology has allowed us to make the safest and most comfortable work boots.
1. The V12 comfort last
We worked with a world-renowned lastmaker over a two-year development period, amalgamating their lastmaking skills with cutting-edge innovation. We used over 4,000 global foot scans to create a last reflecting universal foot shapes, giving V12 boots their legendary comfort fit.
We developed both our true men's and true women's fit lasts in this way, so all footwear from both ranges contours and supports the foot shape of the specific wearer.
Learn more in this blog.
2. MukGuard
Created for tradespeople to ensure they don't bring mud or dirt into customers' homes, the MukGuard overshoe was developed with:
Multi-directional neoprene

Hexagonal anti-slip sole

Non-snagging fit and easy on-off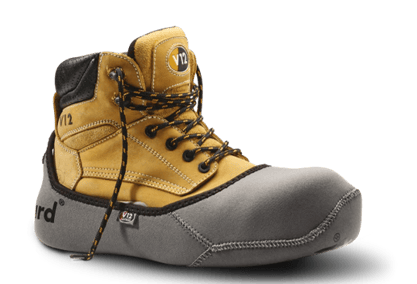 With this mix of innovation and convenience, it quickly became a favourite in stores and online. MukGuard has notched up 1,392 Amazon reviews with an average rating of 4.5 out of 5 stars.
And because MukGuard is washable and reusable, it eliminates the need for environmentally unfriendly single-use plastic shoe covers, something that's increasingly important to our customers.
How many disposable overshoes does MukGuard save being used?
3. Dynamic ArchTM
Dynamic ArchTM insoles are the result of collaboration with motion analysts, leading universities and renowned podiatrists. Designed in three different arch sizes – low, medium and high, they reduce foot pain with bespoke, targeted arch support, helping with the well-being of many safety boot wearers - especially those with foot health ailments such as Plantar Fasciitis.
But there's a lot more to this insole. To learn about Dynamic Arch's other innovations including its open cell padding plus its male and female fit, head here.
4. V-Dri
With built-in moisture-management and climate control, V-DriTM is our highest-performing waterproof membrane, ensuring dry and sweat-free feet for maximum comfort.
Microscopic holes in the membrane prevent water from getting inside the boot, but they've been designed to be large enough to allow perspiration to escape.
See below: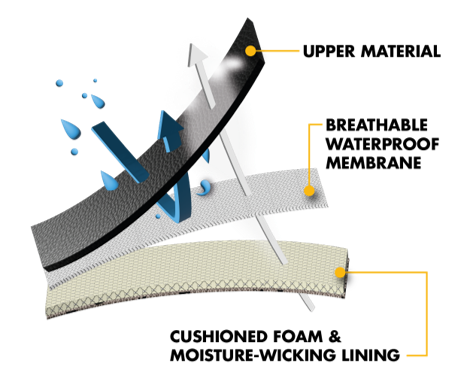 5. IGS and STS sole units
Slips, trips and falls (including falls from height) account for 40% of non-fatal workplace accidents. We wanted to reduce these figures with truly pioneering tread. In fact, we made two sole units, so no matter what surface our wearers work on, there's a slip solution to keep them safe.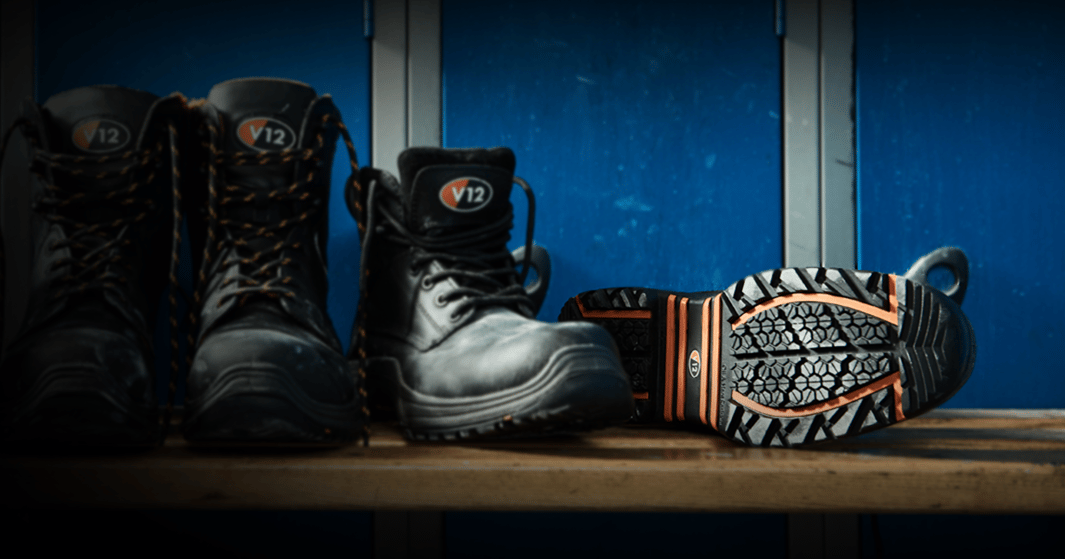 IGS
This hexagonal sole pattern was developed to cut through liquid to maximise wearer contact and grip on wet, man-made surfaces.
STS
Modelled on tractor tyre technology, the STS was developed with a large lug pattern to grip natural surfaces, while wide channels ensure a self-cleaning sole for stability.
Both sole units feature ladder grips to safeguard those working from height, and our research showed us that slips often occur when the heel is placed down to make a new step, so we designed both soles with a 7º heel strike - the angle at which most slips occur – to keep the wearer stable and slip-free.
Find out more about both soles on our innovations page.
6. Next-level testing
V12 believe that testing footwear in an innovative way is also key to ensuring wearer safety.
To give both the employers and wearers we work with further safety assurance, many of our boots undergo additional slip testing on real-world surfaces like Kennedy Grating and scaffold board, because when it comes to safety and compliance, V12 don't meet the standard - they exceed it.
7. V1250 Defender STS
V12 consulted industry experts from across the rail industry to find out what safety boot solution they needed to protect their teams. From this collaboration, the V1750 Defender was born.
Developed with advanced Poron XRD® cushioning to offer shock-absorbing ankle protection and a high-performing waterproof membrane, this rugged, lightweight style won 'Best Innovation in Footwear' at the 2021 PCIAW awards.
See for yourself below.
8. Trainer and Hiker range
This safety style collection was also awarded 'Best Innovation in Footwear.' And it's clear why.
Lightweight, metal-free construction




Breathable, sweat-reducing uppers




Superb anti-slip grip



These versatile styles come in both men's and true women's fit, and are vegan friendly, so with this range, a company's entire workforce can be fully facilitated.
While we're proud of our past, we have our sights firmly set on the future.
9. ExoGuard
Intensive collaboration with safety specialists and carbon experts led to the ExoGuardTM, a pioneering patented protection system in our met boot 'Invincible,' featuring:
An internal strap 200 times stronger than steel

An energy-distributing PU stud network

A shock-absorbing dual density pad
Getting a boot that consistently passes the metatarsal safety test has always been a challenge for Health and Safety Managers – until now.
10. Nanotechnology
Another way V12 innovate is by using Nanotechnology toecaps.
Carbon nanotubes arranged into a beehive structure and woven together make an incredibly strong toecap material, but is also extremely light. This ensures that the wearer is fully protected, but doesn't have to deal with tired legs or foot fatigue.
And for Safety footwear procurers looking for lightweight solutions to maximise their employees' foot health and performance, innovations like these can make all the difference.
11. V2110 Groundworker
V2110 Groundworker is a unique safety wellington - it's tough and flexible, but to give our wearers the most comfortable wellie, we ensured it is extremely lightweight compared to similar safety wellingtons on the market, with a:
Lighter than rubber PU upper

Neoprene leg material to reduce weight

Lighter than steel composite midsole
12. Carbon neutral company
V12 Footwear has been certified as a carbon neutral company, but to reach this environmental milestone, we committed to introducing a range of carbon-reducing innovations in production. To find out how, head to V12's sustainability page here.
Constant Innovation
Workplace environments and hazards are, like all things, constantly changing and evolving. And that's why we'll continue to innovate – so our footwear can change and evolve to meet these challenges, and be ready to protect our wearers with the highest levels of foot health and safety.
To see the pioneering technology we use in our safety styes, head to our boot finder to find the perfect work boot to maximise foot health, safety and comfort for you or your team.