Whether you're stepping over slippery surfaces, navigating loose ground or wading through water, V12 has got everything your feet need to face the elements in comfort and style. So get your boots on and join us for a tour of our best outdoor safety footwear for 2022.
1. V1501.01 Caiman IGS
The boot
This metal-free waterproof safety hiker is an impressive all-rounder. Caiman IGS is leather-free and therefore vegan friendly, but still maintains an authentic fabric look and Nubuck-feel finish. Its underfoot cushioning and shock absorbing reinforced heel makes it an incredibly comfortable product - but there's also a raft of safety technology under the material that makes this much more than a standard hiker.
And the best news? For a product boasting such a range of safety and comfort features, it's an extremely reasonably priced piece of footwear.
"I have never ever found a boot as comfortable as the Caiman. Fantastic boots."

Bryn Jones on the Caiman
The spec







The industry



And there's more...
Caiman comes in a large size range, so if you have challenges finding footwear that fits, Caiman might be the answer to your prayers: it starts at size 3 and goes up to 16.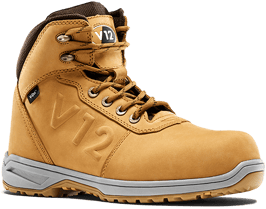 The boot
V12's new waterproof boot showcases a seriously impressive set of safety and comfort benefits. Lynx features V-Dri™, V12's high-performing waterproof membrane which not only keeps feet dry but

offers superior breathability and inside boot climate control due to its ultra-wicking fabric.

It boasts outstanding grip due to its industry-leading IGS™ (Intelligent Grip System) sole unit, and a shock-absorbing heel provides further comfort. With its luxurious Nubuck leather,

non-sparking composite toecap

and

superflex-fibre midsole,

Lynx range is contemporary, durable and will keep you firmly on the path to comfort and safety.
"The Lynx boot is a brilliant boot for its grip, durability and ankle support."

Perry Richins – landscaper.
The spec AND INDUSTRY










And there's more...
The honey coloured Lynx is only one of three – this fantastic boot is also available in brown (V2130 LYNX BROWN) and black (V2140 LYNX BLACK).
THE BOOT
If ever there was a boot that combined style and safety, it's the Rawhide. Crafted from rugged oil stuffed hide, the outstanding quality of its vintage leather as well as its triple-stitched seams and heavy-gauge contrasting thread gives the already iconic dealer boot style an even more impressive and deluxe look.
However, Rawhide is as much about safety as it is style. It's one of the strongest elastic-sided dealer boots available due to its protective leather side panel. Rawhide's energy return footbed is anti-bacterial, while its Powerflex™ sole is oil, acid, alkali and hydrocarbon-resistant. The perfect blend of strength and sophistication.
"Fantastic boots! Probably the hardest wearing but most comfortable boots on sale today."
Marcus Sutton on the Rawhide.
The spec


The industry


And there's more...
Rawhide is also available in a lighter brown colour, known as V1241 Stampede as well as our non-safety version, V1261 Rancher.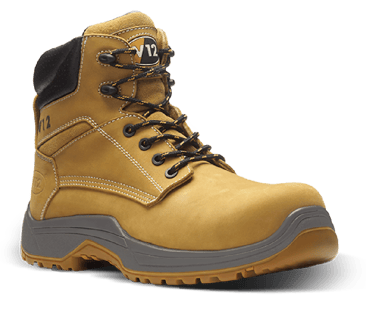 The boot
Constructed from luxurious honey Nubuck upper, the lightweight and metal-free Puma is a superb hybrid of comfort and durability. Constructed from a full-grain leather upper, Puma features a cut-away scoop collar for easy foot access, non-snagging eyelets and padded moisture-wicking lining. As if that wasn't enough, its shock-absorbing footbed delivers increased cushioning while its air channels reduce heat build-up and odour.
Armed with V12's innovative IGSTM sole unit, superb grip on all surfaces is guaranteed, and its flexible anti-penetration composite midsole ensures that Puma offers toughness and traction in equal measure.
The spec






The industry


And there's more...
The Puma has a twin! When the Puma changes colour, it becomes Bison, available in brown (VR601.01 Bison IGS) and black (VR600.01 Bison IGS).
5.
VR620.01 Avenger IGS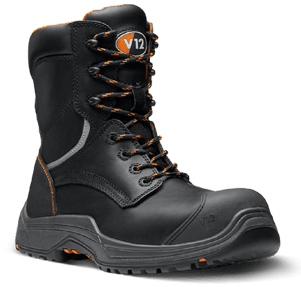 The boot
Avenger is the result of comfort and safety working in perfect harmony. A moulded scuff cap and heel protector means Avenger is bookended with protection and strong enough to meet the demands of industries such as construction and excavation. Furthermore, the durability of these features increases the overall life of the boot, reducing waste sent to landfill and enhancing sustainability. It features V12's revolutionary IGS™, a sole unit that offers industry-leading grip and traction, as well as a shock absorbing footbed, Hi-Vis reflective trim and a non-snagging lace system for safety and ankle support.

The spec






The industry


And there's more...
Avenger is available in an extra-large size - VR620.01XL Avenger IGS
When it comes to competitively priced safety wellington boots,
VW256 TITAN
treads all over the competition.
This durable PVC and nitrile rubber boot is SRC rated, which is the highest slip resistance rating that a sole can be approved for. Its wide-fitting corrosion resistant steel toecap and flexible steel midsole safeguards the foot, while its reinforced toe and foot arch area allows for further wearer protection.
Titan's padded footbed laid over a shock-absorbing heel treats the wearer to extreme comfort as well as durability, and unlike a lot of wellington boots, Titan features anti-static removable insoles. And if that wasn't enough, its chunky, rugged tread is more than a match for loose or uneven surfaces. Finally, Titan boasts a moulded heel stabiliser and internal trouser grips, as well as a reflective panel for safety and a reinforced midsection for digging.
The spec



The industry



And there's more...
Due to its thick and durable sole, this boot can be studded to gain greater traction and stability if the wearer is working on particularly uneven or slippery surfaces in roles such as stream and river management and vegetation control.
Six of the best
So there you have it. Six stylish, safe and sturdy boots all packed with protection and comfort. Your only problem? How are you going to choose between them? Head to the website and find the safety boot that's right for you.