A scuff cap can be a valuable addition to a safety boot, and while this piece of material might be relatively small, it can have a big impact on the levels of durability and comfort of a boot. A scuff cap might not be a necessary safety feature for everyone, but after reading this blog and the guidance it offers, you'll be clear and confident about whether or not you, or the people within your industry, need this piece of upper protection.
WHAT IS A SCUFF CAP?
A scuff cap is a piece of material at the front of the boot that is designed to protect the leather which covers the toe cap.
WHAT'S THE BENEFIT OF A SCUFF CAP?
A scuff cap prolongs the life of a safety boot and also keeps them looking scuff-free. Without a scuff cap, the only thing that stands between the all-important toecap and the rough or sharp surfaces or objects in safety-critical industries is the leather upper. Once that leather is worn through or cut, this not only invalidates the boot, but allows water ingress and over time can even compromise the effectiveness of the toecap by exposing it. And this wearing down of the toecap area is common. In a recent survey of over 500 safety footwear wearers conducted by University of Bath, when asked what part of their boot most commonly needs replacing due to damage, 1 in 5 of respondents said it was due to the toecap being exposed.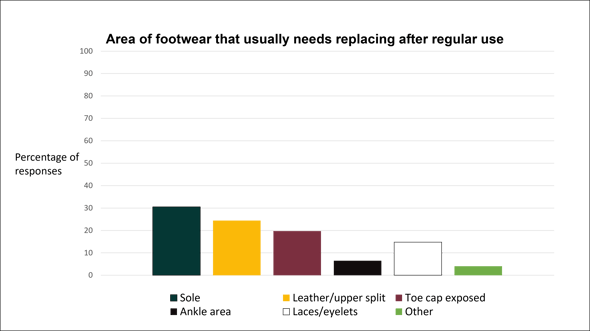 cost in use
These results tell us that a lot of these boots which had to be consigned to landfill could well have lasted longer had they had a scuff cap to protect the toe area. When being used daily in tough and hazardous conditions, it's not always possible to prevent eventual damage to the upper or sole, but a scuff cap can be a simple and relatively inexpensive way to add a layer of protection to a boot, which makes it last longer and as a result, reduces waste. Win win.
Find out more about cost in use of V12 in our 'Performance over price' blog here.
WHAT ARE SCUFF CAPS MADE OUT OF?
The material used to make scuff caps vary, but they tend to fall into two main categories.
Sheet material (a roll of leather-like fabric) which is cut to shape and sewn on. This type of scuff cap carries the benefit of being lightweight as well as protective.




TPU (Thermoplastic polyurethane) which is mould injected. This type of scuff cap has more durability, but tends to weigh more than a fabric scuff cap.
WHAT TYPE OF INDUSTRIES REQUIRE A SCUFF CAP?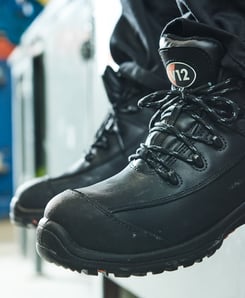 Scuff caps are effective in protecting and preserving safety boots if the wearer:
spends time working on their knees (this puts weight and wear on the toes)

works in rugged environments around hard, rough surfaces where levels of wear and tear are high

works around sharp or rough objects like boulders or rocks that can scuff a boot

works in an industry where the toe area takes a lot of impact, where the wearer might kick or scuff a curb or walk over aggregate or ballast
So
,
a scuff cap will be appropriate for industries such as:
Construction

Oil and Gas

Heavy equipment mechanics

Rail

Mining and Quarrying
WHEN MIGHT A SCUFF CAP

NOT

BE NECESSARY?
It's understandable that tradespeople working in hazardous environments or those in charge of Health and Safety or PPE procurement want to have boots offering maximum protection. However, having unnecessary safety features (or 'over specification') can mean that wearers carry around weight they don't need and spend money they don't have to.
So it's worth taking some time to consider whether scuff caps are a necessary part of your boots' specification. As always, this decision should be based on the conditions they will be used in and the protection the wearer needs. For example, if you work on an oil rig or you're in grounds maintenance, your slip resistance and waterproofing will need to be an absolute priority, but a scuff cap might not add a huge amount of value to your safety or comfort.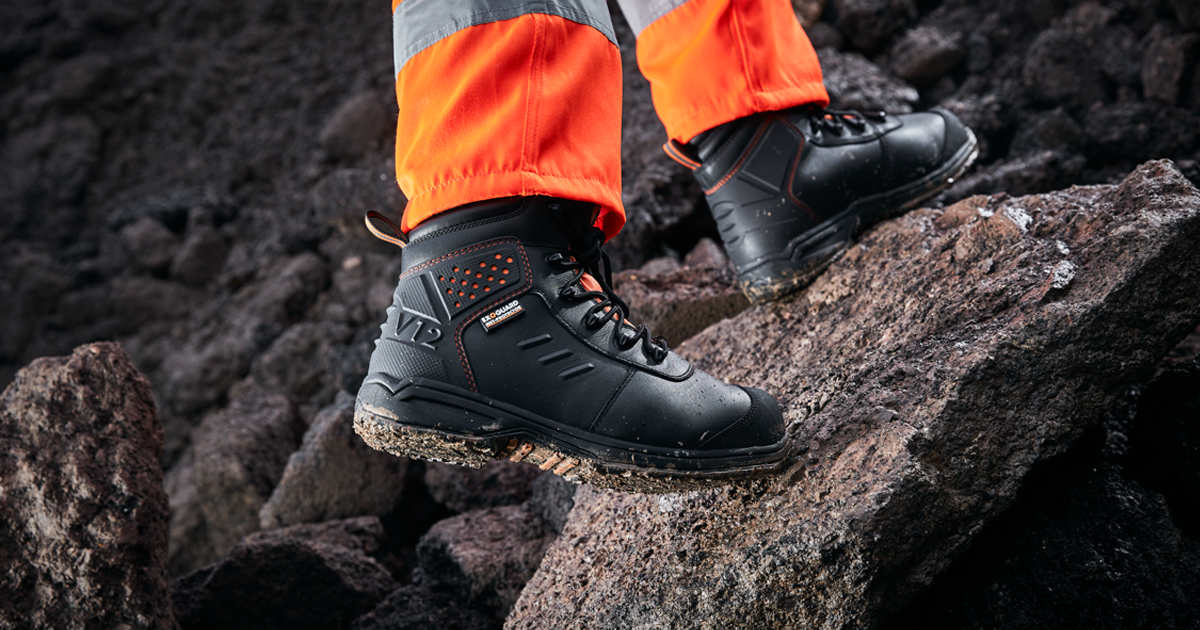 Above: V12's V2180 Invincible IGS's scuff cap being put through its paces in a quarry - perfect territory for this feature.
SCUFF CAP BENEFITS REVIEW: WHO AND WHAT?
I'm a safety footwear distributoR
If you're serving industries such as construction, the energy sector or any industry where abrasion and scuffing is common, footwear really benefits from this safety feature.
I work in or am in charge of Health and Safety or PPE procurement
If you're responsible for your staff's foot safety, you're going to want the PPE you source to be absolutely spot on in terms of application. So, you'll want to avoid under specification at all costs, but equally, over specification of footwear can increase expenditure and add weight to the wearer's feet.
I buy my own safety footwear
You'll know exactly what you need to face the challenges and hazards for your role, but if you're interested in boot preservation and boot upper durability and your role sees you in high-scuff situations, a scuff cap could be just the ticket.
Are you considering scuff caps as part of your safety footwear range's spec?
If you're still unsure, don't worry - we're the experts, so leave it to us! Head over to our blog below and find out how our specialist Health and Safety Footwear Assessment can protect your workforce with the right safety spec.