"The HSE recommends you consider asking your supplier to provide trial pairs to help you make the right choice, and don't select footwear on the basis of brochure descriptions or laboratory test results alone." (Health and Safety Executive)

When safety is at stake, we believe

it's

crucial that everyone has the right type of protection. Just like the HSE, w

e

don't

expect companies in safety-critical industries to opt for boots 'off the shelf'

or

choose

safety footwear for employees without knowing if they will appropriately meet the demands of the environment.

T

hat's

why we offer a three-part product suitability assessment

where we work with dis

tributors to

establish

the most appropriate safety footwear for their workplace which have been

trialled and tested to maximise

safety and comfort. It

features:
an industry-leading audit
a multi-step safety footwear trial process
our expert safety footwear recommendation
In this blog, we'll show you how we carry out our safety boot assessment and explain the huge benefits for companies who sign up to this foot health and safety process.
HOW DOES A V12 PRODUCT SUITABILITY ASSESSMENT WORK?
AUDIT
At the start of the process, our footwear specialists carry out a thorough and meticulous audit to get to know your needs by understanding the challenges and potential hazards unique to your site or workplace using industry respected inspection and corrective action capture technology.
TRIAL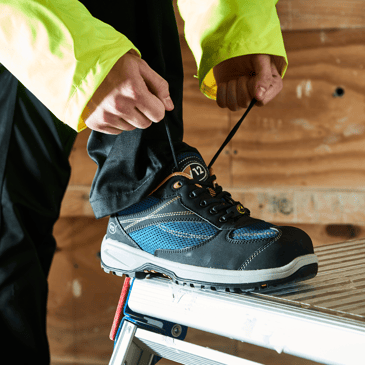 Based on the findings of our assessment - which we'll share with you for your records - we recommend a selection of safety boots which will match all of the requirements of your work environment. While this proposed safety footwear range is being tested on the job, we monitor and record detailed feedback on its performance to continue assessing its suitability.
REPORT
Once we've collated the feedback on the footwear's performance during the trial, we prepare a bespoke proposal recommending the most appropriate footwear to offer the best comfort and protection based on the wearer's environment and role. Commonly, a solution is proposed for each division of the company, as safety needs will often vary across company areas. Each client is provided with a comprehensive footwear manual which is regularly updated on follow up.
V12 FOOTWeAr ASSESSMENT: WHAT IT GIVES YOU
COMPLIANCE AND CONSISTENCY
In a large company, monitoring whether every member of the workforce wear consistent and compliant safety footwear can be a challenge. Some may have bought their own boots or shoes, while others may have changed size, styles or even added accessories such as insoles due to foot health complaints or poor fit. In our extensive experience in working with clients, we regularly identify areas of non-compliance which need immediate attention, as well as medium and low risk issues which also need addressing.
The benefits:
1. Consolidates the correct safety specifications across the whole team area, ensuring 100% compliance
2. In the unfortunate event of
an accident occurring, you can rest assured you've given your employee the right protection, and you'll have independent third-party documentation from us to support you going forward
PRODUCTIVITY AND PROTECTION
Introducing this type of trial leads to better fitting footwear, which leads to a more comfortable and healthier workforce. Furthermore, this initiative reinforces that you're an employer who values employee safety and wellbeing.
The benefits:
Increases productivity due to improved physical comfort

Leads to enhanced employee morale and 'buy-in'

Reduces complaints from staff which can be time consuming to resolve and demotivating

SAFETY WITH SAVINGS
When a workforce is wearing the correct specification of footwear, coupled with the proven durability of V12's footwear, the life of the product is significantly extended. Often when auditing, we've also found that employees have been given over-specified safety footwear, meaning they are wearing boots or shoes with safety features they don't need.
The benefits:
Decreases spend on replacement footwear which saves money over time

Identifying over-specification can stop over-spending if a more basic spec is proposed

Employees wearing more comfortable footwear are likely to experience less musculoskeletal problems, potentially reducing the amount of time taken off work
EXPERIENCE AND EXPERTISE
We have over 20 years of knowledge of safety footwear and best practices from across the industry.
The benefits:
Increased peace of mind that your workforce is properly and appropriately protected based on our bespoke assessment of your company's safety requirements

Total confidence in your safety footwear provision, as we are the expert voice you can trust in a complex and ever-changing field
MEETING EVERYONE'S FOOTWEAR NEEDS
"We don't hear complaints from the workers any more as the footwear is so comfortable. V12 shoes are lasting longer. You have educated us on issues we didn't even realise we had... we know that we have the right solution in V12, especially with your carbon neutral options."

Group MRO Buyer, Metal Distribution Company

"You came into site, listened to our employees and the issues we were having with footwear, provided a service and a solution that everyone is happy with..."

HS&E Manager, Aerospace Engineering Company

"I can't get people to take their boots off their feet – they are the most comfortable boots they've had."

Fitter, Aerospace Engineering Company
And because of the large scope of our audit offering, different organisations frequently come away with different benefits. As well as achieving specification consolidation, some go on to take advantage of our footwear fitting service, others use us to gain further guidance for their employees' foot health, and we also go on to develop further footwear solutions for companies in new areas.
Our passion and knowledge for safety footwear means that we can offer everything you require to achieve complete peace of mind, strengthen staff morale and productivity - and most importantly, keep everyone safe.
Hear more from our co-founder Andy Turner about what benefits V12 Footwear can bring to you and your workforce.
If you're a safety distributor and feel this solution would be beneficial to your customers, please get in touch and we'll be happy to work with you on this. Our customer service team will gladly facilitate any interest in our foot health and safety solution, so please reach out by clicking below.