There is one problem with boots that many owners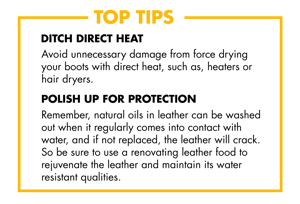 encounter; when they get wet, they take a very long time to dry. This is because boots are made of thick materials, such as leather, and it can take a while for them to dry naturally. So, what happens when they get wet in the evening and you need them in the morning? We've got you covered! Here are a few tips that will not only help accelerate the boot dying process but also maintain maximum comfort, prevent damage and avoid bacterial and odour build up.
PREPARING YOUR BOOTS FOR THE DRYING PROCESS

STEP 1: REMOVING DIRT
To avoid permanent staining to the outer material after drying, it is important to start off by removing any dirt, muck or other contaminates from the surface of the boot. Use soapy water to remove the dirt, then tap dry with an old towel.
STEP 2: REMOVE THE INSOLES
If you have removable insoles, take them out of your safety boots and place them aside to dry. This will allow air to flow into the insole itself and to circulate in and around the boot.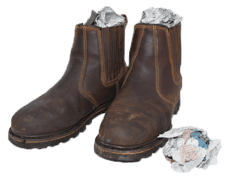 STEP 3: STUFF WITH NEWSPAPER
Using newspaper is one of the most efficient methods to dry your boots without stressing them. Then carefully stuff the inside of the boot with newspaper and place somewhere warm to dry. Ensure boots are fully dried before wearing to avoid any moisture around the foot.

LOOKING FOR A NEW PAIR OF SAFETY BOOTS?
OR, IF YOUR BOOTS JUST NEED A LITTLE TLC, WHY NOT TRY LEATHER FOOD.