NOW IN STOCK the new lightweight rigger boot - Tigris IGS
Crafted from dark brown waxy leather and with a tough heel support this boot will e at home on the farm. Unlike many riggers the lightweigt toecap and misole means less lifting through the day and greater comfort. Step up in Comfort, stock the new Tigris.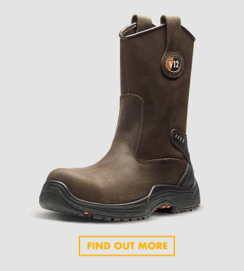 TIGRIS IGS
EN ISO 20345:2011 S3 HRO SRC
The Tigris is a new unlined rigger boot designed to be naturally breathable. Metal-free, it is non-sparking in flammable environments; and is lightweight reducing wearer fatigue on long shifts. The shaft and foot are crafted in waxy hide with minimal seams to increase water resistance, and a large pull loops makes it easy to pull on. As well as an integral heel support to reduce ankle impact, Tigris features the innovative new IGS sole unit, which offers enhanced grip and comfort to the wearer.
Available: Sizes 6 - 12 (UK)