V12 Footwear has evolved in just a few decades from a fledgling footwear company into a trusted, industry-leading safety footwear business with a global reach. In this piece, we look back at the start of the story, explore our journey to becoming a household name in safety footwear and shine a light on what the future holds for us, a company where footwear is in the DNA.
FIRST STEPS
Let's start by looking at the family behind the brand, the Turners. When talking about the first Turner shoe shop, you have to go back to the '90s. The
1890s.
This is when their first shoe shop opened its doors, and it illustrates firstly just how long those at the helm of the brand have been footwear specialists, and also reminds us that f
amily is in the core foundations of this company.
V12 Footwear was created in 1998 by Andy and Ben Turner, two brothers working in their family's PPE business who saw a specific footwear need: people wanted safety boots that were not only protective, but were stylish and comfortable too. In fact, early company straplines 'footwear to be enjoyed not endured' and 'weekend footwear for work' reflected the solution that Andy and Ben were providing. And so, the mission was born – a mission to take the company's existing knowledge and expertise and make reliable and desirable safety footwear.
The company name was inspired by the V12 engine, which was famous for its power, reliability and high-performance as well as its distinctive shape. And with our boots offering top-level comfort, strength and stylish appearance, it's a fitting name for V12 Footwear.
STEPPING UP
From then on, by relentlessly investing time and resources into product development, rigorous testing and working with industry specialists to identify and research hazards and challenges workers face, V12 built its reputation. A reputation for delivering high-performance footwear that exceeds even the most stringent safety standards. As a result, we've been trusted by numerous industry leaders to supply their footwear including Rolls Royce, Sky, Honda, The London Underground and BP.
Huge amounts of time and attention is spent on developing V12's products – in fact for some styles, years of research is conducted in order for us to deliver footwear guaranteed to give the wearer what they've come to expect from the brand: top-level comfort, durability and safety, and if we may say so, a first-class looking boot.

Passion is at the fore of everything we do - and importantly, it's not a passion purely for technology or gadgetry: it's a passion for people's wellbeing through foot safety and foot health. This sentiment is summed up succinctly by Andy Turner, co-founder and CEO of V12: 'we sell shoes, but we're about feet.'
And even though V12 Footwear now operates on a global scale, no matter how far-reaching the business is, our ethos of honesty, integrity, quality and excellence along with our core values 'Step up, own it, think team and mutual respect' are followed passionately and faithfully by every member of the team and underpins everything we do. As a result, customers are given the very best service so they can select the right footwear for their exact needs which ensures they are fully protected in their working environment and experience day-long comfort throughout their shift.
LEADING THE WAY
Over the past 20 years there have been so many innovations and initiatives that have seen V12 Footwear grow its reputation as a leader in the safety footwear industry, but here are a few of the highlights.
THE LAST COMES FIRST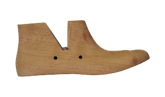 We worked with the last remaining British last maker to develop our unique V12 last, specifically built around the European foot shape, allowing our wearers the most universally comfortable experience when they use our safety boots. Read here to find out more about our unique last.
TEST PILOTS
In this programme, trial wearers test out new products in real working conditions and environments before they are brought to market. Each detail – from comfort to slip-resistance – is reviewed so the products are fine-tuned and ready to give the highest performance when they land on shelves.
V12 evolution: milestones on the road to success.
INNOVATION
V12 Footwear may be a family run and owned business with traditional values at its core, but it constantly embraces technology and innovation to provide better ways to protect feet. Whether it's its advanced waterproof membrane, V-Dri, nanotechnology toecap, cutting-edge shock-absorbing ankle protection or patented met protection system, ExoGuard which is housed in our V2180 Invincible IGS boot, V12's focus on pioneering design and manufacturing is razor-sharp. Find out more about the technologies we use in our footwear by heading to our innovations page.
AWARD-WINNING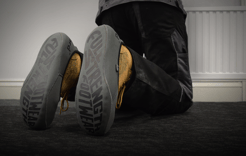 And the quality of the V12 range can be seen in the silverware cabinet! We've picked up a slew of accolades over the years including the PCIAW award for Best Innovation in Footwear for our V1750 Defender STS as well as our safety trainer and hiker range. We've also received awards for the footwear we provide to the Oil and Gas industry as well as a Green-apple award for best environmental practice for our ground-breaking MukGuard reusable overshoe.
Working with the customer
When asked what he thinks sets V12 Footwear apart, Rolf Turner, Supply Chain Manager explains:
'We have a consultative, solution-based approach. We're a business, and we need to make money to keep people safe, but at the same time, we're not just focussed on selling. Whether it's conducting fittings, carrying out safety audits or advising on safety requirements, we're all about working with the customer to fulfil their needs.'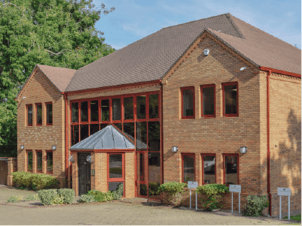 THE NEXT CHAPTER
STEPPING INTO SUSTAINABILITY
Our new carbon neutral safety boot range, Lynx, hit the market recently thanks to a series of design and supply chain innovations, illustrating that the company's sustainability practices are just as cutting-edge as the manufacturing processes. For its wearers and distributors, the future is not only bright, it's decidedly green as well. Learn more about Lynx's ground-breaking carbon neutral story by reading our blog.
WHAT DOES THE FUTURE HOLD?
When asked about what the future holds for V12, co-founder Andy Turner explains:
'The biggest, but most rewarding challenge is continuing to dig down into the topic of people's foot health and safety, discovering with the customer what they're looking for, what they need, and using our knowledge and expertise to help them find the solution.'
COMING SOON...
There's more. Much more. V12's appetite for developing innovative and pioneering safety footwear isn't just continuing - it's growing. There are some seriously exciting and never-before-seen safety boots on their way and in the pipeline, including patented metatarsal protective boots and unique lightweight safety wellingtons, both of which will bring next-level foot safety and comfort benefits for wearers. We'll keep you posted...