In construction, the last thing you want to be worrying about are your shoes. Heavy tools and equipment, plus wet mixes and cement lime all add up to a rich variety of hazards, from wet scaffold planks to trip hazards and ladder falls. That's why our construction boots are some of the best all-rounders we make.
WHAT FEATURES should you LOOK FOR?
Toecap & Midsole
Choosing boots with a toecap and midsole will help prevent injury from falling objects and underfoot penetration. One of the more well known materials for safety toecaps and midsoles is steel. However, in regards to the steel toecap, this depends on your line of work, as steel offers superior protection from smaller objects, however, it may be less effective with a heavy object falling on your foot as the metal toecap can bend into a fixed position and can trap parts of the feet, making it extremely difficult and in some instances very painful to try and remove the foot, in extreme cases the footwear may need to be cut apart or dismantled. Therefore, a composite toecap may be best suited. To find out more about the benefits of metal-free safety footwear please read our Top 3 Benefits of Metal-Free Footwear For Men and Women blog post. Also, our in house expert Ben Turner emphasises the importance of midsole protection in the below video:
Durable
If you're going to buy a pair of work boots, it's worth purchasing a quality pair of boots. You'll be out on site every day which will wear your boots down very quickly if they are low-quality. If you're going to be on your feet all day, you might as well invest in some nice comfortable work boots. While buying quality boots may cost more money upfront, they will last much longer and will pay off in the end. Boots made from full grain leather are one popular and durable option. At V12 we're so convinced by our range of protective footwear that our product guarantee covers the entire V12 range for 200 days against manufacturing defects from date of user purchase.
Support
Being on your feet all day can be exhausting if you're not wearing the right type of work boots. When you are searching for boots, find ones that give you the best support possible. There's nothing worse than aching feet! Our custom fit Dynamic Arch insoles are a great starting point towards reducing foot fatigue and injury, and what's more, they have been designed to work with every style of V12 safety boot. Find out more about our Dynamic Arch insoles here.
OUR TOP 3 SAFETY BOOTS FOR CONSTRUCTION
PUMA IGS HONEY S3 HRO SRC NUBUCK DERBY BOOT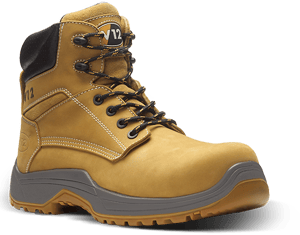 Constructed from a luxurious honey Nubuck upper, the new and improved Puma has a cut away scoop collar for easy foot access and comfort. Lightweight, metal-free and with non-snagging eyelets, the Puma is created on a new last and has an improved shock absorbing footbed. The innovative IGS rubber sole unit ensures superb grip on all surfaces and increased cushioning underfoot. The same boot is also available in black or brown, known as the Bison.

RAWHIDE BROWN SBP DEALER BOOT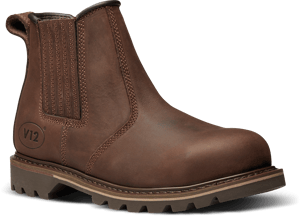 Crafted from rugged oil stuffed hide, the Rawhide is one of the strongest elastic-sided work boots available. It's also one of the most stunning to look at because of the natural beauty and quality of the leather.

CAIMAN IGS GRAPHITE S3 SRC WR HRO WATERPROOF HIKER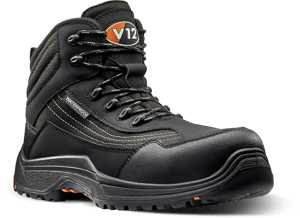 A waterproof and breathable boot. Featuring a full length footbed, and lightweight composite midsole and toecap, making the Caiman incredibly durable and comfortable. Constructed from advanced modern materials, this non-leather boot is completely Vegan friendly. Now featuring the innovative IGS rubber sole ensuring superb grip on all surfaces and increased cushioning underfoot.

If you would like to find out more about our range of safety boots please head over to our website: