What are Chemical Resistant Work Boots?
Chemical resistant work boots are made to off-set the hazards of using, working with, combining or storing chemicals. They protect workers from the risk of skin injuries, allergies, infections and chemical burns caused by hazardous chemical leaks and spills. Therefore, making chemical resistant boots essential to anyone working with chemicals.
All Chemical resistant work boots must comply with the latest version of the European standard for footwear protecting against chemicals - EN 13832:2018.
TYPE U Footwear
If you are exposed to chemicals for only a short period of time, Type U footwear is recommended as it provides protection on the upper only. To meet the requirements of this standard, a testing method which involves filling the footwear with an absorbent medium and pouring 130ml of the challenge chemical over the shoe, including all sides. The test footwear is visually assessed for liquid penetration and any damage immediately after exposure to chemical. Further visual assessments are performed 10 minutes, 1 hour and 24 hours after the initial test.
Did you know...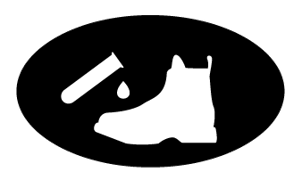 Our award winning sports range is chemical resistant and washable? Our V1910/1915 Boost IGS and V1920/1925 Octane IGS have been tested against chemical splash (Sodium Hydroxide and Sulphuric Acid) in accordance with footwear performance TYPE U specified in EN 13832-1:2018. They have also been tested against SATRA TM 158 washability test and passed! What's more, both styles are available in men's and women's fit and are ideal for both paramedics and external health workers. The two styles also helped keep critical workers safe whilst working on their feet to help save lives at the NHS Nightingale Hospital during the peek of the worldwide pandemic.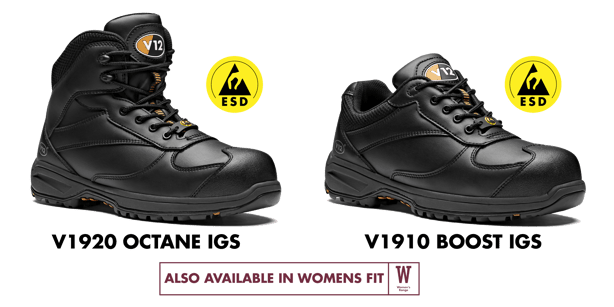 The Details...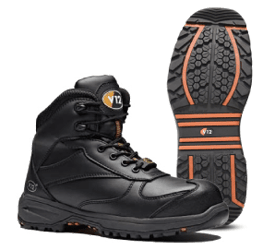 IGS Sole.
Our Intelligent Grip System rubber sole ensures superb grip on all surfaces and increased cushioning underfoot. With four strong, deep ladder grips and a well-defined heel to keep you sturdy and firm footed while climbing or descending ladders, and ultimately help prevent falls from height. The sole pattern is based on small hexagons which provide multiple sharp edges to cut through liquid; and larger, self-cleaning lugs to provide stability on chunkier terrains. Making this an ideal safety boot for professionals that work on several different surfaces every day.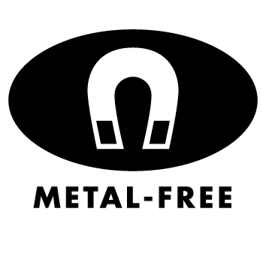 Metal Free.
Lightweight protection with our composite toe cap and midsole, with the added benefit of reducing fatigue. Did you know, in a 12,000 step day, our lightweight composite products can save you lifting an extra 650kg. About the same as a polar bear!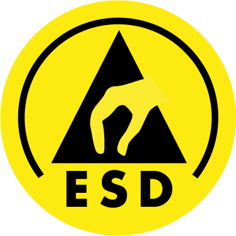 ESD Compliant.
Tested and certified to the EU Standard for electrostatic discharge. With an extremely low electrical resistance to prevent a strong, uncontrolled electrostatic charge, protecting sensitive equipment or components from electrostatic discharges.
To view our range of chemical resistant work boots please click the button below: