This blog focusses on a topic that gets talked about a lot – health and well-being at work. And while this is a commonly discussed subject, it's sometimes challenging for employers, particularly in safety-critical industries - to have the right solutions in place which provide the support, resources and protection to ensure their staff's well-being.
Today we're highlighting some of the ways that unaddressed foot health and safety issues can affect your workforce, as well as outlining the importance of sound sustainability practices. Then, we'll supply you with some effective and easily achievable ways you can boost staff safety and morale through safety footwear, showing you're an employer who cares, because you're willing to provide the best protection and comfort solutions.
This blog will cover the following areas:
A lot of people take foot health for granted. To many, they're just the things that get us from A-B each day. But ill-fitting or incorrectly speced footwear – and the unaddressed foot health problems they can cause can have a significant impact on an individual's well-being and productivity including:
Risk of falling from poor balance

Skin complaints such as fungal infections

Achilles tendonitis syndrome

Plantar fasciitis

Poor posture

Back and knee pain
And these are just a few examples from a long list. Thankfully, there's plenty you can do to show your workforce you care. Let's get learning.
GETTING THE RIGHT FIT
When V12 help companies improve the safety and comfort of their workforce by carrying out foot health and safety assessments, we often find that employees are working in incorrectly fitting footwear. In a recent audit of a large company, we recorded that 88% of the workforce were in the wrong-sized footwear!
A situation like this throws up a lot of serious issues. Firstly, wearing ill-fitting shoes is a major cause of foot deformities and ailments such as hammer toes, corns, calluses as well as athlete's foot. Furthermore, failing to wear the correct size shoe can cause falls and reduced mobility. Finally, if safety shoes which feature slip resistance, toecaps, midsole protection or metatarsal protection are the wrong size, then those safety features can't be relied on to do their job, as they won't be protecting the right area of the foot.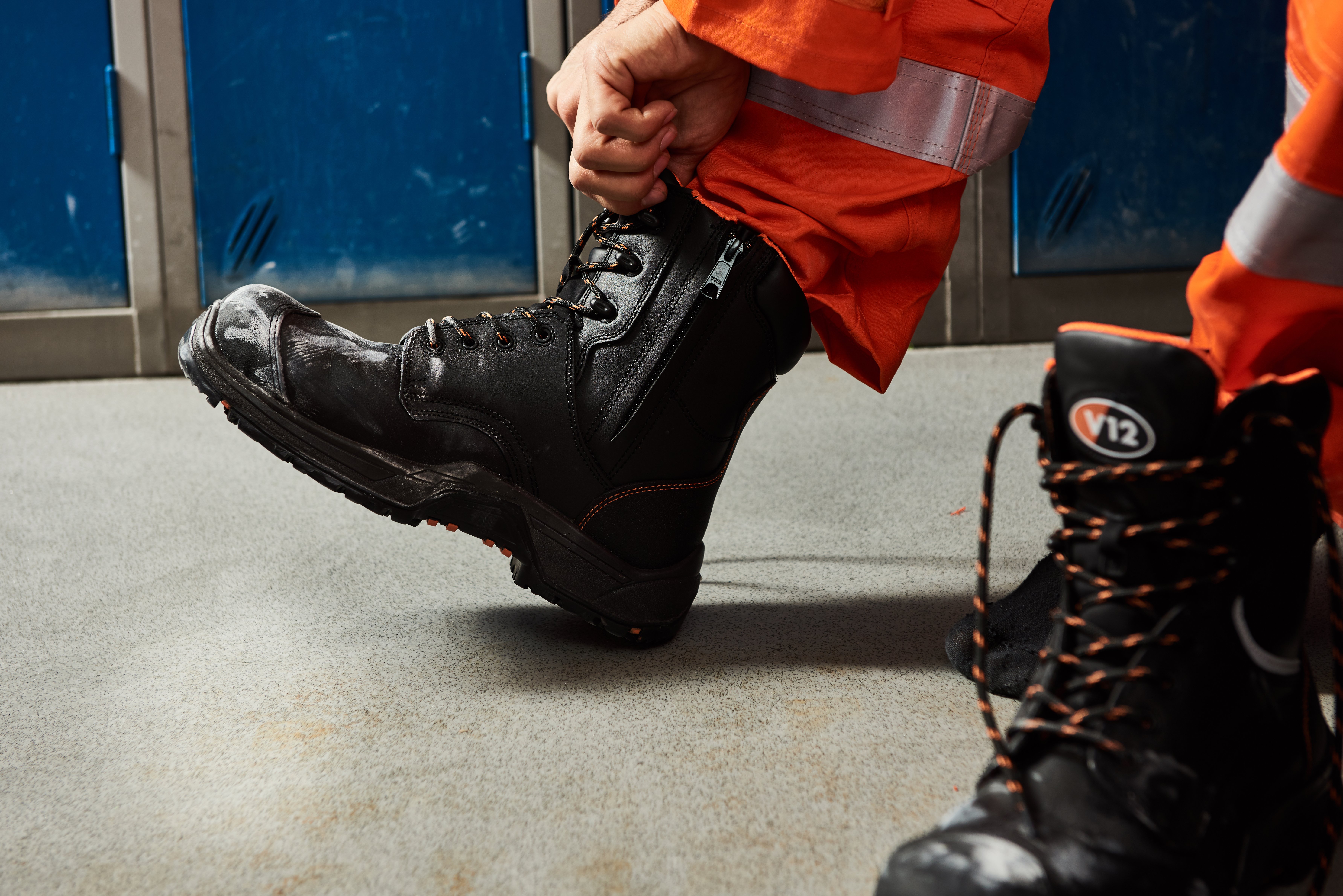 V12 go above and beyond for comfort and foot health. That's why we offer a three-part product suitability assessment where we work with companies to establish the most appropriate safety footwear for their work environment and related hazards. It features a meticulous workplace audit, a multi-step safety footwear trial process and our safety footwear recommendation.
If you want to maximise compliance, safety and comfort for your staff, our foot health and safety assessment solution could make all the difference to their health and well-being. Explore our blog here and get in touch.
WOMEN'S FOOT HEALTH
Up until recently, a significant amount of women working in industries such as construction, rail and engineering had to resort to wearing smaller sized men's footwear, due to the lack of specific female safety footwear available on the market. And when it comes to employee well-being, this type of scenario scores really low points.
And while things are improving, there's still a lot of progress to be made so female workforces can stay safe and comfortable in safety-critical industries. In a survey conducted earlier this year, we asked a group of women working in engineering and construction the following question:
When you joined your company, were you offered specific female-fit PPE?
75% percent of respondents said they weren't - and had to make do with smaller men's workwear.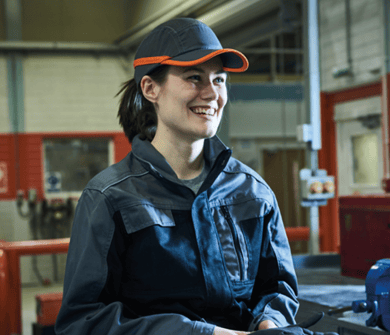 The problem is that women's feet aren't just smaller than men's - they're anatomically different in shape and structure. The female foot has a:
Narrower heel

Higher Achilles tendon

Higher arches

Lower instep
And this is why women working in hazardous industries wearing men's boots can be left with a variety of health issues including:
Blistering, corns and callouses.

Insufficient ankle protection

Increased risk of ankle twisting
A sense of belonging
When V12 sponsored INWED (International women In Engineering day) in 2020, we interviewed Debbie Janson, Senior Lecturer in Mechanical Engineering at Bath University. On the subject of female specific PPE, she told us:
"Having footwear that fits instils a sense of belonging for women engineers. You don't want to arrive at work and be given a pair of men's boots when all you want is footwear that fits."
So if you want to be the employer who cares about the morale and health of every member of your workforce, take a look at our blog and check out our women's safety footwear range here.
DYNAMIC ARCH
Comfort is a core element of well-being. And equally, a lack of it is a sure path to discontent and substandard work. Foot pain is both distracting and extremely uncomfortable for the wearer, but for an employer, it can be equally painful – leading to an unhappy, unproductive workforce with a high absence rate. In other words, staff without correct footbed support and resulting foot pain is a nightmare scenario for any company. Foot-related disorders – which can also affect the knees, hips and the back - are the most common work-related health problems in the UK, accounting for nearly 9 million lost working days each year.
But the damaging effects of foot pain are often avoidable with an insole solution. According to Healthline, a health information provider, the average tradesperson walks nearly 12,000 steps per day, which highlights how essential it is that your workforce have comfortable, supportive footwear, particularly if they're suffering from common ailments such as Plantar Fasciitis. According to Nuffield Health, in the UK, around one in ten people will experience Plantar Fasciitis during their lifetime.
"Adding a fitted insole to the footwear of employees is a cost- effective tool to increasing work productivity and comfort and is something that shouldn't be ignored."
Paul O'Malley, MSK podiatrist and clinical biomechanist
With this quote in mind, it makes sense to have a dynamic insole solution for your staff. Made by collaborating with industry leaders in motion analysis and renowned podiatrists, V12's Dynamic ArchTM insoles are our most advanced insoles to date. They feature supportive material to ease pressure and pain, heel cups to reduce lower limb pain and a shock-absorbing heel to minimise stress and reduce aches. And with three different arch sizes, there's a comfort solution for all wearers without exception.
Head over to our recent blog to find out more about these industry-leading insoles, and how they can help reduce pain and boost performance for your workforce.
WATERPROOF
If you're in oil and gas, rail or road resurfacing or other related industries, walking through or standing in water for hours at a time will be all in a day's work for some of your staff. And while they may be good at putting up with cold or uncomfortable feet, prolonged water exposure can lead to far more serious consequences for your staff's long-term well-being.
Having wet feet for prolonged periods of time can cause a range of problems including:
Maceration (broken skin)

Skin tears and cracking

Softening skin leading to blistering

Athlete's Foot

Numbness or itchiness

Tingling or prickling sensations

Swelling
Wet feet are a very common cause of Athlete's Foot, and a recent NHS study revealed between 15% and 25% of people suffer from it in the UK. Given the population, that equates to up to 16.5 million people.
And let's not forget, when someone is uncomfortable, they're distracted. In an article from Futurity on chronic pain, Stephen Cowen, Assistant Professor of Psychology at University of Arizona points out:
'If you're suffering from chronic pain, your ability to make good decisions or adapt to new information might be compromised.'
If pain through poorly fitting footwear is making your workforce's judgement substandard in an industry where safety is paramount, you could be seriously endangering people's lives.
If you want to protect your workforce from these short and long-term dangers, you need reliable and breathable waterproof boots. And here's where V-Dri makes all the difference.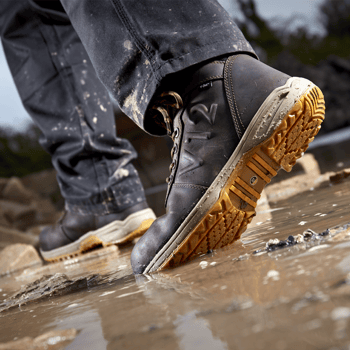 v-dRITM
V-Dri is our highest performing waterproof membrane to date. It keeps water out of the boot, but ensures feet stay cool in hot conditions, and this superior breathability leads to superb foot safety and comfort all the while offering maximum protection from water. The V-Dri has been designed with microscopic holes, each one many times smaller than a water molecule to keep water out, but large enough to allow perspiration to escape, keeping feet cool. Further moisture management and climate control is achieved through the ultra-wicking top fabric.
In testing, the V-Dri waterproof membrane achieved over 30,000 flexes on average without letting in water – this is 6 times above the requirement, and equates to someone walking continuously in water for 30 miles.
Find out more information on this ground-breaking waterproof system and how you can offer the highest performing waterproof solutions for your workforce here.
CARBON NEUTRAL
You may not feel that as an employer, helping reduce carbon emissions relates to the world of employee well-being or the health and safety levels of your workplace. But if you step outside of the work environment and look at the larger picture - climate change, rising sea levels, food scarcity through ruined ecosystems and lack of clean air and spaces, you start to realise that the health of the planet and the health of your workforce go hand in hand. And everything thing you can do as a manufacturer to do your bit to reduce climate change through responsible, carbon-reducing production and provision, the more your staff's health and well-being benefits.
And the good news is that sustainability is great for business as well as the environment. A new global report from The Economist Intelligence Unit commissioned by WWF revealed there has been a 71% rise in online searches for sustainable goods globally over the past five years. Furthermore, according to Fashion Discounts, 67% of consumers now pay attention to the environmental impacts of their clothing. The appetite for consumers to invest in sustainable, low carbon solutions to help the planet has never been stronger.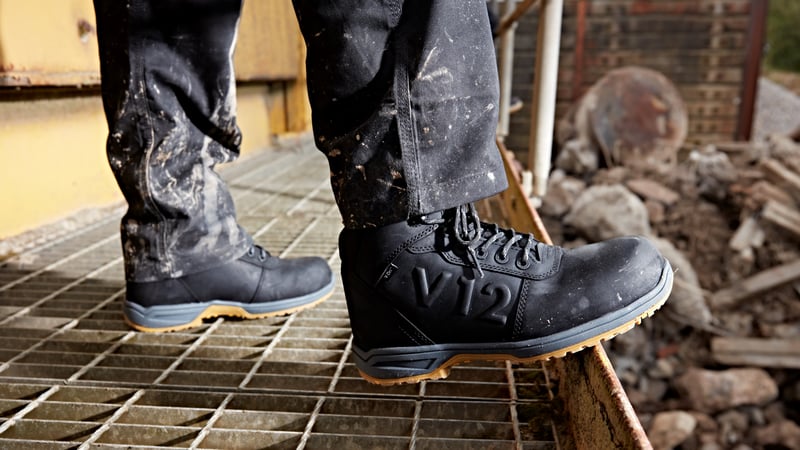 The V2140 Lynx IGS, part of V12's Carbon Neutral Lynx safety boot range
And when it comes to low carbon solutions, V12's safety boot range 'Lynx' is a ground-breaker. V12 recently became the first UK safety company in the UK to develop a carbon neutral range. Due to top-performing and environmentally-friendly materials, a production move from the far east to Europe reducing our shipping journey by 8000 miles and investing in environmental community projects across the globe, Lynx is - from cradle to gate - a boot that leaves no footprint.
Each pair of Lynx generates
8 Kgs
less carbon than the average safety boot, which means that i
n production so far this year, Lynx has generated over
10 tonnes less carbon
than an average safety boot.
Want to become a company who cares about the planet and its people? Find out more about the Lynx here.
We know you care about your workforce – and now you know how you can show it.