The best way to describe our trainer and hiker range? Footwear packed with benefits! These incredibly lightweight, comfortable styles all come with the Keymark Safety Accreditation ensuring safe feet, all day, every day. We are the first and only footwear company to currently have this safety accreditation, proving our commitment to providing the safest footwear for a wide range of industries.

Comfort-fit system for Men & Women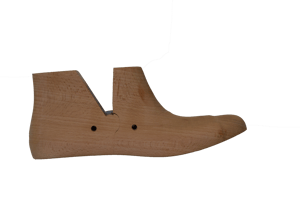 Handcrafted in Britain, our footwear is built on a wooden last which is essentially a wooden shape that is very similar to that of a human foot. Data from scans of more than 4,000 feet, has enabled us to create a very precise shape, which allows us to tailor our footwear perfectly to both men and women (who have very differently shaped feet), and provide optimum support and comfort. The V12 last is at the core of the comfort-fit system (which has been incorporated into our existing and new footwear ranges) combined with our Removable Comfort Insoles and Anti-Twist Shank, which lets the boot flex naturally and in harmony with the foot, reducing fatigue caused by lateral twisting.
Our trainer and hiker range embraces the components of our comfort-fit system and is available in both men's and women's fit. Yes, that's right; there is no such thing as unisex footwear. As stated above, men and women have different shaped feet and research proves it. That's why we have invested a huge amount of time and money developing both a men's last and a dedicated women's last to ensure every wearer has the best possible fit and is ultimately as safe as they possibly can be when it comes to their footwear.
INNOVATIVE NANOTECHNOLOGY
We also understand that weight has an influence on comfort and productivity. Therefore this range features an even lighter toecap than usual to help reduce fatigue. This toecap uses innovative Nanotechnology that ensures you still benefit from the same high protection offered by steel - while only weighing in at under 600 grams! Another benefit is that these products are all extremely durable and Vegan-friendly, so you can satisfy your entire workforce's requirements.

Electrostatic Dissipation (ESD)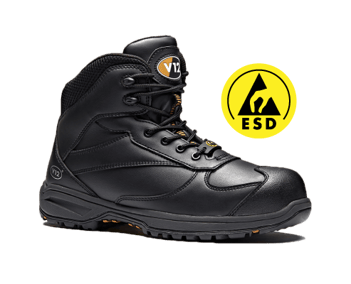 Generally known as ESD, this specific requirement is often found in Automotive, Electronic, and specialist Engineering environments where the risk of static build-up could damage a product that is being worked on. Most safety boots are Anti-Static as standard, but they are not to be confused with ESD, which is a more stringent test with a lower range of resistance (tested between 0.1 and 100 megaohms). We are proud to share that the trainer and hiker range is fully ESD-compliant.
Reduce slip risks with IGSTM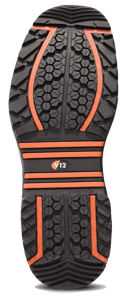 The soles of our shoes are our only contact with the ground (like tyres on a car), so a correct selection for a sole can make a significant contribution towards zero accidents in the workplace. A sole needs to provide excellent grip and traction to prevent slips; that's why we have been inspired by tyre technology to create the most innovative and slip-resistant sole to date - the Intelligent Grip SystemTM (IGS).
Throughout its 3.5 year development, IGSTM went through hundreds of design iterations, three different rubber compounds, eight prototypes, two testing labs, numerous test pilots and countless experts within and outside the industry. It was also independently tested on Kennedy Grating and scaffold board and exceeded the recommended grip standard by 100% on both surfaces. In fact, it is the only multi-purpose safety sole to have been awarded a 4-star grip rating by the HSL (Health and Safety Laboratory).
IGSTM features a unique hexagon pattern for superior traction and water dispersal, firefighter-standard ladder grips for safely working at height, and an angled heel strike to ensure you start and end your day upright and injury-free. With half of all major workplace accidents being caused by slips, IGSTM has really come into its own when reducing these types of dangerous incidents. We have also now combined this super grippy, durable rubber sole with a lightweight EVA mid-layer for reduced weight and enhanced comfort.
THE PERFECT PAIRING
All our footwear comes with a replaceable comfort insole. However, all feet are different, and many wearers experience early-stage foot disorders. In order to provide a solution that will meet EN ISO 20345, it is now possible to pair your footwear with the Dynamic ArchTM Insole. With different arch heights, these insoles help prevent or ease early-stage foot disorders. The Dynamic ArchTM Insole helps to dissipate body weight evenly, reducing areas of high pressure and increasing the comfort you experience when on your feet.
SAFE, COMFORTABLE -
AND WASHABLE
The IGSTM sports range is washable. They have been tested by Satra (a leading technical authority for footwear) to standard TM158, which is an assessment that tests how well the clothing or footwear holds it colour, stability and dimensions during washing.
Being washable is not only a benefit for personal wearers who want to clean their trainers or hikers, but it also means companies employing temporary staff or workers with short-term contracts can reuse footwear in a hygienic and waste-reducing way.
washing your trainers and hikers
Our advice when washing styles from the sports range is as follows:
DO
Set a maximum of 40°C machine wash

Use standard detergent

Dry naturally overnight

Reshape footwear whilst damp

Replace the insoles with V12 approved insoles only
DO NOT
Tumble dry after washing

Use bleach when washing



That's washing - but what about drying? Head to the blog here and find out the best way to dry your safety boots.